Family says son has disappeared just weeks after starting job at Netflix
SAN FRANCISCO - Mehret Hana Beyene burst into tears Thursday as she explained how her husband and eldest son Yosief Kidane had flown to the Bay Area from New York to try and find their other son Yohanes Kidane, 22, of San Jose, who they say disappeared Monday and was last seen on video surveillance footage getting into a black Toyota sedan with an Uber sticker. 
Yosief says his brother had graduated from Cornell University in May and had started a job at Netflix. 
"He traveled here late July, July 26th, and he started work last week, so this was his second week of work," said Yosief Kidane.
Yosief says their family was not able to reach Yohanes on Monday evening and noticed that Yohanes' phone tracker didn't move from a spot near Golden Gate Bridge. 
Yosief says the family notified San Jose police. The police department confirmed the missing persons case number. 
The Kidane family says surveillance video at Yohanes's apartment shows him entering a vehicle with an Uber sticker at 28th North Fourth St. in San Jose around 7:15 p.m. Monday. 
"Two young colleagues of his saw him and were able to talk to him," Yosief says. "He said he was heading to San Francisco to maybe meet a friend. The last footage I've seen of him was leaving his apartment building and getting into a black Toyota Camry." 
The family says on Tuesday morning, a commuter found Yohanes's phone and wallet and turned them in to the Marin California Highway Patrol office.  
"Someone who was in San Rafael, who was on a commute, saw a phone and wallet sitting on this small grassy hill right between the Welcome Center and coffee shop," says Yosief. "Thirty bucks in cash was in his wallet, IDs cards, phone untouched." 
Then on Wednesday, the family says police found his backpack. 
Stream KTVU on your TV by downloading Fox Local on your Roku, Amazon Fire, AndroidTV or AppleTV device for free. More details here.
"Later his backpack was found near the Golden Gate Bridge and had two of his laptops and personal documents seemingly untouched," said Yoseif.
Yohanes Kidane with relatives. Kidane is considered a missing person out of San Jose,
A missing persons flyer with Yohanes's photo was posted at a lookout point near the Golden Gate Bridge. It describes Yohanes Kidane as a Black man standing at 5 feet 8 inches and weighing around 150 pounds. He was last seen wearing gray sweatpants, a black hoodie and black shoes.
"We want to take him home. I need my son. I need my son," the mother said. 
"He's a good man who has a bright future, very loving to his family, said Yohanes's mother.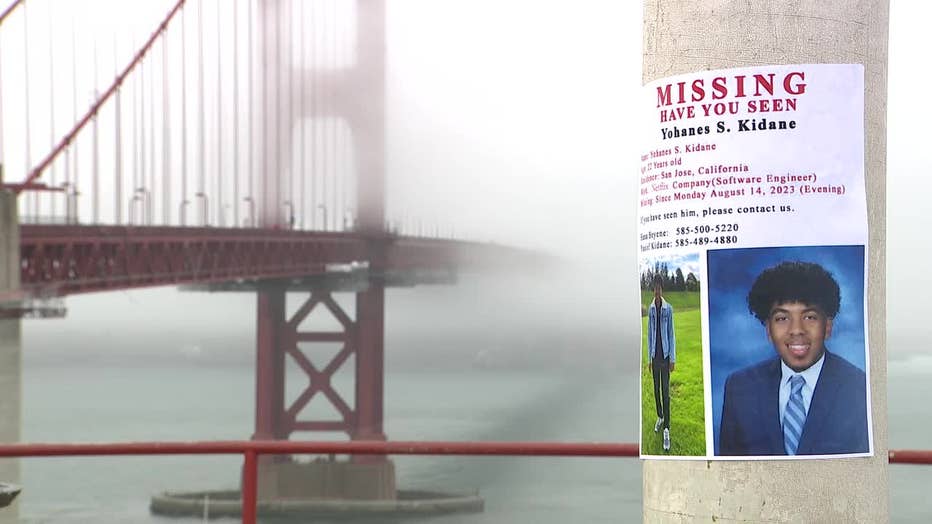 Now the family says they are searching and hoping investigators will help locate Yohanes. 
"Calling medical centers, homeless shelters, distributing posters; doing everything that we can to get my brother back. My best friend," says Yosief. 
KTVU reached out to the San Jose Police Department, Marin CHP, Golden Gate Bridge Patrol, and the U.S. Coast Guard on Thursday, and is awaiting an update on the status of the investigation. 
Anyone who has information on Kidane's whereabouts is asked to contact the San Jose Police Department at (408) 277-8900 and reference case number 23-227-0531. Relatives can be reached at (585) 489-4880 or 585-500-5220.