Dunkin' launches 'boozy' spiked coffee and tea line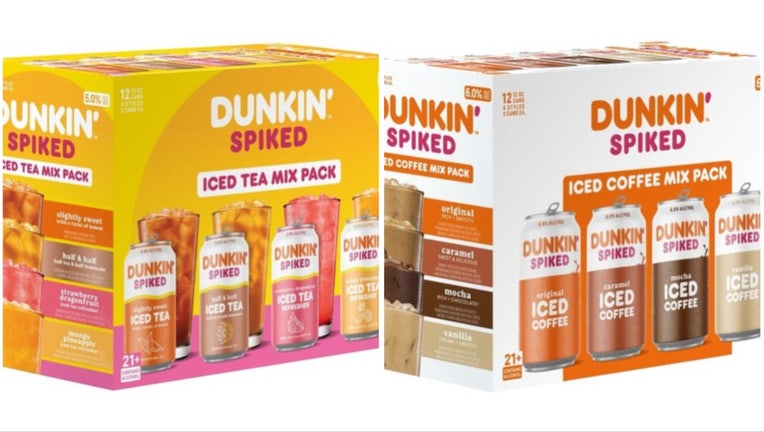 article
BOSTON - Dunkin' is "brewing" up excitement, announcing Monday its new Dunkin' Spiked Ice Coffees and Iced Teas, marking the company's expansion into the read-to-drink alcoholic beverage market.
According to the nationwide doughnut and coffee giant, the hard iced coffees will come in four signature flavors: original, caramel, mocha and vanilla. Meanwhile, the hard teas will come in the flavors of strawberry dragonfruit, mango pineapple, slightly sweet and half & half. 
The company said the coffee and teas are flavored malt beverages, which means the source of alcohol is a fermented base primarily from sugar.
The iced coffees are labeled as 6% alcohol by volume (ABV), while the iced teas are 5% ABV. The spiked drinks also contain some caffeine, but less than a typical cup of coffee. 
"We knew we had the opportunity to create something special when we saw the positive response to our previous seasonal collaborations for Dunkin'-inspired beers. The growing appetite for adult beverages inspired us to put a twist on our customers' favorite Dunkin' Iced Coffee, Iced Tea and Refresher flavors," said Brian Gilbert, the vice president of retail business development at Dunkin'. "This new line of ready-to-drink adult beverages elevates Dunkin's offerings, and we know our 21+ fans will love every sip."
Dunkin Spiked will be available in grocery stores across Connecticut, Delaware, Florida, Maine, Massachusetts, New Hampshire, New Jersey, New York, Pennsylvania, Rhode Island, Texas, and Vermont. More states will be added in 2024. 
RELATED: Snoop Dogg launches new ice cream line at Walmart
Consumers will find Dunkin' Spiked Iced Teas starting in late August, while Dunkin' Spiked Iced Coffees will debut in early September. Notably, the Dunkin' Spiked line of products will not be available at Dunkin' restaurant locations.
Dunkin', founded in 1950, is the largest coffee and doughnut brand in the United States, with more than 13,200 restaurants in nearly 40 global markets. 
RELATED: Dunkin' brings back fan-favorite flavor to its permanent menu
This story was reported from Los Angeles.