Trump mug shot released after former president turns himself in at Georgia jail
ATLANTA - Donald Trump made history Thursday as the first former U.S. president to submit to a mug shot. He turned himself in at an Atlanta jail where he faces criminal charges related to trying to overturn his 2020 election defeat in Georgia.
When he arrived at the Fulton County Jail, Trump was fingerprinted and required to take a booking photo. 
Trump's mug shot quickly circulated across social media platforms. It was shared by his opponents and supporters, and even the former president himself. 
Trump returned to X, the social media site formerly known as Twitter, firing off his first message in 2 1/2 years shortly after he surrendered at an Atlanta jail on charges he conspired to overturn his election loss.
He posted a photo of his mug shot and the words, "Election interference. Never surrender!" along with a link to his website, which directs to a fundraising site.
It was Trump's first post since Jan. 8, 2021, when Twitter suspended his account indefinitely, citing fears he would incite additional violence following the deadly storming of the U.S. Capitol building. His account was reinstated last November shortly after Elon Musk took over the company, but Trump had refrained from tweeting, insisting that he was happier on his own Truth Social site, which he launched during the ban.
The message marks a homecoming of sorts for Trump to one of his most important megaphones — one he used to dominate his rivals in the 2016 primary and to command the news cycle for years. Trump, who is running again for the White House in 2024, often marveled at how quickly his missives would travel from his account to cable news stations, under the banner, "BREAKING NEWS."
The return to X — and the inclusion of a link to a fundraising page — is also a reflection of just how much money Trump's campaign has been burning on lawyers representing the candidate and allies as he battles criminal charges in four jurisdictions. Trump's political operation entered the second half of the year in a strained financial position with its bank account drained by tens of millions of dollars that were directed toward defending the former president from mounting legal challenges as he seeks the White House again.
The purpose of a mug shot is to allow law enforcement to have a photographic record of all arrested individuals. Unlike in other cities that did not require him to pose for a mug shot, Fulton County officials previously said they expected to take a booking photo like they would for any other defendant.
The jail records listed Trump's weight at 215 pounds — a significant decrease from the number listed on his final White House physical report.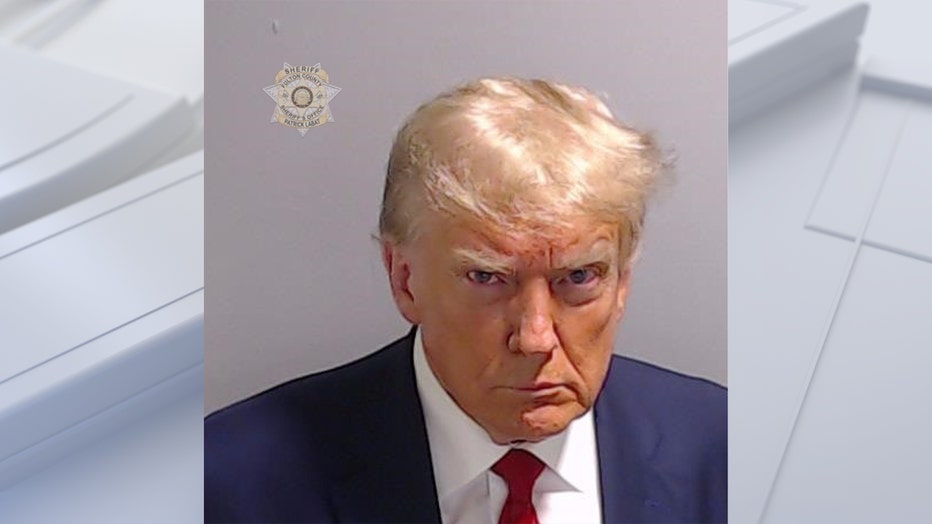 Donald Trump's mug shot (Credit: Fulton County Jail)
Trump was on the ground in Atlanta for just over an hour, spending about 15 minutes at the Fulton County Jail. Following his arrest, he told reporters it was a "very sad day for America." He also said he believed the 2020 presidential election was a "rigged election and stolen election" and that he had every single right to challenge the election. He said it was a "travesty of justice."
As of Thursday evening, 12 of the 19 defendants indicted in Fulton County's investigation have now surrendered to authorities.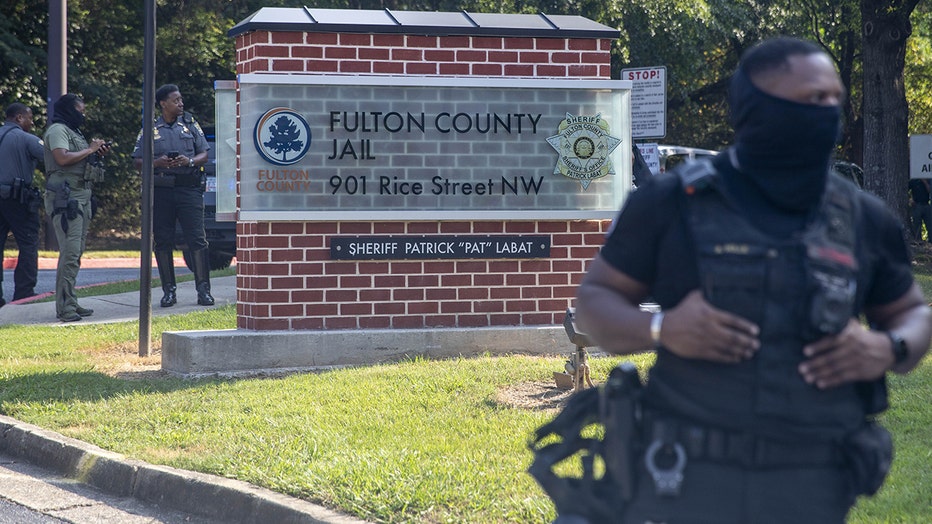 Authorities guard the Fulton County Jail in Atlanta, Georgia, US, on Thursday, Aug. 24, 2023. (Credit: Alyssa Pointer/Bloomberg via Getty Images)
Fulton County District Attorney Fani Willis set a deadline of noon on Friday for the people indicted last week in the election subversion case to turn themselves in. Her team has been negotiating bond amounts and conditions with the lawyers for the defendants before they surrender at the jail.
RELATED: Mug shots: Co-defendants surrender in Georgia election interference case
Wednesday, Trump's lawyer and former New York Mayor Rudy Giuliani was among the seven people who were processed at the jail and subsequently released on bond.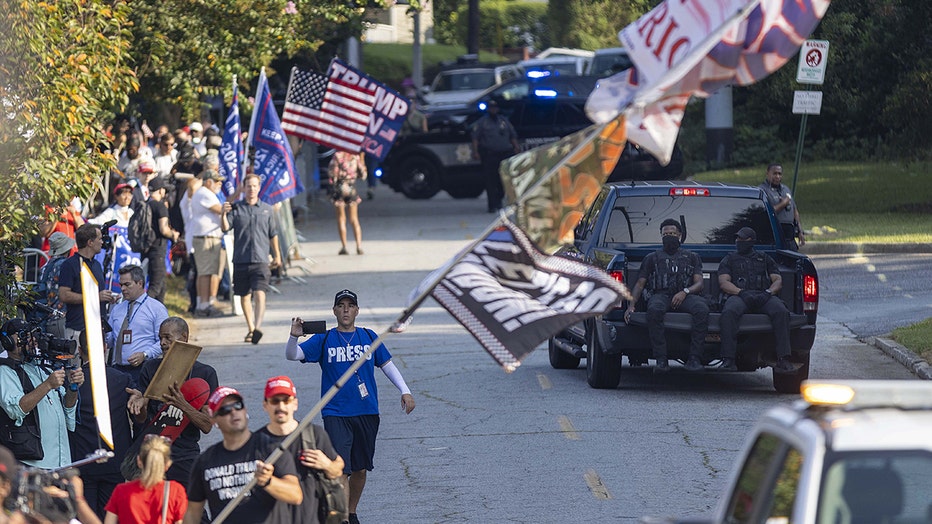 Supporters of former President Donald Trump rally near the Fulton County Jail in Atlanta, Georgia, US, on Thursday, Aug. 24, 2023. (Credit: Alyssa Pointer/Bloomberg via Getty Images)
Bond for Giuliani was set at $150,000, second only to Trump's $200,000.
Hours before Trump's jail appearance, Willis in a court filing also called for a trial date of Oct. 23 – less than two months away.
What is Trump charged with?
Trump, 77, is the first former U.S. president to face criminal charges. This is the fourth criminal case against Trump since March. Despite these cases, this has not appeared to slow his momentum as the front-runner in the race for the Republican nomination to run against Democratic President Joe Biden in next year's election.
Trump, in the Georgia case, faces 13 felony counts including racketeering, which is typically used to target organized crime, for allegedly pressuring state officials to reverse his election loss and setting up an illegitimate slate of electors to undermine the formal congressional certification of Biden's victory.
LIVE UPDATES: Former President Donald Trump turns himself in
Trump has repeatedly denied any wrongdoing. He said in a social media post earlier this week that he was being prosecuted for what he described in capital letters as a "perfect phone call" in which he asked the Republican Secretary of State, Brad Raffensperger, to help him "find 11,780 votes" for him to overturn his loss in the state to Democrat Joe Biden.
This story was reported from Los Angeles. The Associated Press, Reuters contributed.