Trump leaves Atlanta after surrendering at Fulton County Jail
ATLANTA - Former President Donald Trump has left Atlanta after surrendering to Georgia authorities on charges that he schemed to overturn the 2020 election in the state.
Trump was on the ground in Atlanta for just over an hour, spending about 15 at the Fulton County being booked on RICO charges.
When he arrived at the Fulton County Jail, Trump was fingerprinted and required to take a booking photo. 
He became the first former U.S. president to submit to a mug shot.
9:38 P.M. ET | Former President Donald Trump has broken his silence on X, the social media platform formerly known as Twitter in 958 days. Trump posted a photo of his Fulton County Jail mug shot in a graphic that reads "MUG SHOT – AUGUST 24, 2023, ELECTION INTERFERENCE NEVER SURRENDER! DONALDJTRUMP.COM." Trump was permanently blocked on Jan. 8, 2021, but was reinstated by new Twitter owner Elon Musk on Nov. 19, 2022.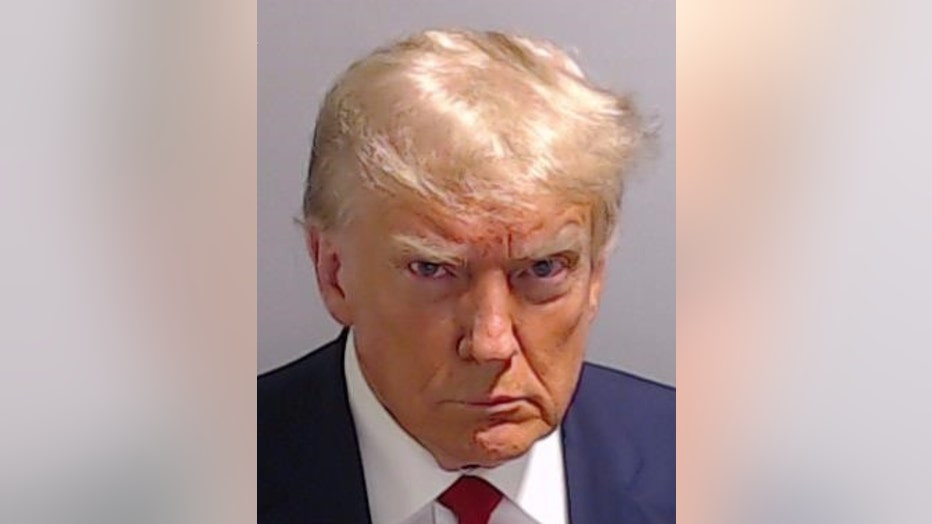 8:49 P.M. ET | The mugshot of former President Donald Trump has been released by the Fulton County Sheriff's Office about an hour after he bonded out on RICO charges. Read more
8:39 P.M. ET | Former President Donald Trump departs Hartsfield-Jackson Atlanta International Airport after surrendering himself at the Fulton County Jail on RICO charges. 
8:12 P.M. ET | Former President Donald Trump says it's a "very sad day for America" following his arrest in Fulton County. Trump says he believed the 2020 presidential election was a "rigged election and stolen election" and he had every single right to challenge the election. He says it was a "travesty of justice." Read the full transcript here
7:57 P.M. ET | Former President Donald Trump leaves the Fulton County Jail after posting bond. 
7:48 P.M. ET | Former President Donald Trump officially booked into the Fulton County Jail on RICO charges stemming from accusations he illegally meddled in the 2020 election in Georgia, jail records show. He faces a $200,000 cash bond. Trump's weight, according to jail records, shows he weighed 215 pounds, a significant decrease since his last physical released to the public during his time in the White House.
7:33 P.M. ET | Trump arrives at Fulton County Jail to surrender on RICO charges stemming from attempts to overturn 2020 presidential election in Georgia.
7:17 P.M. ET | Trump's motorcade en route to the Fulton County Jail.
7:07 P.M. ET | Roadways around Hartsfield-Jackson International Airport, including interstates, closed as Trump's motorcade expected to leave soon.
7:03 P.M. ET | Trump lands at Hartsfield-Jackson Atlanta International Airport.
6:38 P.M. ET | Motorcade lines up at Hartsfield-Jackson Atlanta International Airport ahead of former President Trump's arrival to surrender at the Fulton County Jail. At least 14 vehicles, including an ambulance could be seen lined up on the tarmac.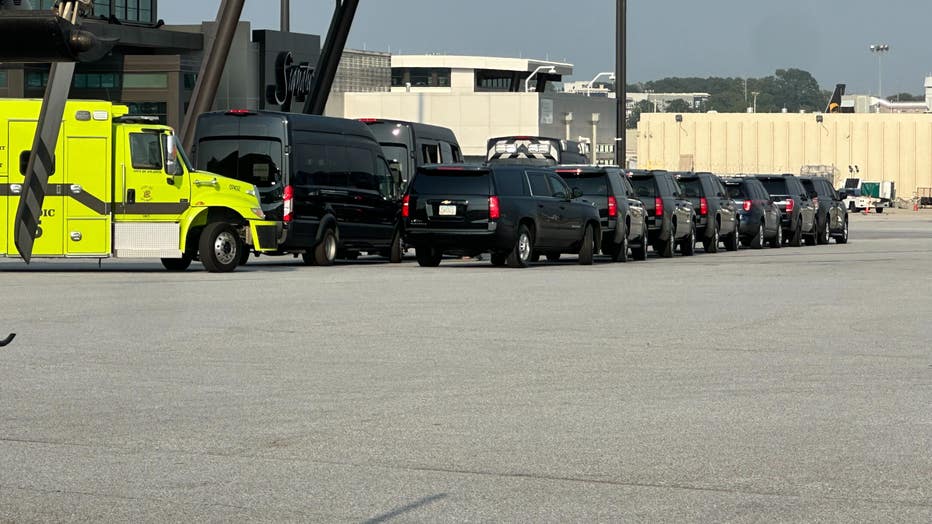 Trump motorcade at Hartsfield-Jackson Atlanta International Airport (FOX 5 Atlanta).
5:24 P.M. ET | A federal judge has set a Sept. 18 hearing for former Department of Justice official Jeffrey Clark's motion to move his Fulton County case to federal court.
4:25 P.M. ET | Ahead of his surrender at the Fulton County Jail, former President Trump attacks District Attorney Fani Willis in a post on his Truth Social account. In the post, he questions the amount of violent crime in Atlanta and claims people are "afraid to go outside to buy a loaf of bread."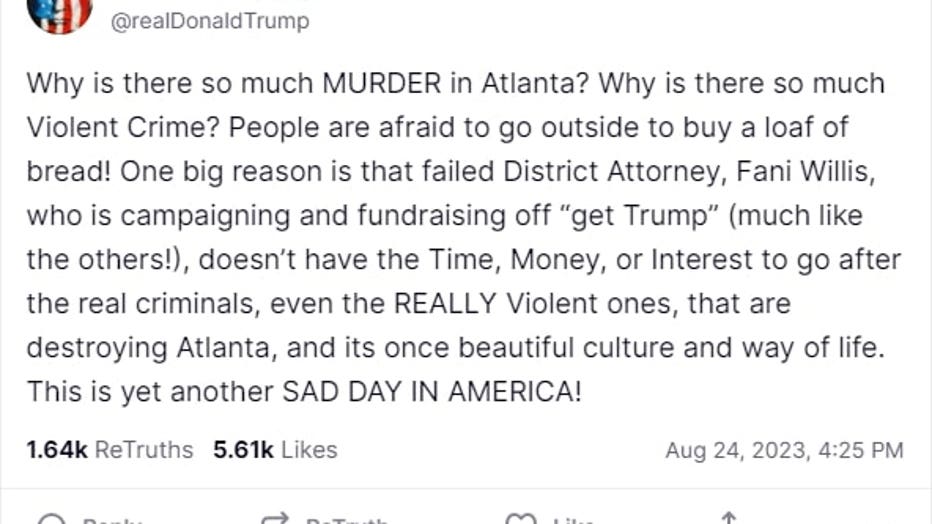 4:22 P.M. ET  | Former President Trump's motorcade arrives at airport in New Jersey to head to Atlanta as he prepares to surrender at the Fulton County Jail.
4:15 P.M. ET | Case specific scheduling order for former President Trump's co-defendant, Kenneth Chesebro. Trial date for Chesebro is set for Oct. 23, 2023. Chesebro had filed a motion seeking an earlier court date. 
2:50 P.M. ET | Former President Trump has announced that he will be arrested at 7:30 p.m. He made the announcement on his Truth Social account.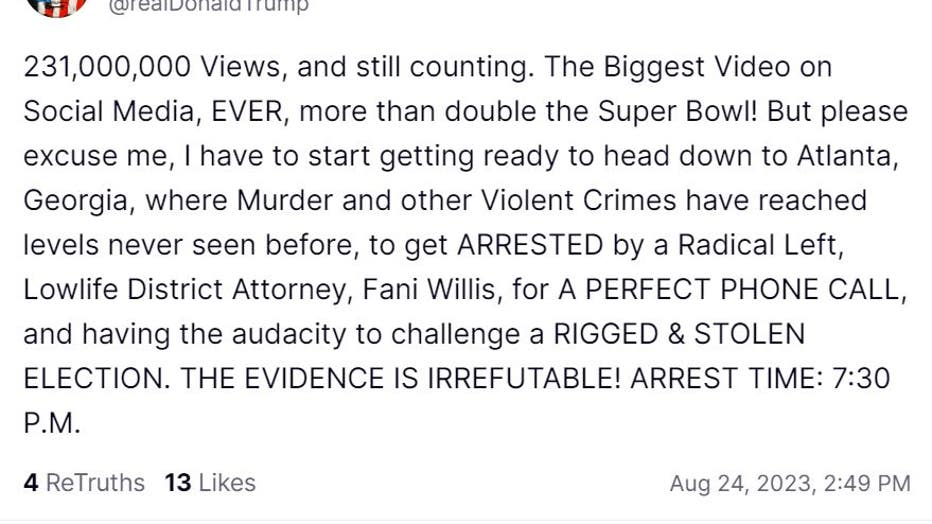 2:39 P.M. ET | Harrison Floyd has been booked into the Fulton County Jail. He is facing three charges, including Violation of the RICO Act, Conspiracy to Commit Solicitation of False Statements and Writings, and Influencing Witnesses. Floyd is the former director of Black Voices for Trump. Floyd did not negotiate a bond agreement before his arrest and remains in jail at this time. 
2:25 P.M. ET | Former President Donald Trump has responded to the request for a speedy trial. According to the response, Trump is opposed to the motion, and he plans to file a "timely motion" to sever his case from that of co-defendant Kenneth Chesebro, who filed the motion seeking an earlier court date. 
Additionally, Mark Meadows, former chief of staff for former President Trump, has been booked into the Fulton County Jail. He is facing two charges: Violation of RICO Act and Solicitation of Violations of Oath by Public Officer. His bond has been set at $100,000. 
1:30 P.M ET | A Fulton County Superior Court Judge has set a $75,000 bond for Trevian Kutti before she surrenders at the Fulton County Jail.
Kutti, who was the former publicist for rapper Kanye West and former spokesperson for R. Kelly, is accused by prosecutors of trying to pressure Fulton County election worker Ruby Freeman to falsely confess to voter fraud.  
The indictment alleges that Kutti, along with Black Voices for Trump Director Harrison William Prescott Floyd and pastor Stephen Cliffgard Lee each tried to intimidate Freeman into saying she pulled fraudulent ballots from a suitcase during the vote count.
Prosecutors allege Kutti presented herself as someone who could help Freeman and claimed to have high-level law enforcement connections.
Kutti is facing charges of violating Georgia's RICO Act, criminal conspiracy, and influencing witnesses.
1:09 P.M. | Fulton County Sheriff's Office warns the media they may be arrested if they do not remain behind bike racks at the intersection of Jefferson and Rice streets near the jail. The Fulton County Courthouse & Fulton County Government Center is currently open to the public meaning pedestrian traffic is permitted on Pryor Street. The bike racks will be removed at 5 p.m. Aug. 25 and vehicle traffic will resume in the area. 
Authorities guard the Fulton County Jail in Atlanta, Georgia, US, on Thursday, Aug. 24, 2023. Donald Trump said he will surrender to authorities in Atlanta today to be booked on state charges that he led a criminal conspiracy to overturn the results of the 2020 election, appearing in state jail just one day after the first Republican debate, which he did not attend. Photographer: Alyssa Pointer/Bloomberg via Getty Images
1 P.M. ET | Fulton County District Attorney Fani Willis has filed a motion to move the trial date up to Oct. 23, 2023, for former President Donald Trump and the 18 co-defendants.
Willis initially requested that the trial be held in March.
According to the motion, defendant Kenneth Chesebro filed a request for a speedy trial on Wednesday.
Additionally, bond has been set for $100,000 for Mark Meadows, former top aide for Donald Trump. 
11:30 A.M. ET | Approximately 100 supporters and opponents are now gathered outside the Fulton County Jail. There is also a very heavy police presence, including Fulton County Sheriff Pat Labat and Atlanta Police Chief Darin Schierbaum. 
SUPPORTERS GATHER AT FULTON COUNTY JAIL TO SHOW SUPPORT FOR FORMER PRESIDENT DONALD TRUMP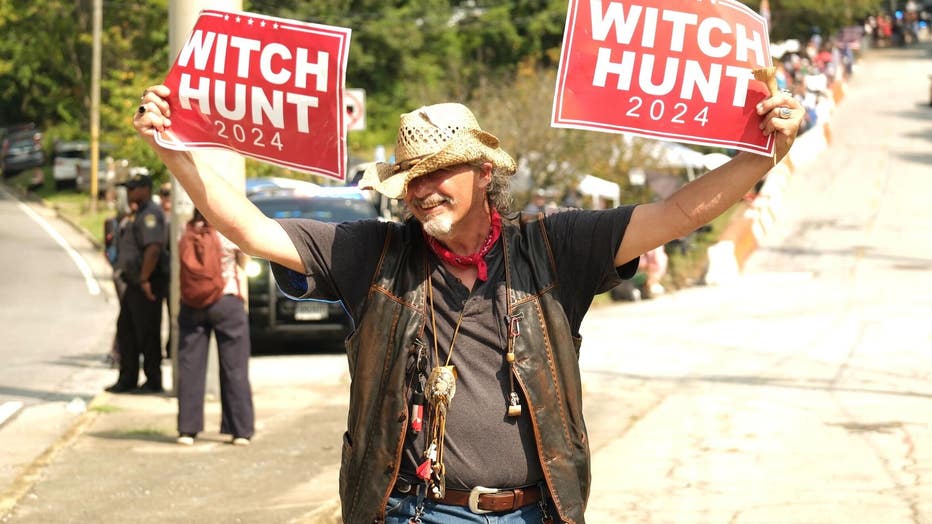 10:30 A.M. ET | The Republican's House Judiciary Committee has announced that it is launching an inquiry into whether Fulton County District Attorney Fani Willis coordinated with DOJ Special Counsel Jack Smith and federal officials. 
10 A.M. ET | Supporters and anti-supporters of former President Donald Trump have started to gather outside the Fulton County Jail on Rice Street. 
9 A.M. ET | Hours before former President Trump is expected to turn himself in to Georgia authorities, it was announced that he replaced Drew Findling, the lawyer who had led his defense, with Steve Sadow, an Atlanta-based attorney who represented Gunna before the rapper pleaded guilty.
TRUMP REPLACES GEORGIA LAWYER WITH ATTORNEY WHO REPRESENTED GUNNA
ORIGINAL STORY
Former President Donald Trump will head to Atlanta on Thursday to surrender to Georgia authorities on charges that he schemed to overturn the 2020 election in the state.
Trump's arrest at the Fulton County Jail is expected to yield a historic first: a mug shot of a former American president.
Wednesday, Trump responded to the indictment on his social media platform Truth Social, saying in all caps, "Nobody has ever fought for election integrity like President Donald J. Trump, for doing, so I will proudly be arrested."
Trump is expected to arrive and turn himself in at the jail Thursday night and may be in and out of the city in about 90 minutes.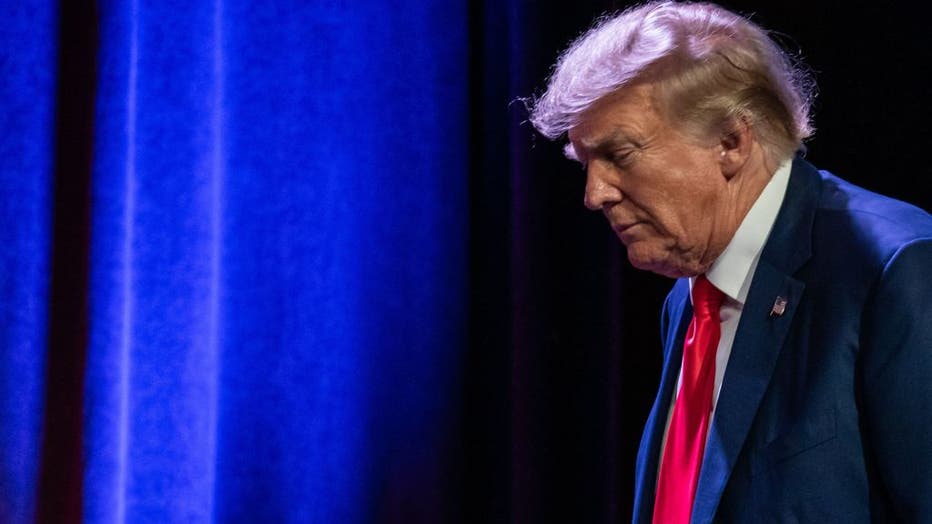 Former US president and 2024 Republican Presidential hopeful Donald Trump arrives to speak at the Republican Party of Iowas 2023 Lincoln Dinner at the Iowa Events Center in Des Moines, Iowa, on July 28, 2023. (Photo by Sergio FLORES / AFP) (Photo by
The Fulton County prosecution is the fourth criminal case against Trump since March when he became the first former president in U.S. history to be indicted. Since then, he's faced federal charges in Florida and Washington and was indicted this month in Atlanta with 18 others — including his ex-chief of staff, Mark Meadows, and former New York Mayor Rudy Giuliani — under a racketeering statute normally associated with gang members and organized crime.
SECURITY EXPECTED TO BE TIGHT AT FULTON COUNTY JAIL AS FORMER PRESIDENT TRUMP SURRENDERS
Earlier this week Trump announced his intention to turn himself Thursday in via Truth Social.
"Can you believe it? I'll be going to Atlanta, Georgia, on Thursday to be ARRESTED by a Radical Left District Attorney, Fani Willis, who is overseeing one of the greatest Murder and Violent Crime DISASTERS in American History," the former president posted. "In my case, the trip to Atlanta is not for 'Murder,' but for making a PERFECT PHONE CALL!'"
The 'perfect phone call' he mentions refers to a recorded phone conversation between Trump and Georgia's Secretary of State Brad Raffensperger in which the former president asked Raffensperger to help "find" the votes needed to overturn his narrow loss to Democrat Joe Biden. The call took place in January 2021.
TRUMP REPLACES GEORGIA LAWYER WITH ATTORNEY WHO REPRESENTED GUNNA: REPORTS
What might Trump's booking look like?
When defendants arrive at the building, they typically pass through a security checkpoint before checking in for formal booking in the lobby.
They are taken into a large, open room that has stations for fingerprinting, mugshots, and medical evaluations, said attorney Michael Harper, who toured the jail several years ago and has filed several lawsuits over inmate deaths that occurred there.
The room typically has numerous defendants in for booking at any given time, along with jail staff and guards. Given Trump's security needs, that may be unlikely this time.
"It's a huge, busy area," Harper said.
The jail takes in people 24 hours a day and holds defendants facing a range of charges, from misdemeanors to violent crimes.
Fulton County Sheriff Patrick Labat said earlier this month that Trump will be treated like other defendants.
But the former president, who still has 24-hour Secret Service protection, may receive some accommodations for security reasons. In his past appearances in a New York state court and federal courts in Miami and Washington, Trump was not handcuffed while in custody. He also was not required to pose for a mugshot, with officials instead using existing photographs of the former president.
His booking in Atlanta could be different in that respect.
"Unless someone tells me differently, we are following our normal practices and so it doesn't matter your status, we'll have a mugshot ready for you," Labat said at a news conference in August.
Meanwhile, a spokesperson for the facility warned the media there would be a hard lockdown on the area surrounding the facility that day as some groups plan to rally in the area to show the former president their support.
What charges does Trump face in Georgia?
Trump faces 13 charges, including one for racketeering, a charge that was originally created to indict mobsters. The bond on that RICO charge was set at $80,000.
JUDGE SETS BOND FOR TRUMP ALLIES IN GEORGIA ELECTION INTERFERENCE CASE
His other charges include three counts of criminal solicitation, six counts of criminal conspiracy, two counts of false statements and one count of filing false documents. The bond on those charges was set at $10,000 apiece.
He and 18 other associates were indicted in Georgia last week as part of a sweeping case alleging they all schemed to illegally overturn his 2020 election loss and stop the peaceful transition of power to President Joe Biden.
The indictment, brought by Fulton County District Attorney Fani Willis, follows an investigation that lasted more than two years and marks the fourth criminal case brought against the former president.
So far, nine of the 19 defendants have turned themselves in at the jail and have been released on bond. Those include lawyers Sydney Powell and Jenna Ellis, former New York Mayor and Trump attorney Rudy Giuliani, and former Georgia GOP chair David Shafer.
Willis has given all the defendants until Friday afternoon to surrender at the main Fulton County jail.
WHAT'S NEXT FOR FORMER PRESIDENT DONALD TRUMP, CO-DEFENDANTS IN FULTON COUNTY 
Problems with the Fulton County Jail
Fulton County Jail, which opened in 1989, held more than 3,200 people earlier this year — well above its capacity of roughly 2,700.
Devin Franklin, a public defender in Fulton County for 12 years, said his clients regularly accused guards of opening cell doors to facilitate attacks.
"They would call it 'popping the doors,'" he said.
Franklin recalled trying to move a 17-year-old who said he was forced to fight other people at the jail for food.
GEORGIA JAIL WHERE TRUMP WILL BE BOOKED HAS LONG BEEN PLAGUED WITH VIOLENCE 
Stabbings are frequent and medical care is poor, attorneys say. Three people have died at the facility over the last month after being found unresponsive in their cells — two of them in a medical unit.
The U.S. Department of Justice announced earlier this year that it opened a civil rights investigation into conditions at the jail, with officials citing violence, filthy conditions and the death last year of Lashawn Thompson, whose body was found covered in insects.
Labat has called on the county to fund a new jail. Franklin said too many low-level offenders are being held for too long because they can't pay their bail and the district attorney's office is not seeking grand jury indictments fast enough.
"They have so many people in custody that don't need to be in custody, especially when you know you can't keep them safe," Franklin said.
What has Trump said about the jail? 
In a fundraising email sent Tuesday, Trump said the jail has been described as a "humanitarian crisis" and "a violent jail." He said guards have collected shanks made from the jail's crumbling walls.
The sheriff's office said in March that authorities conducting a "shakedown" found more than 200 homemade knives.
"Inmates are literally crafting shanks from the crumbling walls of the dilapidated facility," Labat said in a statement at the time.
The Associated Press contributed to this report.