Dolly Parton announces 1st rock album featuring Lizzo, Miley Cyrus, Elton John and more
NASHVILLE - Country music legend Dolly Parton has surprised fans by announcing a new rock album — just one year after being inducted into the Rock & Roll Hall of Fame. 
The 77-year-old singer, known for hits including "Jolene" and "9 to 5," is taking a new musical direction with her latest project. 
The 30-song collection will include 9 original tracks and 21 iconic rock anthems. Legendary artists including Sting, Kid Rock, Chris Stapleton, Miley Cryus, Elton John, Paul McCartney and Lizzo will be featured on the new album. 
In a statement released Tuesday, Parton said, "I'm so excited to finally present my first rock'n'roll album, Rockstar! I am very honored and privileged to have worked with some of the greatest iconic singers and musicians of all time and to be able to sing all the iconic songs throughout the album was a joy beyond measure. I hope everybody enjoys the album as much as I've enjoyed putting it together!"
The lead original track from the album, "World on Fire," will be available Friday, May 11, which will coincide with the world premiere performance of the song at the 58th Academy of Country Music Awards in Texas. Parton and Garth Brooks are hosting the awards ceremony.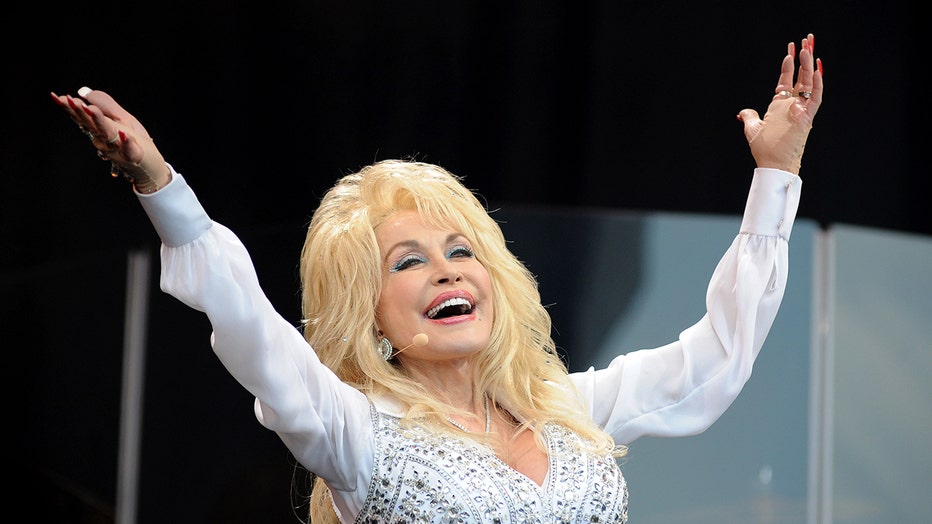 Dolly Parton performs on the Pyramid stage on Day 3 of the Glastonbury Festival at Worthy Farm on June 29, 2014 in Glastonbury, England. (Credit: Tabatha Fireman/Redferns via Getty Images)
"Rockstar!" is scheduled to be released on Nov. 17 and is now available for pre-order. 
Dolly Parton accepts Rock & Roll Hall of Fame induction
The news comes one year after Dolly Parton was inducted into the Rock & Roll Hall of Fame, despite the country music legend's decision to withdraw from the nomination months earlier. 
RELATED: Dolly Parton accepts Rock & Roll Hall of Fame induction after 1st declining: 'I am honored'
"I am honored and humbled by the fact that I have been inducted into the Rock and Roll Hall of Fame," Dolly Parton wrote on social media. "Of course, I will accept it gracefully. Thanks to everyone that voted for me and to everyone at the @rockhall. I will continue to work hard and try to live up to the honor."
Dolly Parton initially withdrew from nomination
But in March 2022,  Parton famously withdrew her name from the nomination.
"Even though I am extremely flattered and grateful to be nominated for the Rock & Roll Hall of Fame, I don't feel that I have earned that right. I really do not want votes to be split because of me, so I must respectfully bow out," she posted on Instagram.
She wrote that the nomination inspired her to put out a "hopefully great rock 'n' roll album," and said that's something she's always wanted to do. She added that she received the seal of approval from her husband, who she called "a rock 'n' roll freak."
This story was reported from Los Angeles.