Delta unveils 'first-of-its-kind' airplane seat for travelers in wheelchairs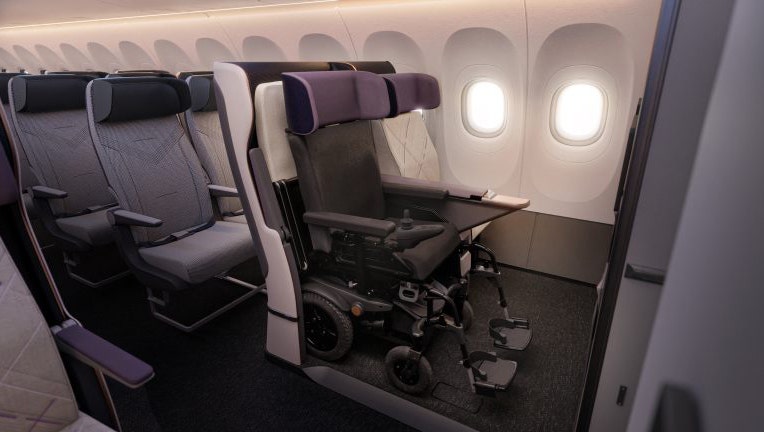 article
ATLANTA - Delta Air Lines this week unveiled a- "first-of-its kind" airplane seat that makes flights more accessible, allowing travelers to remain in their own powered wheelchairs on board. 
The new prototype, which was shown at the Aircraft Interiors Expo (AIX) in Hamburg, Germany, converts a standard passenger seat to an accommodation for wheelchair restraint.
Travelers who use the seat with wheelchairs in place still have access to the headrest, center console tray tables and cocktail table, Delta said in a press release. The carrier noted how the prototype also enables airlines to keep the design of their cabin on every seat.
"This patented design offers new possibilities for customers with disabilities to enjoy a travel experience they truly deserve," Rick Salanitri, president of Delta Flight Products, said in a statement. 
RELATED: FAA may have to redo plane evacuation tests as passengers squeeze into smaller spaces
The new seat was developed with the U.K.-based consortium Air4All, made up of the organizations PriestmanGoode, Flying Disabled, SWS Certification and Sunrise Medical. PriestmanGoode led the design. 
Air4All is dedicated to creating solutions around accessibility in air travel. 
"An innovation like this in air travel provides those with reduced mobility a safe and comfortable way for them to travel and remain in their own power wheelchair," Chris Wood, founder of Flying Disabled, said in a statement.  "It has taken a truly collaborative effort to develop this seat and we believe this product provides an optimal solution for all parties."
After the annual expo in Germany, Delta said the seat will be sent for "final design and validation." Testing and certification programs to install the seat will begin once certified.
Delta currently offers wheelchair assistants to help travelers through the terminal, security, and to their gate. It also offers onboard wheelchairs specially-designed to fit within the aisle of the plane and for use to and from the bathroom, according to its website.
"These onboard wheelchairs can only be used with flight attendant assistance and may not fit within the onboard lavatory," Delta states online. 
All airlines in the U.S. are required to provide passengers with disabilities many types of assistance, including wheelchair assistance and "seating accommodation assistance that meets passengers' disability-related needs."
RELATED: American Airlines allowing passengers to rebook without fees as wildfire smoke impacts Northeast
This story was reported from Cincinnati.