American Airlines allowing passengers to rebook without fees as wildfire smoke impacts Northeast
American Airlines is allowing passengers to rebook their flights Thursday without fees as wildfire smoke from Canada is continuing to impact operations at airports throughout the Northeast. 
The airline says passengers traveling through certain airports in Maryland, Massachusetts, New Hampshire, New Jersey, New York, Ohio, Pennsylvania, Rhode Island, Virginia, and Washington, D.C., may now have their change fees waived if they bought tickets by June 7 and want to travel to the same destination city, among other conditions. 
"When severe weather or other uncontrollable events impact your flight and travel dates, you may be able to change your trip with no change fee," according to a portion of its website. "We understand you may have questions about your upcoming travel. We're working around the clock to care for you on your travel journey." 
The move from American Airlines comes as the Federal Aviation Administration (FAA) has delayed flights at five major U.S. airports so far on Thursday. 
FAA DELAYS FLIGHTS FOR 5 MAJOR US AIRPORTS SO FAR, AS CANADA WILDFIRE SMOKE IMPACTS VISIBILITY
Major airports that have been impacted by the FAA's actions include New York City's LaGuardia International Airport, Newark International Airport in New Jersey and Philadelphia International Airport in Pennsylvania.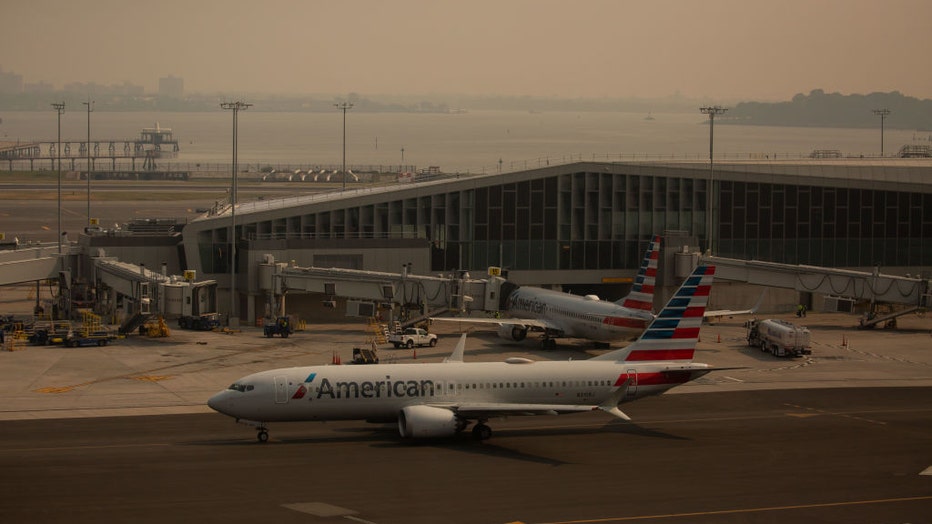 American Airlines planes at LaGuardia Airport (LGA) in the Queens borough of New York, US, on Thursday, June 8, 2023. Photographer: Michael Nagle/Bloomberg via Getty Images
The smoky blanket billowing from wildfires in Quebec and Nova Scotia, sending plumes of fine particulate matter as far away as North Carolina and Northern Europe, should persist into Thursday and possibly the weekend. 
The weather system that is driving the great Canadian-American smokeout — a low-pressure system over Maine and Nova Scotia — "will probably be hanging around at least for the next few days," U.S. National Weather Service meteorologist Bryan Ramsey said.  
"Conditions are likely to remain unhealthy, at least until the wind direction changes or the fires get put out," Ramsey said. "Since the fires are raging — they're really large — they're probably going to continue for weeks. But it's really just going be all about the wind shift." 
Across the eastern U.S., officials warned residents to stay inside and limit or avoid outdoor activities again Thursday, extending "Code Red" air quality alerts in some places for a third-straight day. 
In Washington, D.C., Mayor Muriel Bowser ordered schools to cancel outdoor recess, sports and field trips Thursday. In suburban Philadelphia, officials set up an emergency shelter so people living outside can take refuge from the haze.