Critically endangered turtle hatchlings found, captured on video
In a heartwarming discovery, a wildlife charity recently documented a remarkable video showcasing critically endangered turtle hatchlings in Southeast Asia.
During a recent patrol on June 14, the conservation charity Fauna and Flora discovered 15 turtle hatchlings at one of the nest sites in Myanmar.
According to the researchers, the rare turtle species, only found in the wetlands of Myanmar, is the first official record of Burmese peacock softshell turtle hatchlings in the wild.
The Burmese peacock softshell, which owes its name to the pattern of spots on its shell, is classified as critically endangered due to factors including overharvesting and habitat degradation.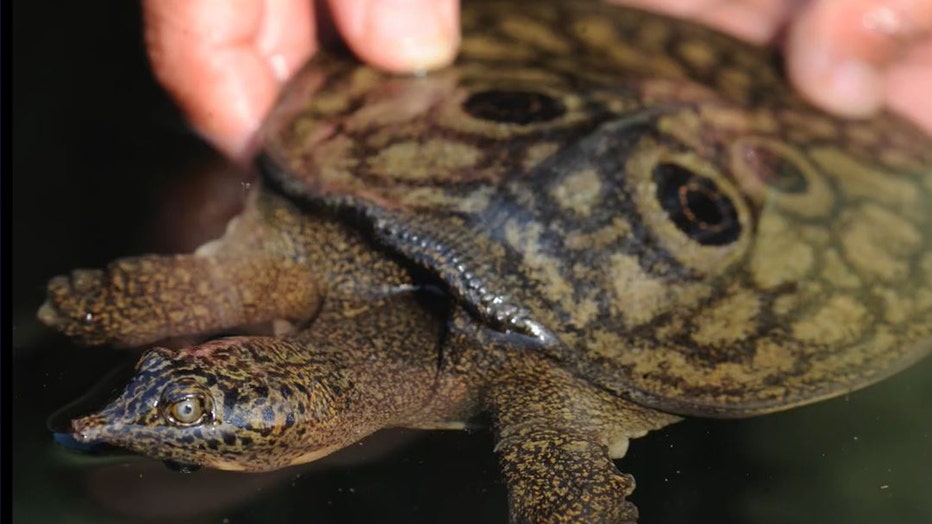 According to researchers, this is the first official record of Burmese peacock softshell turtle hatchlings in the wild. (Credit: Nyein Chan and Yae Aung/Fauna & Flora via Storyful)
The total number of Burmese peacock turtles is unknown, but it's estimated their population has declined by at least 80 percent over the past 90 years, according to the IUCN Red List.
Fauna & Flora collected the hatchlings to gather data on the species, including weight and size. The captive turtles have since been released into the wild during a small ceremony with the community.
"Our work to save this species, which is unique to Myanmar, has only just begun, but the discovery and release of these hatchlings is a great start and a wonderful example of how we can work together to save nature," Zau Lunn, the charity's freshwater & marine program manager said in a statement.
RELATED: Biden administration moves to restore endangered species protections dropped by Trump
Fauna & Flora's work to safeguard the vanishingly rare turtle species began last year. They said their efforts to engage the local community in its conservation were "already paying dividends."
"With the help of local people, Fauna & Flora was able to pinpoint five Burmese peacock softshell nesting sites. The clutches of eggs were fenced off and protected through regular patrols conducted by a team of turtle guardians drawn from the community," the researchers wrote. 
This discovery is just the latest in a series of freshwater finds during the past two decades made by Fauna & Flora and its partners.
Last year, a series of surveys led by Fauna & Flora's partner in Romania, the Alex Găvan Foundation, discovered record numbers of the asprete, possibly the rarest fish in Europe, in the Vâlsan River. This critically endangered fish, which may have been around since the time of the dinosaurs, was discovered in 1956. 
 In 2020, Fauna & Flora-led survey teams in Georgia also plucked two specimens of the critically endangered ship sturgeon from the waters of the Rioni River. Until that point, the species was widely believed to be extinct. 
This story was reported from Los Angeles. Storyful contributed.