Comedy Pet Photography contest winners announced: See the funny photos
Pets and animal lovers rejoice: the annual Comedy Pet Photography winners have been announced for 2023, and the photo and video winners don't disappoint.
The global awards, now in their fourth year, were created by Paul Joynson-Hicks and Tom Sullam, "to highlight the positive and vital role that pets have in our lives and to encourage engagement around animal welfare."
READ MORE: Maui Humane Society overwhelmed after wildfire; how you can help
The contest calls on all pet and animal lovers to submit hilarious images and videos of their funny furry friends for a chance of winning the prestigious title of Comedy Pet Photographer of the Year.  The top prize winner gets $634 in cash (500 pounds), a camera bag and a trophy.
"This is still a very young competition in the whole scheme of things, but within a few short years we are already receiving some of the most uplifting, life affirming hilarious images of pets in the world!" Tom Sullam, Co-founder of the Comedy Pet Photo Awards, said. "We couldn't be more excited to share these with you all. Pets have played a fundamental role during the covid years, and to be able to laugh out loud with these loveable creatures is the reason this competition exists!"
2023 Comedy Pet Photography Winners
The overall winner came from Michel Zoghzoghi with a photo of his two rescue kittens, Max and Alex, called "A life Changing Experience." The video winner, "Cool Catch" by Emma Hay, can be seen in the video player at the top of this page.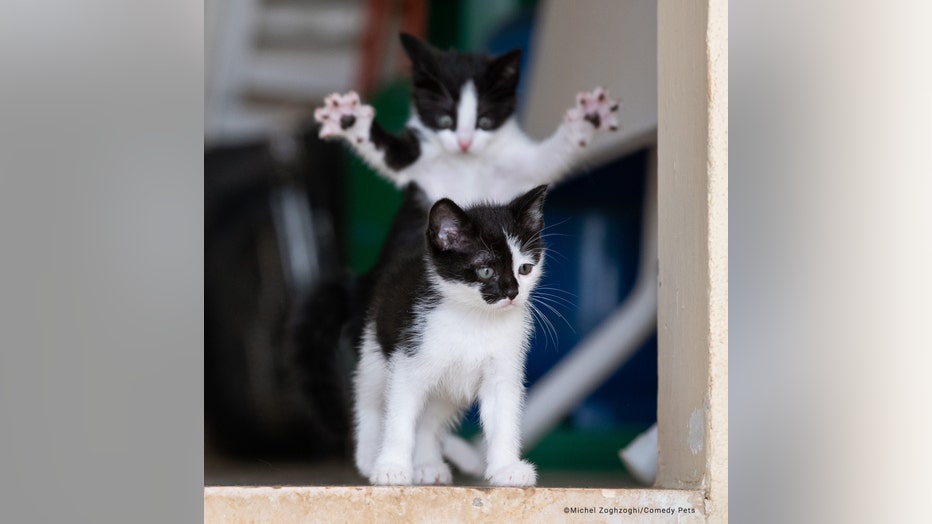 The Comedy Pet Photography Awards 2023 Michel Zoghzoghi Beirut Lebanon Title: A life changing event Animal: cats Location of shot: Lebanon
Zoghzoghi, whose photo also won the Best Cat Category, is a professional wildlife photographer from Beirut, Lebanon and has traveled the world taking photos of much bigger cats.
READ MORE: Watch: Man dresses up in realistic dog costume, gets taken for a walk
"Max and Alex form a lethally cute duo.  I had more fun and surprises taking photos of these two characters, than during my most adventurous wildlife photography trips," he said. "I am extremely happy and proud to have won it as all the finalists were really outstanding and some of them made me laugh to tears. Pets are a very, very important part of our families and should be celebrated."
Boudicca the ferret, whose owner is from Kyiv, Ukraine, took home top prize in the All Other Creatures category.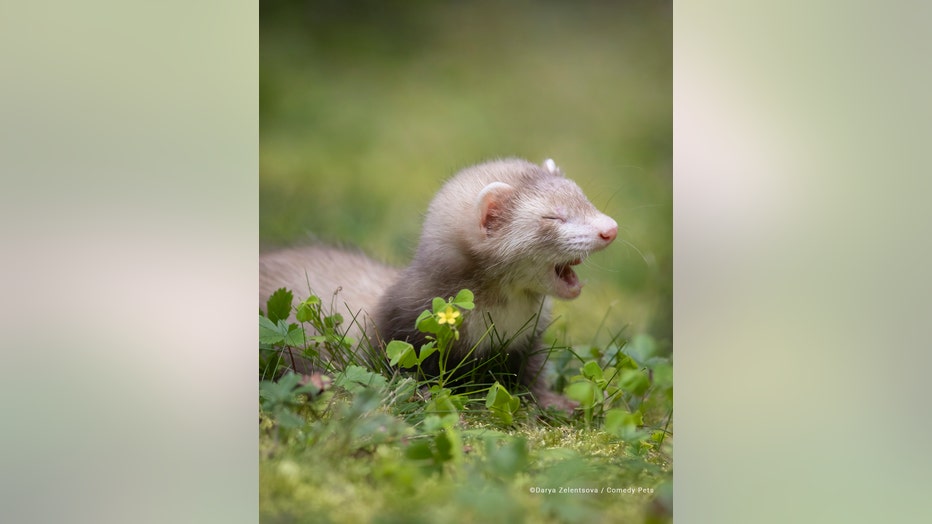 The Comedy Pet Photography Awards 2023 Darya Zelentsova Amherst United States Title: The first outdoor walk Description: Tiny happy ferret Boudicca (only 2,5 month old!) enjoys her first outdoor walk. Animal: Boudicca The Ferret Location of shot: Amh
"Ferrets almost never win anything in major international photo contests, and I'm glad to promote them as amazing pets and models," Boudicca's owner Darya Zelentsova said. They are intelligent, cheerful, social little creatures with great personalities and overloading cuteness – when you have a ferret, you literally never stop smiling!"
READ MORE: English zoo confirms: Viral Chinese bears are not people in costume
The people's choice award went to Chris Porsz from the UK with his snap of a dog jumping in front of surprised onlookers in a park in New York.  "Barking" also took the top prize in the Dog Category.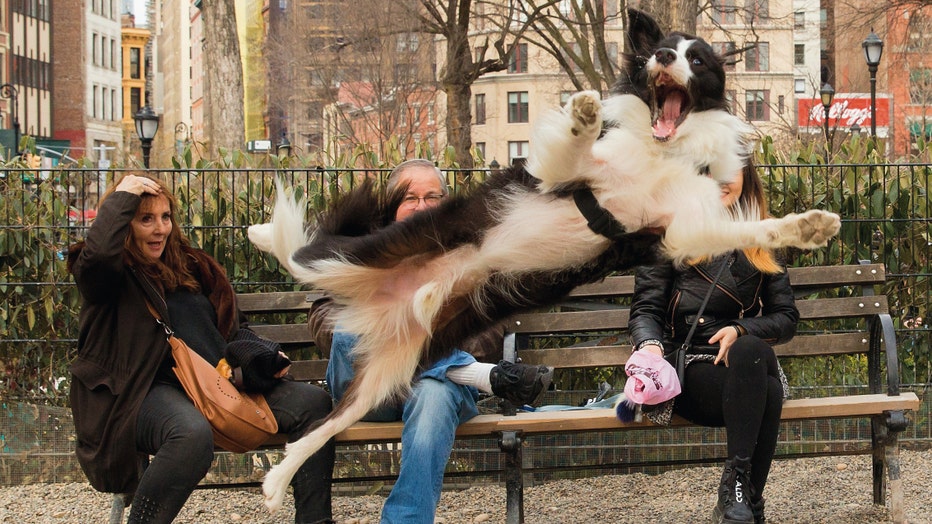 The Comedy Pet Photography Awards 2023, Chris Porsz, PETERBOROUGH United Kingdom Title: Barking! Animal: Border Collie Location of shot: Union Sq, New York
"As an amateur street photographer, I have walked many, many miles and this is still my best and favourite photograph.  And it was one I nearly didn't take.  But by some fluke, just as the owner of the dog threw the ball, I instinctively raised my camera and fired away," Porsz said. "The dog was looking at the owner and then launched itself and flipped in mid-air to catch the ball. Out of the five images taken this was the magic shot which fortunately was in focus!"
Other winners include:
Pets Who Look Most Like Their Owner's Category: Klaus-Peter Selzer with The Three Greys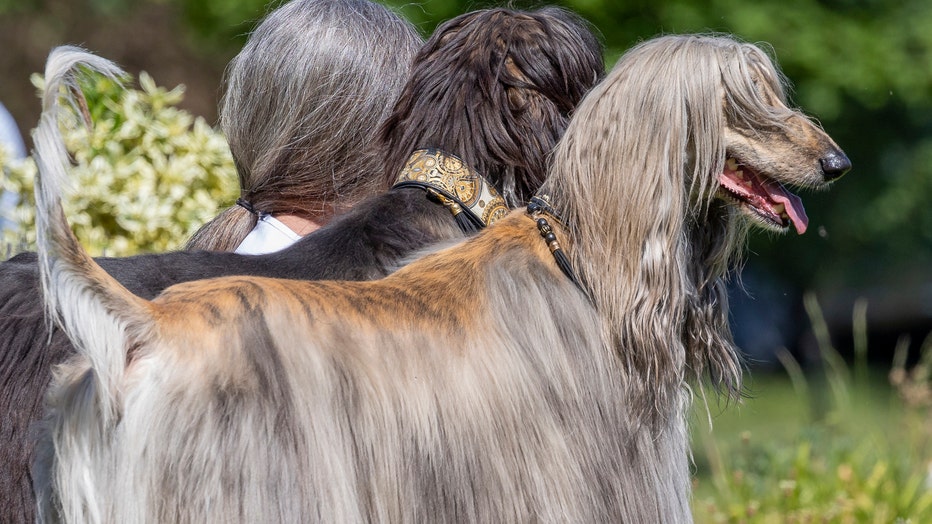 The Comedy Pet Photography Awards 2023Klaus-Peter Selzer66763 DillingenGermany Title: The three GreysDescription: Karin and her two dogs. Don't they all look almost the same? ...Animal: Afghan WindhoundsLocation of shot: Landstuhl, Germany
Junior Category: Monyque Macedo Dos Santos 'Is it a seal or is it a dog?'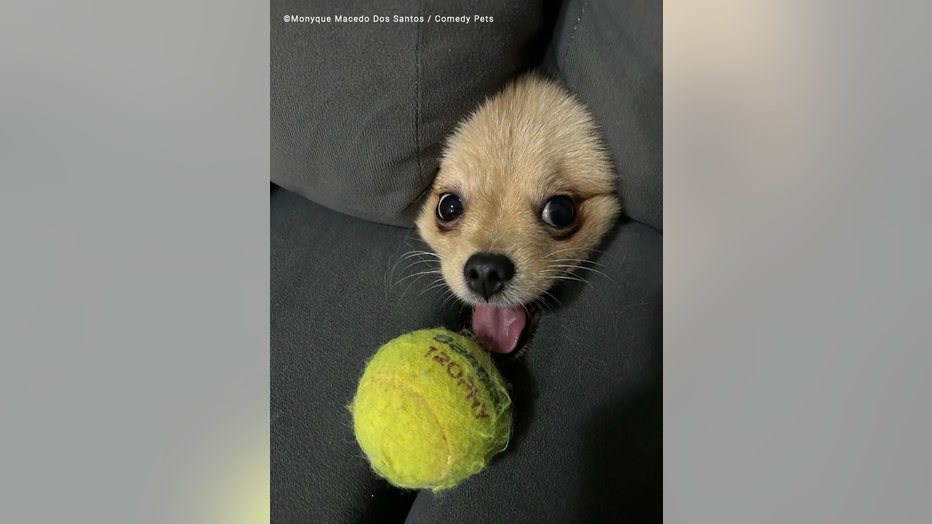 The Comedy Pet Photography Awards 2023Thaís FerreiraBrasíliaBrazil Title: Is it a seal or a dog?Animal: The dogLocation of shot: BRASÍLIA, BRASIL.
The 2024 competition will be open for entries next year on the Comedy Pet Photo website at www.comedypetphoto.com.