Chicago 11-year-old creates hoodie to help autism patients self-soothe
CHICAGO - A south suburban Chicago 11-year-old was tired of being bullied, so he came up with a genius fashion hack.
Malachi Rucker came up with a hoodie for anyone dealing with autism and a sensory processing disorder. It allows you to discretely self-soothe.
"Some of our sensory adaptations are, as you can see the fleece lining inside of our hoodies. We have strings inside of our hoodies that you can play with," Malachi said.
The 5th grader has a trademark for his brand and a patent that's in the works for the hoodie.
SUBSCRIBE TO FOX 32 ON YOUTUBE
It all started when Malachi was 3 years old and diagnosed with autism. 
He was bullied because certain environments trigger an emotional response for the middle school student, and fabrics and textures can make it worse.
Fast-forward to a year ago when Malachi had the genius idea to help stop other kids from being bullied by creating Divergent Clothing line and the hoodie.
"The older I got, the more I resented being made fun of for carrying around my fidgets and only wearing sweatpants because kids didn't know what SPD was and why I had certain behaviors. I wanted to create a way to feel good in my clothes and be able to soothe myself in public without people knowing," said Rucker. 
SPD is a neurological condition in children that can affect the way the brain processes information from the senses.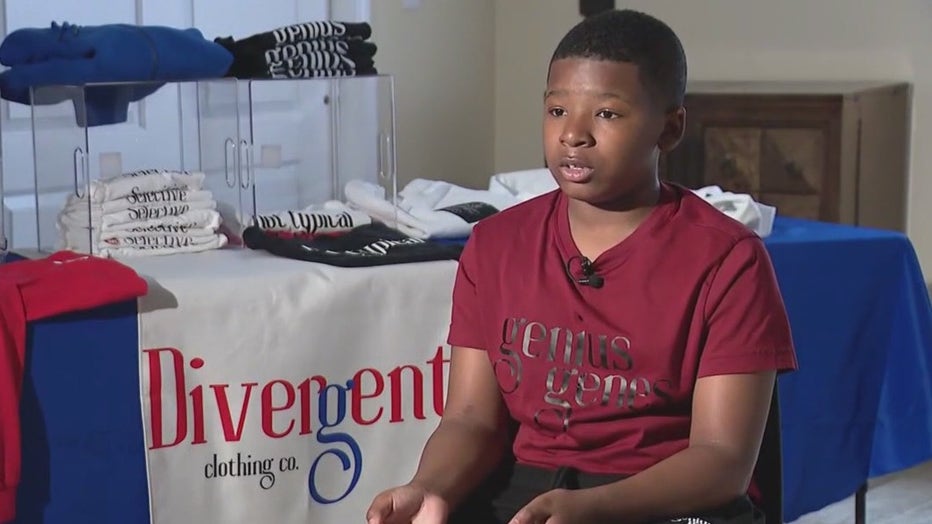 SPD and autism commonly overlap, as people living with autism regularly struggle to process sensory information. For instance, some people with SPD lean towards softer fabrics, tagless or loose and less restrictive clothing. 
Some might also find it calming to carry fidgets, rub certain textures or other items to self-soothe when in over-stimulating environments.
"Some kids, they feel that they don't feel comfortable even with things like my magnetic rings. They just don't feel comfortable at all, they don't want anyone to know. So my hoodies kind of help them," Malachi said.
Instead of neurodivergence being something that he was embarrassed of, Rucker wanted to turn it into an opportunity to educate others. 
Customers can customize tagless, Pima cotton hoodies with chenille or logo patch options, hidden fleece strings, and textured printed designs. Each customizable design also comes in a "support your sensory seeker" option where non-sensory-seeking parents, siblings or friends can order matching apparel.
Partial proceeds from the "support your sensory seeker" product sales will be donated to the Chicago Autism Network, an Illinois not-for-profit organization dedicated to helping those in need to find and afford effective autism therapy and support.
You can visit his website DivergentClothingCo.com.