Capitol physician: McConnell's health episodes show 'no evidence' of being strokes or seizures
WASHINGTON - Senate Republican Leader Mitch McConnell's health episodes show "no evidence" of being strokes or seizures, the Capitol physician said in a letter released Tuesday after a medical evaluation and consultation with neurologists.
McConnell's office released the letter from attending physician Brian P. Monahan as the Senate returns from an extended summer break and question mount over the long-serving Republican leader's health. The 81-year-old froze up last week during a press conference in Kentucky, unable to respond to a question, the second such episode in a month.
"There is no evidence that you have a seizure disorder or that you experienced a stroke, TIA or movement disorder such as Parkinson's disease," Monahan wrote, using the acronym for a transient ischemic attack, a brief stroke.
The doctor said the assessments entailed several medical evaluations including a brain MRI imaging and "consultations with several neurologists for a comprehensive neurology assessment."
"There are no changes recommended in treatment protocols as you continue recovery from your March 2023 fall," the doctor said.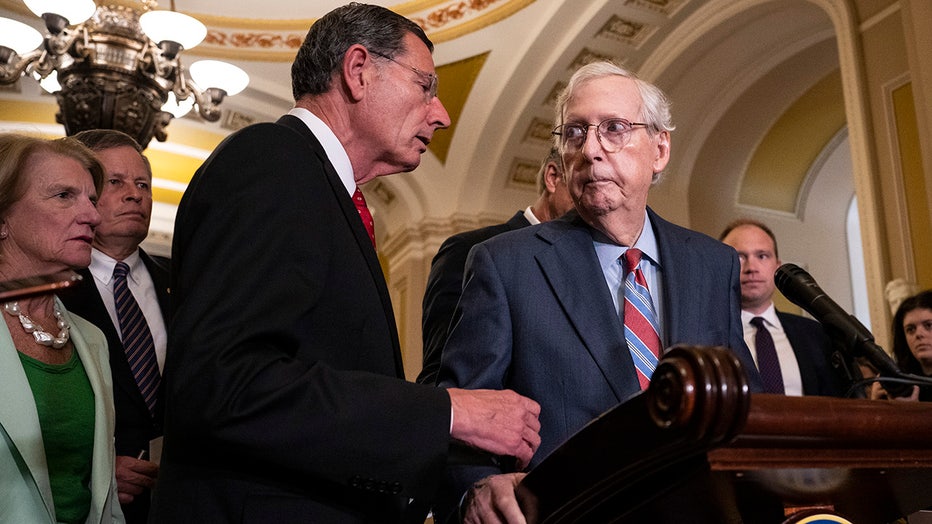 File: Sen. John Barrasso (R-WY) reaches out to help Senate Minority Leader Mitch McConnell (R-KY) after McConnell froze and stopped talking at the microphones during a news conference after a lunch meeting with Senate Republicans U.S. Capitol 26, 202
After last week's freeze-up, the attending physician to Congress cleared McConnell to continue with his planned schedule. McConnell arrived Tuesday at the Capitol office.
But the episodes have fueled quiet concern among Republican senators and intense speculation in Washington about McConnell's ability to remain as leader. The long-serving senator fell and hit his head at a political dinner earlier this year, suffering a concussion.
PREVIOUS: Sen. Mitch McConnell booed, heckled with chants to 'retire' at Kentucky rally
It all comes amid a swirl of health concerns in Washington, particularly as COVID-19 cases show signs of rising heading into fall. President Joe Biden tested negative for the coronavirus after first lady Jill Biden tested positive for COVID-19 over the weekend.
Nevertheless, many Republican allies have flocked to McConnell's side, ensuring the famously guarded leader a well of support. Rivals have muted any calls for a direct challenge to McConnell's leadership.
McConnell is expected to address the Senate as it opens for a flurry of fall activity, most notably the need for Congress to approve funding to prevent any interruption in federal operations by Sept. 30, which is the end of the fiscal year.
Some House Republicans are willing to shutdown the government at the end of the month if they are unable to enact steep spending restrictions they are fighting for that go beyond the agreement Biden reached with Republican House Speaker Kevin McCarthy earlier this summer.
In leading Senate Republicans, McConnell is viewed by the White House and Democrats as a potentially more pragmatic broker who is more interested in avoiding a messy government shutdown that could be politically damaging to the GOP.
McConnell has also made it a priority to ensure Ukraine continues to receive support from the U.S. as it battles Russia as President Volodymyr Zelenskyy mounts a slogging counter-offensive.
A $40 billion funding package for Ukraine and U.S. disaster relief for communities hit by fires, floods and other problems, including the fentanyl crisis, is being proposed by the White House, but is being met with skepticism from some Republicans reluctant to help in the war effort.
McConnell's health has visibly declined since the concussion in March after which he took some weeks to recover. His speaking has been more halting, and he has walked more slowly and carefully.
First elected in 1984, he became the longest serving Senate party leader in January. The question posed before he froze up last week was about his own plans, and whether he would run for re-election in 2026.
McConnell had been home in Kentucky at the time keeping a robust political schedule, speaking frequently to the public and press. Before freezing up last week, McConnell had just given a 20-minute speech with no issues.
Similarly, when he froze up during a press conference at the Capitol last month, he took a short break in his office and then returned to microphones field about a half-dozen other questions and banter with the press.