Video shows McConnell appear to freeze again while talking to reporters
Senate Minority Leader Mitch McConnell appeared to freeze again while speaking with reporters at an event in Kentucky Wednesday. It's the second time in a month the Republican leader has stared off into space and had to be helped during a press gaggle.
Video shows McConnell, 81, staring blankly for more than 30 seconds after he was asked if he will seek reelection. An aide intervened and asked McConnell if he heard the question, to which the senator eventually replied, "we're going to need a minute."
READ MORE: Sen. Mitch McConnell booed, heckled with chants to 'retire' at Kentucky rally
McConnell was able to answer two more questions before walking away, the video from Covington, Kentucky shows.
McConnell has suffered health problems in recent months.
At his weekly press conference on July 26, he froze and stared vacantly for about 20 seconds before his GOP colleagues standing behind him grabbed his elbows and asked if he wanted to go back to his office. He later returned to the news conference and answered questions as if nothing had happened.
When asked about the episode, he said he was "fine," a statement he repeated in a hallway to reporters later that day. Neither McConnell nor his office would answer questions about whether he got medical help afterward.
Even as McConnell tried to brush off the concerns, the episode raised new questions among his colleagues about his health and also whether McConnell, who was first elected to the Senate in 1984 and has served as Republican leader since 2007, might soon step aside from his leadership post.
RELATED: GOP leader Mitch McConnell returns to Senate after head injury
In a statement, his office said McConnell appreciates the continued support of his colleagues and "plans to serve his full term in the job they overwhelmingly elected him to do."
He was elected to a two-year term as leader in January by a large majority of his conference, despite an insurgent challenge from Florida Sen. Rick Scott. He would be up for re-election as leader again after the 2024 elections.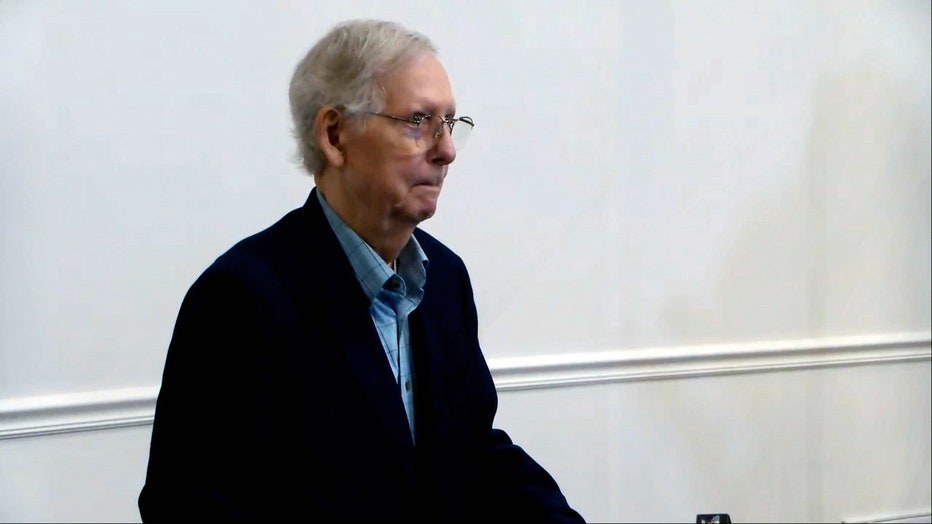 Senate Minority Leader Mitch McConnell freezes up again while speaking with reporters in Kentucky on August 30, 2023 (WXIX)
By then, he will have to decide if he wants to run again for another Senate term. He is up for re-election in 2026.
In March, McConnell suffered a concussion and a broken rib after falling and hitting his head after a dinner event at a hotel. He didn't return to the Senate for almost six weeks. He has been using a wheelchair in the airport while commuting back and forth to Kentucky. And his speech has recently sounded more halting.
But McConnell, famously reticent and often private about his personal life and health, has said very little about what is going on.
RELATED: Hot mic catches confused Feinstein being told to vote 'aye' in awkward committee moment
McConnell had polio in his early childhood and he has long acknowledged some difficulty as an adult in climbing stairs. In addition to his fall in March, he also tripped and fell four years ago at his home in Kentucky, causing a shoulder fracture that required surgery.
The Republican leader is one of several senators who have been absent due to health issues this year. Democratic Sen. Dianne Feinstein of California, 90, was out of the Senate for more than two months as she recovered from a bout of shingles. And Sen. John Fetterman, D-Pa., 53, took leave for several weeks to get treatment for clinical depression.
The Associated Press contributed to this report.