Deadly fungal infection C. auris spreading at 'alarming rate,' CDC says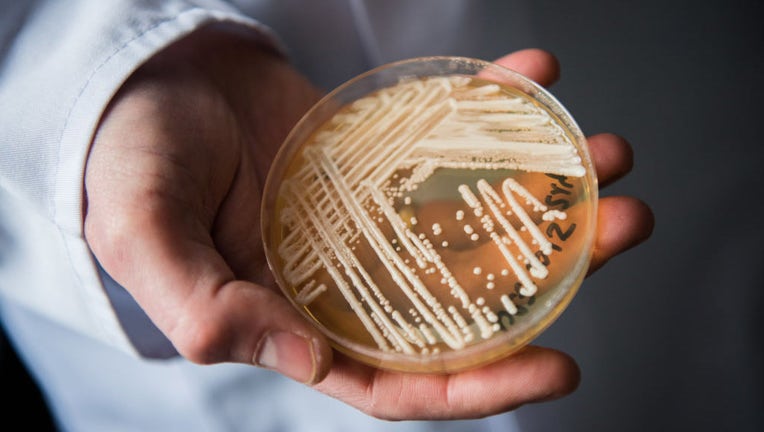 article
WASHINGTON - A deadly fungus resistant to several medications spread at an "alarming rate" during the pandemic, according to data published this week by the U.S. Centers for Disease Control and Prevention.
The fungus, called Candida auris (C. auris), is generally not a threat to healthy people, but it's a concern for those who are very sick, have invasive medical devices, or have long or frequent stays in healthcare facilities, according to the CDC. 
In a statement published on Monday, the CDC called C. auris an urgent threat because it's often resistant to multiple antifungal drugs and spreads easily in healthcare settings. The fungus can cause bloodstream infections and even death, particularly in hospital and nursing home patients with serious medical problems.
More than one in three patients with invasive C. auris infection die, the CDC said.
C. auris has spread across the United States since it was first reported in 2016, the CDC said. The most rapid rise occurred during the first two years of the pandemic, according to the agency – adding that it has continued to see an increase in case counts for 2022.
In 2021, the number of clinical cases had jumped to 1,471 – an over 200% increase from 476 cases in 2019.
Between 2019 and 2021, a total of 17 U.S. states had identified their first ever case of C. auris. The fungus now appears to have been reported in at least half of the 50 states, according to a CDC tracker showing data through Dec. 31, 2022. 
The highest concentrations appeared to be in states like California, Florida, Illinois, Nevada, New York, and Texas. 
"The rapid rise and geographic spread of cases is concerning and emphasizes the need for continued surveillance, expanded lab capacity, quicker diagnostic tests, and adherence to proven infection prevention and control," CDC epidemiologist Dr. Meghan Lyman, lead author of a corresponding paper published in the Annals of Internal Medicine, said in a statement.
The CDC said C. auris may have worsened during the pandemic due to the strain on healthcare and public health systems. It also suggested that case counts may have increased because of enhanced efforts to detect cases.
Symptoms of C. aurist infection, how it spreads
The most common symptoms of the deadly fungus are fever and chills that don't improve after antibiotic treatment for a suspected bacterial infection, according to the CDC. 
Only a laboratory test can diagnose C. auris infection. 
It can spread in hospitals and nursing homes, and specifically through contact with affected patients and contaminated surfaces or equipment, the agency says.  
"Good hand hygiene and cleaning in healthcare facilities is important because C. auris can live on surfaces for several weeks," the CDC states on its website.
In its statement, the CDC noted how the number of cases in 2021 that were resistant to echinocandins, the antifungal medicine most recommended for treatment of C. auris infections, had tripled, calling this "equally concerning."
While C. auris is still relatively rare in the United States, CDC researchers and public health partners are working to better understand why C. auris has become resistant to antifungal medicines. 
The CDC's Antimicrobial Resistance Laboratory Network provided some of the data in the new report, and the agency said it has worked to "significantly strengthen" laboratory capacity nationwide through supplemental funding supported by the American Rescue Plan Act passed in 2021.
These efforts include increasing susceptibility testing for C. auris from seven regional labs to "more than 26 labs nationwide," the CDC said.
This story was reported from Cincinnati.