Man's body found stuffed in a suitcase in Lake Merritt, residents speak out
OAKLAND, Calif. - Human remains stuffed in a suitcase were found in Lake Merritt Tuesday morning, the Oakland Fire Department has confirmed with KTVU.
Fire personnel responded to the area Tuesday around 11 a.m. after volunteers who clean the lake found the suitcase and called 911. 
The man's body was found in a suitcase on the edge of Lake Merritt near Lakeshore and Hanover Avenues.
The gruesome Halloween discovery was a troubling sight at the lake, considered Oakland's crown jewel and a wildlife refuge that's a favorite with joggers and nature enthusiasts.
"I wasn't shocked, but I was surprised it was a body in there," said Kevin Shomo, among the crew volunteers with Lake Merritt Institute who found the suitcase.
Shomo helps clean the lake every Tuesday. 
"We kind of pulled it towards us closer using these net poles," Shomo said.
They tried lifting it out. 
"We grabbed one end and we realized it was too heavy. So we pulled it close enough to us and we said, 'Oh wow, this thing is heavy' so we unzipped it and that's what we found," Shomo said.
Shomo said the man appeared to be in his 30s and was crammed into the suitcase "kind of like in a fetal position."
Oakland police homicide investigators and alameda county coroner's investigators came to the scene. 
Oakland police Capt. Alan Yu said it's not yet known when and where the suitcase first got into the water and the whether the victim matches any missing persons reports.
"Part of the investigation is trying to determine where the body was could have floated from. It could be any part of the lake, and we're looking at all those possible outcomes," Yu said.
A growing crowd gathered to watch the spectacle - reacting with shock and horror at the discovery on Halloween.
Angela Massella says she noticed part of the suitcase protruding from the water at about 8 a.m.
"I saw something, a little piece like this, but not the whole suitcase, only a little piece like that," she said.
"It's really scary for me, for a body to be around neighborhood here, it's really scary," she said.
Gerlen Polk said she was "just going to do my walk like I normally do, and then looking at the TV and (my husband) says there's a body in the lake - a body in the lake? What the hell?"
She added, "Sad. Just sad."
Oakland police are asking anyone with surveillance video or information about suspicious activity pertaining to the body to give them a call.
Henry Lee is a KTVU crime reporter. E-mail Henry at Henry.Lee@fox.com and follow him on Twitter @henrykleeKTVU and www.facebook.com/henrykleefan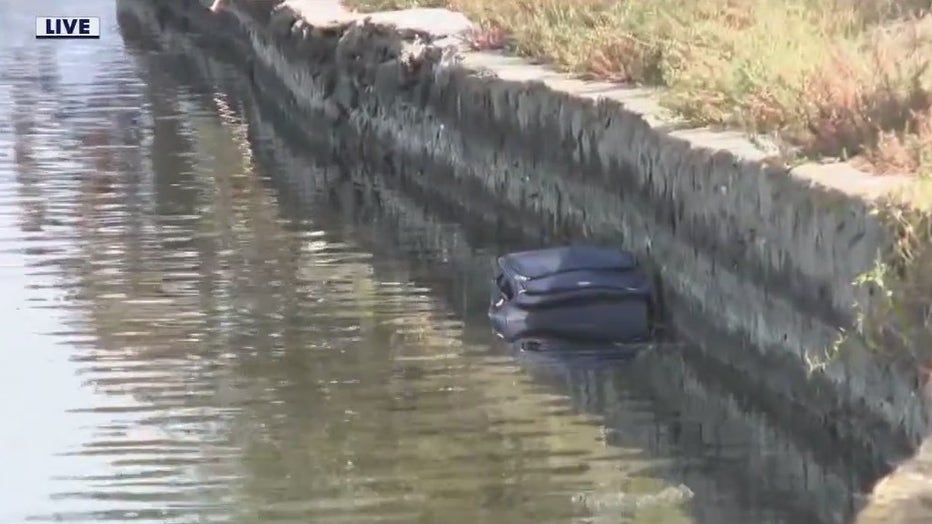 A body was found in this suitcase floating in Oakland's Lake Merritt. Oct. 31, 2023