Biden: Easing inflation 'giving families some real breathing room'
WASHINGTON - President Joe Biden spoke about the economy and inflation Thursday following the release of a closely watched report that's viewed as a good indicator of whether Wall Street's recent optimism is warranted or overdone.
"It's coming down in America month after month, giving families some real breathing room," he said.
Inflation eased to 6.5% in December compared with 12 months earlier, the government said Thursday. It was the sixth straight year-over-year slowdown. On a monthly basis, prices actually slipped 0.1% from November to December, the first such drop since May 2020.
The softer readings add to growing signs that the worst inflation bout in four decades is gradually waning. Still, the Fed doesn't expect inflation to slow enough to get close to its 2% target until well into 2024. The central bank is expected to raise its benchmark rate by at least a quarter-point when it next meets at the end of this month.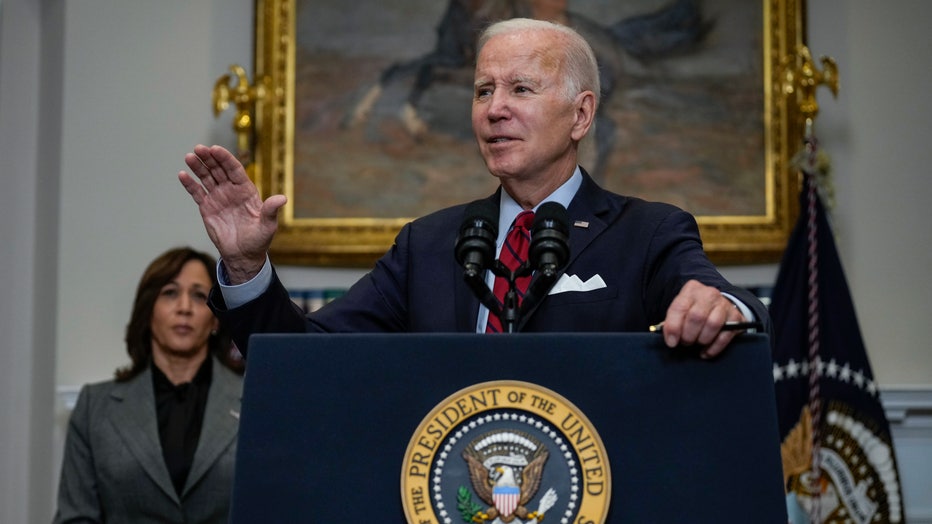 Vice President Kamala Harris looks on as U.S. President Joe Biden delivers remarks about border security policies in the Roosevelt Room in the White House on January 5, 2023 in Washington, DC. (Photo by Drew Angerer/Getty Images)
Even as it gradually slows, inflation remains a painful reality for many Americans, especially with such necessities as food, energy and rents having soared over the past 18 months.
For now, inflation is falling, with the national average price of a gallon of gas declining from a $5 a gallon peak in June to $3.27 a gallon as of Wednesday, according to AAA.
READ MORE: Record number of Americans are paying $1000 a month or more for monthly car payments, data shows
Last week's jobs report for December bolstered the possibility that a recession could be avoided. Even after the Fed's seven rate hikes last year and with inflation still high, employers added a solid 223,000 jobs in December, and the unemployment rate fell to 3.5%, matching the lowest level in 53 years.
At the same time, average hourly pay growth slowed, which should lessen pressure on companies to raise prices to cover their higher labor costs.
Another positive sign for the Fed's efforts to quell inflation is that Americans overall expect price increases to decline over the next few years. That is important because so-called "inflation expectations" can be self-fulfilling: If people expect prices to keep rising sharply, they will typically take steps, like demanding higher pay, that can perpetuate high inflation.
Biden is increasingly framing the economic challenge of inflation in political terms: He warned that House Republicans could worsen inflation and inequality with their bills to reduce IRS funding and even eliminate the tax agency and instead levy a national sales tax that would disproportionately hit the middle class.
RELATED: How Federal Reserve's series of rate hikes could affect your finances
Meanwhile, the federal government is on track to max out on its $31.4 trillion borrowing authority as soon as this month, starting the clock on an expected standoff between Biden and the new House Republican majority that will test both parties' ability to navigate a divided Washington, with the fragile global economy at stake.
Once the government bumps up against the cap — it could happen any time in the next few weeks or longer — the Treasury Department will be unable to issue new debt without congressional action. The department plans to deploy what are known as "extraordinary measures" to keep the government operating. But once those measures run out, probably mid-summer, the government could be at risk of defaulting unless lawmakers and the president agree to lift the limit on the U.S. government's ability to borrow.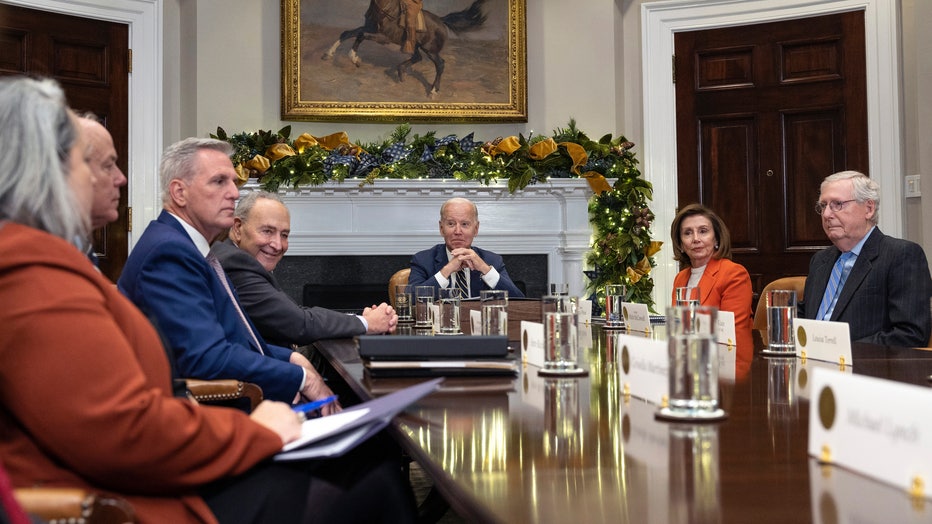 U.S. President Joe Biden meets with Congressional Leaders to discuss legislative priorities through the end of 2022, at the White House on November 29, 2022 in Washington, DC. (Photo by Kevin Dietsch/Getty Images)
The White House has insisted that it won't allow the nation's credit to be held captive. But the concessions made by new House Speaker Kevin McCarthy in his arduous path to securing the job raise questions about whether he has the ability to cut any kind of deal to resolve a standoff.
McCarthy said he's spoken with Biden about the coming debt ceiling and told the president "it doesn't have to come to that" — meaning a federal government shutdown over spending levels.
The Associated Press contributed to this report.