Biden, Harris to meet with King family on 60th anniversary of the March on Washington
WASHINGTON - President Joe Biden and Vice President Kamala Harris will observe Monday's 60th anniversary of the March on Washington by meeting with organizers of the 1963 gathering and relatives of the Rev. Martin Luther King Jr., who delivered his famous "I Have a Dream" speech at the Lincoln Memorial.
The Oval Office meeting will be held six decades after President John F. Kennedy and King met at the White House on the morning of the march on Aug. 28, 1963.
Biden also will speak later Monday at a White House reception commemorating the 60th anniversary of the Lawyers' Committee for Civil Rights Under Law, a nonpartisan, nonprofit legal organization that was established at Kennedy's request to help advocate for racial justice.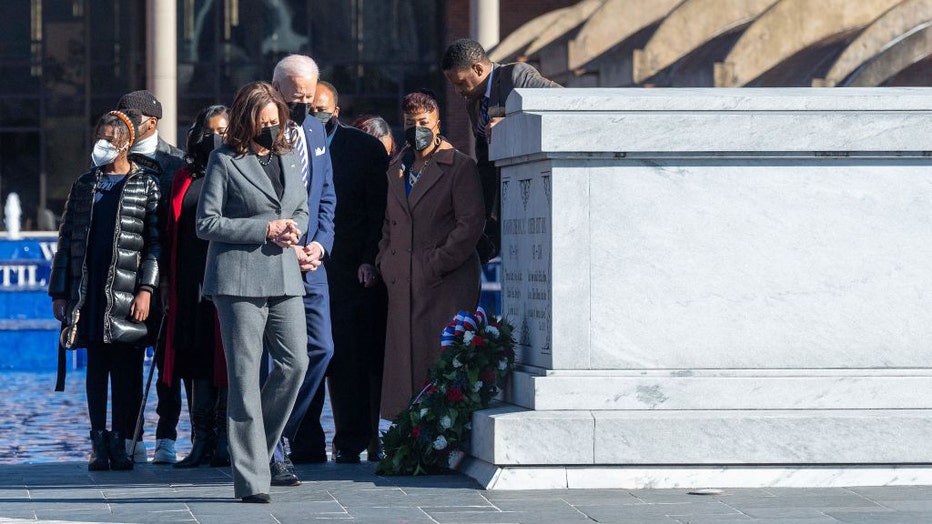 President Joe Biden and Vice President Kamala Harris with Martin Luther King III and other members of the King family participate in a wreath laying ceremony at the crypt of the Reverend Martin Luther King Jr., and his wife Coretta Scott King, at the
Two White House officials provided details of the Democratic president and vice president's plans on the condition of anonymity because their schedules have not been officially announced.
RELATED: MLK's dream for America among stars of 60th anniversary of 1963 March on Washington
The 1963 March on Washington for Jobs and Freedom is still considered one of the greatest and most consequential racial justice demonstrations in U.S. history.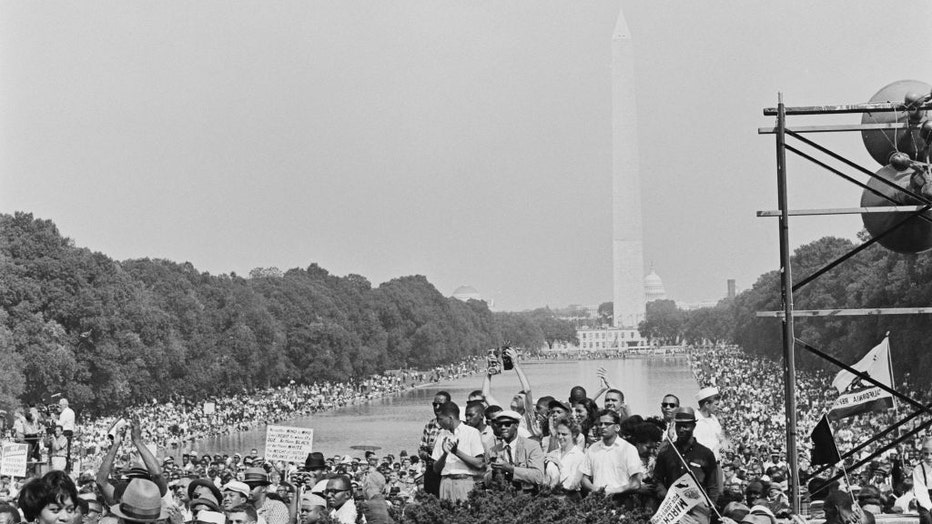 Over 200,000 people gather around the Lincoln Memorial during the March on Washington for Jobs and Freedom, Washington DC, US, 28th August 1963. (Photo by Keystone/Hulton Archive/Getty Images)
The nonviolent protest attracted as many as 250,000 people to the steps of the Lincoln Memorial and provided the momentum for passage by Congress of landmark civil rights and voting rights legislation in the years that followed. King was assassinated in April 1968 in Memphis, Tennessee.
Black civil right leaders and a multiracial, interfaith coalition of allies will gather in Washington to mark six decades since the first march. Biden will be flying back to Washington on Saturday after a week of vacation with his family in California's Lake Tahoe region.
This year's commemoration comes at a difficult moment in U.S. history following the erosion of voting rights nationwide and the recent striking down of affirmative action in college admissions and abortion rights by the Supreme Court and amid growing threats of political violence and hatred against people of color, Jews and LGBTQ people.
White House officials say Biden and Harris, who are seeking reelection in 2024, are working hard to advance King's dream of equal opportunity for every American. Harris is the first Black woman to be vice president.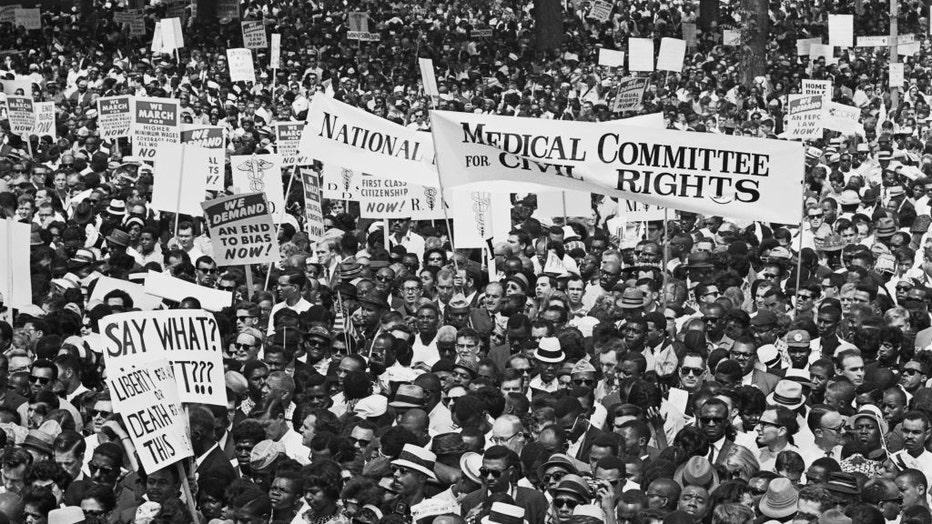 Close up of demonstrators at the March on Washington for Jobs and Freedom, Washington DC, US, 28th August 1963. (Photo by Keystone/Hulton Archive/Getty Images)
Biden has signed executive orders to advance racial justice and equity throughout the federal government and to expand access to the right to vote. Voting rights legislation backed by Biden and Harris has stalled in a divided Congress.
Biden recently designated a national monument to honor Emmett Till and his mother, Mamie Till-Mobley. Till is the Black teenager from Chicago who was tortured and killed in 1955 after he was accused of whistling at a white woman in Mississippi. The killing helped galvanize the Civil Rights Movement.
Harris has been outspoken about what she says are attempts by "extremists" to rewrite Black history, including the Florida Board of Education's recent approval of a revised curriculum to satisfy legislation signed by Gov. Ron DeSantis, a Republican presidential candidate. The new standards include instruction that enslaved people benefited from skills they learned while in bondage.
The White House says Black Americans are also benefiting from Biden's economic and other policies, including low unemployment.
Officials note his numerous appointments of Black women to federal courts, including Supreme Court Justice Ketanji Brown Jackson, the first Black woman to serve on the nation's highest court.
They also point to nearly $7 billion in aid to the nation's network of historically Black colleges and universities and his efforts to forgive billions of dollars in student loan debt.