Australian man strikes gold, lands rare nugget worth $160K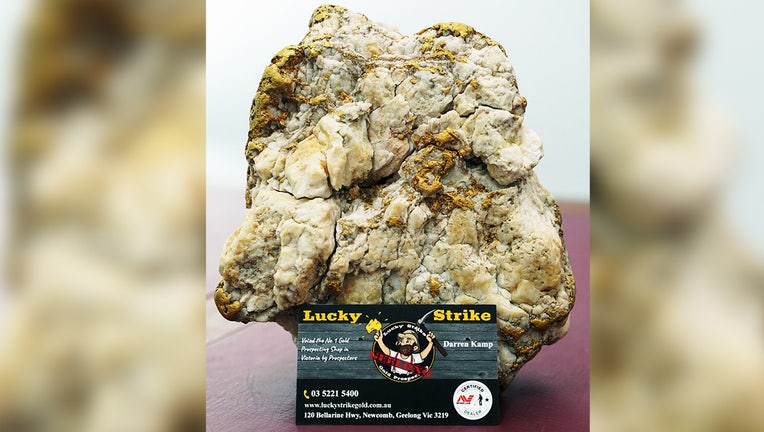 article
An amateur prospector in Australia had quite the lucky find when he discovered a whopping gold nugget worth about $160,000. 
The gold nugget is inlaid in quartz and is made up of two halves weighing about 20 pounds altogether, according to Leanne Kamp from Lucky Strike Gold. The entire nugget contains about 5 pounds of gold. 
The amateur prospector, who wished to remain anonymous, found the nugget in 2022 before bringing it into Lucky Strike Gold to be examined and weighed. 
The nugget was found in the Golden Triangle of Victoria, Australia, which is an area rich in goldfields, Leanne said. 
The lucky finder of this massive gold nugget used a Minelab Equinox 800 detector. 
"The guy who found it was a complete novice and didn't know what he was looking for. He went to an area where he thought there might be gold and he chanced upon it," Leanne told FOX TV Stations. 
RELATED: 'Eternal Pink' diamond could sell for $35M at June auction
After making this remarkable find, the individual brought the nugget into Lucky Strike Gold, hoping to get at least $10,000 out of it, but boy was he in for a shock. 
Darren Kamp's, the director of Lucky Strike Gold, jaw dropped, according to Leanne, who was also present when the nugget was brought in, after he felt the sheer weight of it. 
"I was there when this guy brought the gold nugget in and I saw him drag it out of his backpack and plonk it in Darren's hand, asking, 'Do you think there would be $10,000 worth of gold in this?' Darren's hand dropped with the unexpected weight of the gold in the rock and his jaw dropped with it as he knew that for a rock to be that heavy, it had to have a 'megaload' of gold in it," Leanne said. 
"So that was funny watching the reaction," she added. 
Leanne said that this is a very rare find, even for an experienced prospector. 
"It is very rare to find one as large as this by just using a metal detector. Smaller gold nuggets, particularly sub-gram nuggets are relatively easy to find in Victoria but a large one like this is what all prospectors dream of," she said. 
This story was reported from Los Angeles.