Andrew Tate sues his accusers in Romanian human trafficking case
Controversial social media personality Andrew Tate and his brother are suing a Florida woman, saying she falsely accused them of imprisoning her in Romania, leading to their arrest there on human trafficking charges.
The widely followed former professional kickboxer and his brother, Tristan, are seeking at least $5 million in the lawsuit, which was filed in Palm Beach County against the woman, her parents, another woman who lived at the Tates' Bucharest estate and a male friend of the woman.
The Tates say the five conspired to falsely accuse them of human trafficking and rape, costing them their freedom and millions of dollars in income from their lucrative social media, podcasting and business ventures. The lawsuit says the woman and her parents are residents of Palm Beach County, which is why it was filed there on Tuesday.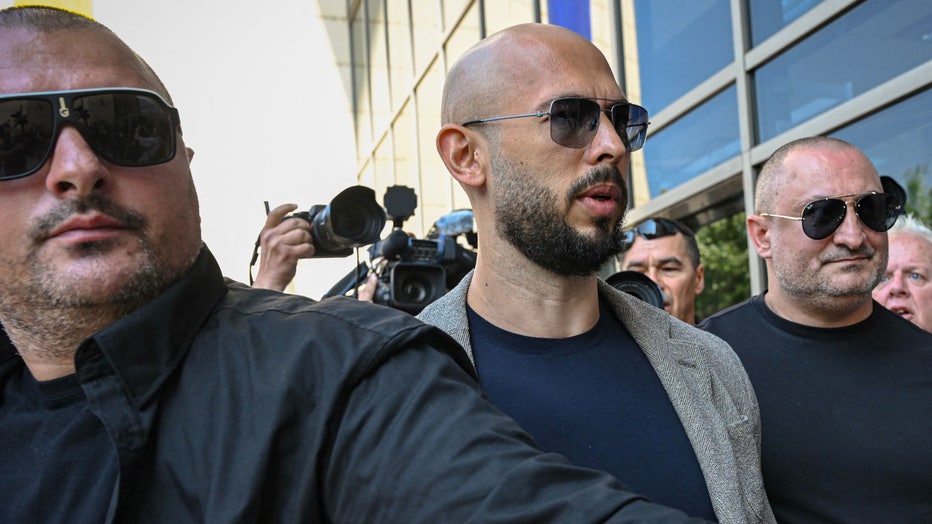 Controversial influencer Andrew Tate (C) arrives at the Municipal Court of Bucharest, Romania, on June 21, 2023. Influencer Andrew Tate, a self-described misogynist with a large online presence, was indicted in Romania on human trafficking and rape c
Romanian officials arrested the Tates in December and indicted them last month, saying the brothers forced seven victims into pornography and subjected them to physical violence. They remain under house arrest in Romania.
But attorneys Thomas Maniotis and Joseph D. McBride in their lawsuit say the Tates are the victims of the Florida woman. They call her "a professional con artist" and say she pursued a sexual relationship with Tristan Tate in order to move to Romania, then tried to defraud the brothers. When that failed, she conspired with the others to make false statements to Romanian and U.S. embassy authorities that led to the arrests, the attorneys say.
READ MORE: Andrew Tate appears in Romanian court to face rape and human trafficking charges
"At no point did the Tate brothers engage in human trafficking," the lawsuit says. The attorneys say the woman "is a serial liar, manipulator and schemer who exploits vulnerable, often wealthy men with good intentions for sexual, financial and emotional profit."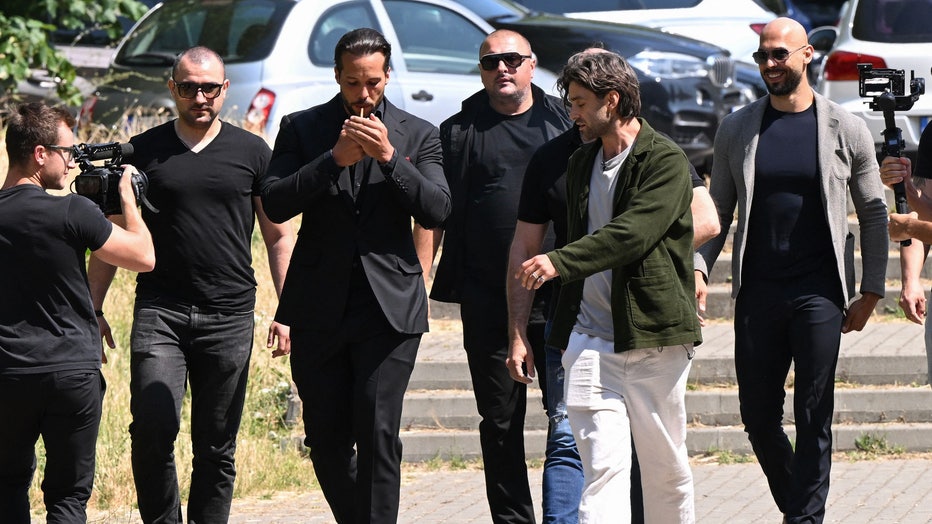 Tristan Tate (3rdL) and his brother Andrew Tate (R) the controversial influencer Andrew Tate (C) arrive at the Municipal Court of Bucharest, Romania, on June 21, 2023. Influencer Andrew Tate, a self-described misogynist with a large online presence,
The Associated Press is not naming the woman or her parents because she is the alleged victim of sexual assault. No working phone numbers could be found for the family and no attorneys for them are listed in the court record. No one answered their door Thursday afternoon. The other woman lives in Great Britain and the male friend in Virginia.
Romanian investigators said in their indictment that the Tates and two Romanian women formed a criminal group in 2021 "in order to commit the crime of human trafficking" in that country, the United States and Britain.
Andrew Tate was banned from TikTok, YouTube and Facebook for alleged hate speech and misogynistic comments, including that women should bear responsibility for being sexually assaulted. But he remains quite popular on Twitter, with more than 7 million followers, many of them young men and schoolchildren.
Several women in Britain also are pursuing civil claims against Andrew Tate, alleging they were victims of sexual violence.
In a recent interview with the BBC, Tate denied spreading a culture of misogyny and accusations that he manipulated women for financial gain.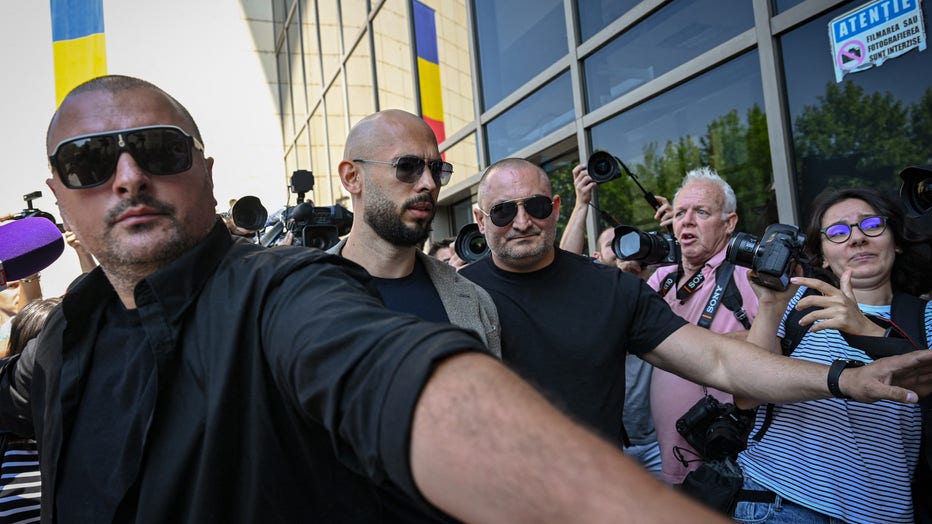 Controversial influencer Andrew Tate (2ndL) arrives at the Municipal Court of Bucharest, Romania, on June 21, 2023. Influencer Andrew Tate, a self-described misogynist with a large online presence, was indicted in Romania on human trafficking and rap
The British-American brothers were jailed for three months before being released to house arrest in March pending trial. Prosecutors also confiscated the Tates' assets, including 15 luxury cars, luxury watches and about $3 million in cryptocurrency.
Investigators say the seven alleged victims were recruited with false declarations of love, but then forced to take part in pornography. The women were allegedly controlled by "intimidation, constant surveillance" and claims they were in debt.
But the Tates, in their lawsuit, paint a different picture. They say the Florida woman and all women who lived at their estate were free to come and go as they pleased, and closed-circuit security video can prove it.
After listing several other men they claim the Florida woman has defrauded or exploited, the Tates' attorneys say Tristan Tate met her through a dating application. He invited her to a Miami business event the Tates' company hosted in December 2021, and they had sex numerous times before Tristan Tate returned to Romania two weeks later, the lawsuit says.
It says the two kept in touch through texts, with the woman telling Tristan Tate she wanted to move to Romania and pursue internet modeling — a type of business the Tates have been involved with.
Tristan thought her modeling plans could work, but he tried to dissuade her, the lawsuit says. But in April 2022, "in the spirit of fun and adventure," he paid for the woman's flight to Romania.
The lawsuit says she stayed at the Tates' estate for two days, where the pair again had sex. She then moved, as agreed, to another nearby home, but had access to the estate. They say she only remained in the country six days.
"She was not restrained in her movement, never confined, never controlled by any person nor was she threatened in any manner and always had free will," the lawsuit says.
They say she soon conspired with the British woman she met at the estate to defraud them of $200,000 by falsely claiming they needed it for "something important." When that failed, they say the Florida woman conspired with her male Virginia friend to contact the U.S. embassy to falsely say she and the other woman were being trafficked.
That led Romanian officials to raid the home where she was staying, beginning the investigation into the Tates, the lawsuit says.