Amtrak Auto Train en route to Florida delayed 20 hours after train derailment in South Carolina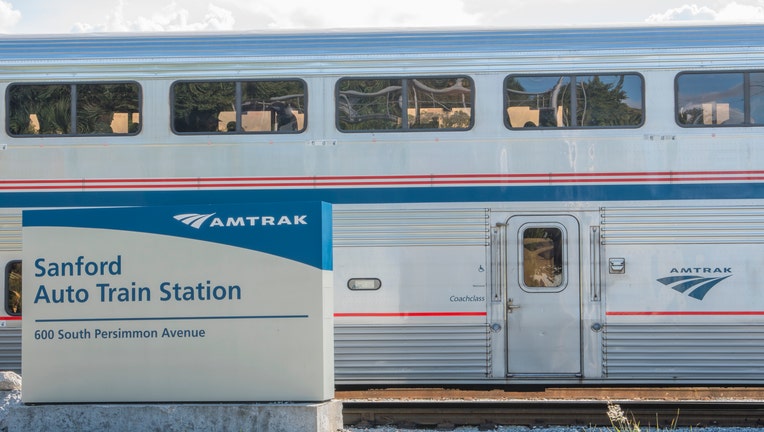 article
SANFORD, Fla. - Travelers who boarded an Amtrak train from the Washington D.C. area earlier this week, arrived at their Sanford destination nearly 20 hours after they were supposed to, according to Amtrak officials. 
The Amtrak Auto Train 53 departed out of Lorton, VA, a city just south of Washington D.C. on Jan. 9 and was scheduled to arrive in Sanford on Jan. 10. As the train made its way south, a CSX train crashed into an "unoccupied" car on tracks in South Carolina resulting in the derailment of 25 rail cars and two locomotives around 11 p.m., a CSX spokesperson told FOX 35. 
The Amtrak train was detoured off this route, which placed additional time on the trip for its 563 passengers. 
In a statement to FOX 35, Amtrak said: 
"Customers were provided regular updates, along with meals, snack packs, and beverages. Additional food from local businesses along the route was also provided during the trip. The onboard staff worked with pet owners to provide bathroom breaks." 
"Amtrak apologizes for the delay. We will be working with each customer on fare refunds."
In one video, a conductor is heard making an announcement after some passengers reportedly dialed 911 or otherwise called local police telling them they were being held hostage on the train, according to FOX Business.
"Once again, for those of you that are calling the police, we are not holding you hostage," the speaker is heard announcing to passengers. "We are giving you all the information of which we have. We are sorry about the inconvenience. As soon as more information is available, we will let you know shortly." 
CSX crews finished clearing the tracks around 5 p.m. Tuesday, allowing train operations to resume at reduced speeds. 
The Amtrak Auto Train takes travelers 900 miles from Washington D.C. to Orlando allowing them to bring their automobiles on the trip. The cars ride along in an enclosed auto carrier, according to the Amtrak website. 
The trains have various bedroom suites or regular coach-class seats and dining options for guests.