American Airlines passenger gets plane to himself after 18-hour delay: 'It was an insane experience'
An American Airlines passenger walked into an entirely empty plane this weekend and joked that he bought every single seat on his flight, so he didn't have to deal with anyone. 
In reality, Phil Stringer was just the only one who waited out an 18-hour delay for his flight home to North Carolina. 
"Everyone had given up within the 18 hours," Stringer, a chief operating officer at a real estate brokerage in North Carolina, told FOX Business. His fellow passengers, who were also stuck in Oklahoma, opted for a hotel instead and planned to come back to the airport the following day, he said. Stringer, though, didn't take that option, because he had to make it home by Monday morning for work.
"I had no idea that I was the only passenger until right before I boarded," Stringer said. "It was an insane experience." 
NEARLY 1,600 FLIGHT DISRUPTIONS ALREADY TRACKED, WITH UNITED AIRLINES MOST IMPACTED
Stringer was on a business trip in Oklahoma City when he was notified at 3 a.m. Sunday morning that his flight back to Charlotte had been delayed a few hours. 
He was one of thousands of people across the country whose flight had been disrupted, in part, by thunderstorms that rolled in across the East Coast and the Midwest. On Sunday alone, there were nearly 10,000 delays in, out of and across the U.S., according to flight tracking website FlightAware. There were over 1,400 cancellations, according to the data. 
Stringer's flight was supposed to leave at 6:20 a.m. but it kept "getting pushed back kind of incrementally," Stringer said.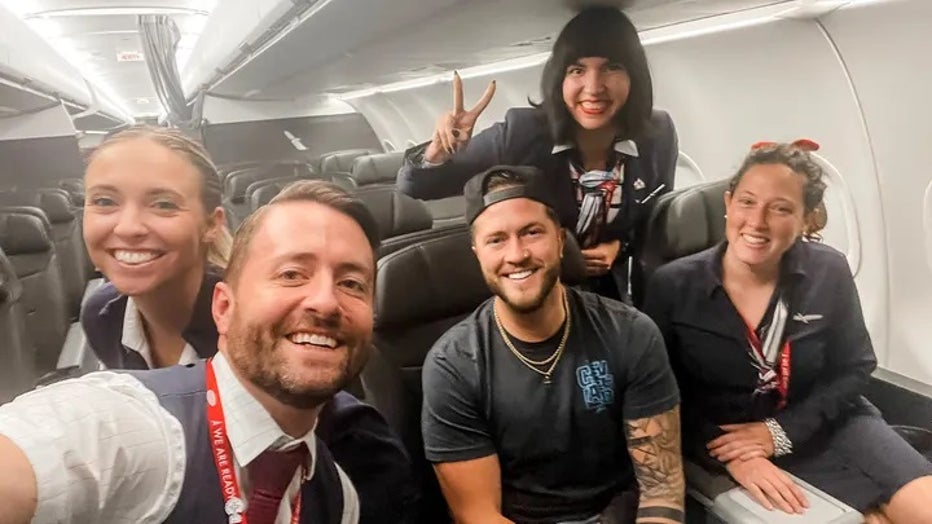 Phil Stringer next to American Airlines crew members on his flight from Oklahoma to North Carolina. Stringer was the only passenger on his flight on June 25, 2023. (Phil Stringer)
However, Stringer was determined to get home for his meetings Monday, so he stayed at the airport and did his work in a Starbucks all day. When it closed, he moved to an empty table and kept working. 
UNITED CEO SCOTT KIRBY SLAMS FAA FOR FLIGHT CANCELLATIONS, DELAYS
"I was like, I'm just sticking it out," Stringer said. 
At 11:30 p.m., while working in the midst of what Stringer described as a "ghost town," an airport worker told him that his plane finally arrived and that he should go to his gate. 
When Stringer showed up at the empty gate, he asked if everyone had already boarded. The flight attendant simply responded: "No, honey, you're the only passenger left," he recalled.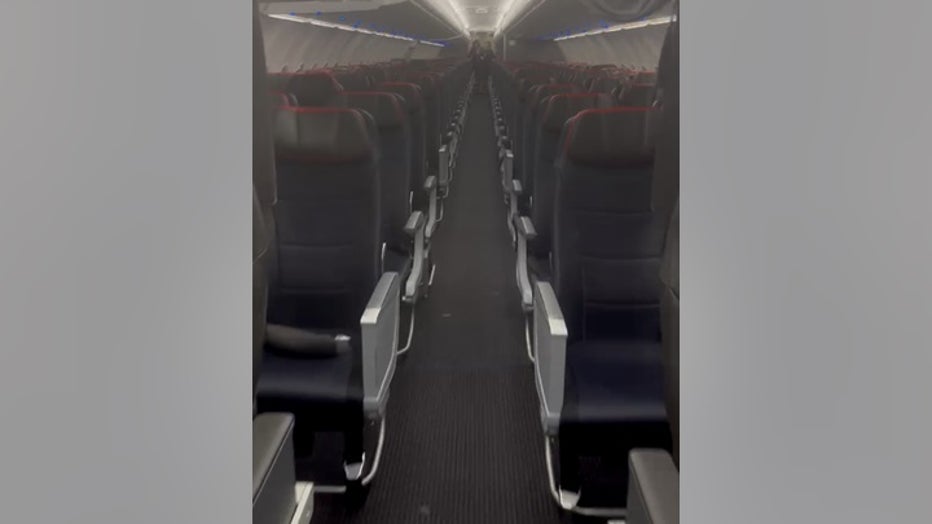 A shot of Phil Stringer's empty American Airlines flight from Oklahoma to North Carolina. (Phil Stringer)
Stringer said the entire crew had been called in from their hotels to do the flight. 
"I am the only person on this flight and they have an entire flight crew. They do not want to do this flight," he joked in a TikTok video he created highlighting the trip. 
HUNDREDS OF FLIGHTS CANCELED, DELAYED AT NYC AIRPORTS AFTER SEVERE STORMS
To lighten the mood, Stringer – who admitted that this wasn't an ideal situation for him or the crew – said, "All of us just decided as a consensus, 'Hey, let's just have fun with this.'" 
It was only a two-hour flight, but Stringer applauded the crew for going above and beyond. They gave him whatever food or beverage he wanted and kept him company throughout the trip.
"They took care of me. They were constantly coming up and chatting with me … I did sit in the front row, of course. Why not, when you have the whole plane to yourself," he added. 
American Airlines acknowledged how frustrating it can be when travel plans are disrupted. 
A spokesperson told FOX Business that the company is "thankful for our crew members who went above and beyond to care for Mr. Stringer during his flight." 
LINK: Get updates and more on this story at foxbusiness.com.