Alabama boat fight: What happened, and who's been charged so far
Three men are facing charges following a riverfront brawl in Montgomery, Alabama, that gained national attention after multiple videos circulated online showing a group of white people beating a Black boat captain, sparking a massive fight. 
Montgomery Police Chief Darryl Albert provided an update on the department's investigation and announced the charges during a Tuesday news conference.
What happened in the Alabama boat brawl?
The situation began Saturday when a pontoon boat blocked a city-operated riverboat called Harriott II from docking in its designated space along the city's riverfront, Albert said. The Harriott II had 227 passengers aboard for a tour, the Associated Press reported. 
The riverboat captain tried to contact the pontoon boat owner by loudspeaker, and people on the other boat responded with "obscene gestures, curse words and taunting," the police chief said. 
RELATED: Brawl at Montgomery, Alabama riverfront dock caught on video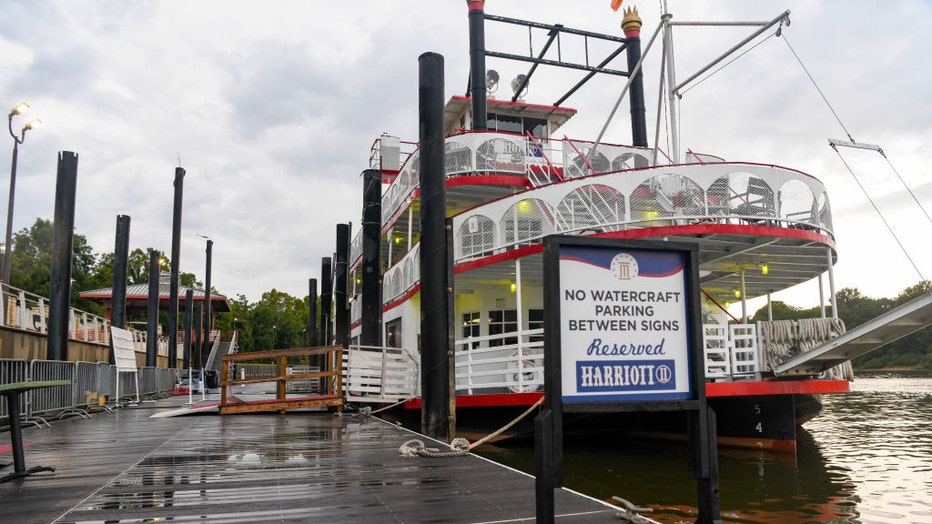 The Harriott, a riverboat, remains docked on August 8, 2023, on the Alabama riverfront in downtown Montgomery, Alabama. Three people have now been charged in the large fight on floating dock Saturday that was captured on video by numerous spectators.
The riverboat co-captain took another vessel to shore to attempt to move the pontoon boat and "was attacked by several members of the private boat." Albert said several people from the riverboat came to the co-captain's defense, "engaging in what we all have seen since on social media."
Videos posted after the fact showed multiple points of view of the large melee.
RELATED: Massive brawl at Montgomery, Alabama riverfront dock caught on video
A white man shoved and punched the Black crew member, according to one video taken by a riverboat passenger and published by WSFA. The conflict escalated when several white people joined in on attacking the Black crew member. 
"The co-captain was doing his job. He was simply trying to move the boat just enough so the cruise ship could park safely, but it quickly escalated," Albert said.
A separate video showed several Black passengers then confronted the pontoon boat group after the riverboat docked, sparking another brawl that was largely split along racial lines.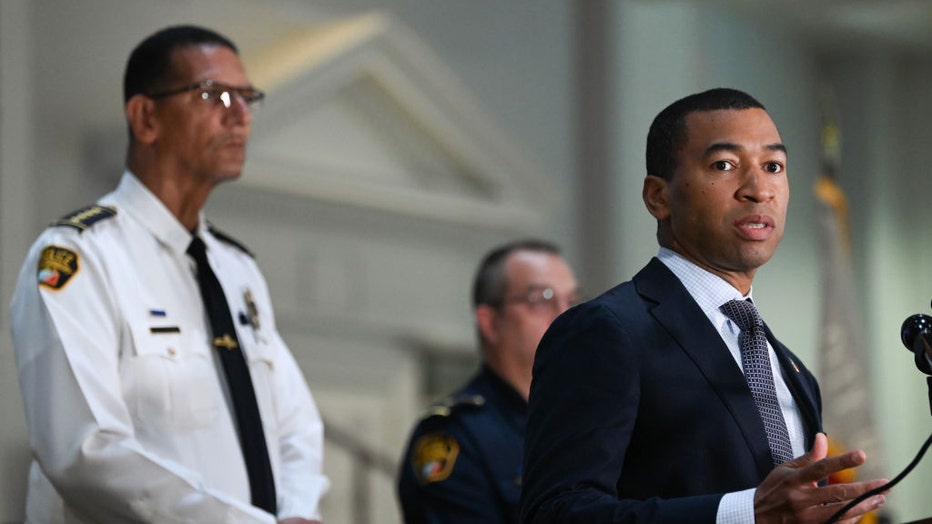 Montgomery Mayor Steven Reed speaks to the press regarding the brawl that occurred Saturday on the riverfront on August 8, 2023 in Montgomery, Alabama. Arrest warrants have been issued by authorities following an altercation among several individuals
Authorities said 13 people were detained and taken to police headquarters for questioning following the incident, and they were later allowed to leave. 
Albert said police are also looking to speak with a 42-year-old Black man allegedly shown in social media videos wielding a folding chair. 
The brawl sparked dozens of internet memes and videos with some joking that the chair should be put in a local museum.
Who is facing charges?
After the detainees were allowed to leave on Saturday, authorities announced later that some charges had been handed out.
As of August 13, five people are now facing charges: 
A 48-year-old man, with two counts of misdemeanor assault
Two men in their 20s, with misdemeanor assault
A 21-year-old woman, with misdemeanor assault
A 42-year-old man, with disorderly conduct 
Who are the victims?
Police identified the victims in the attack as Damien Pickett, the Black co-captain of the riverboat, and a 16-year-old white male who had transported Pickett to the dock in a small boat.
Police didn't elaborate on how seriously anyone had been injured. 
The Associated Press contributed to this report. This story was reported from Washington, D.C.