A look at the Las Vegas Strip mass shooting memorial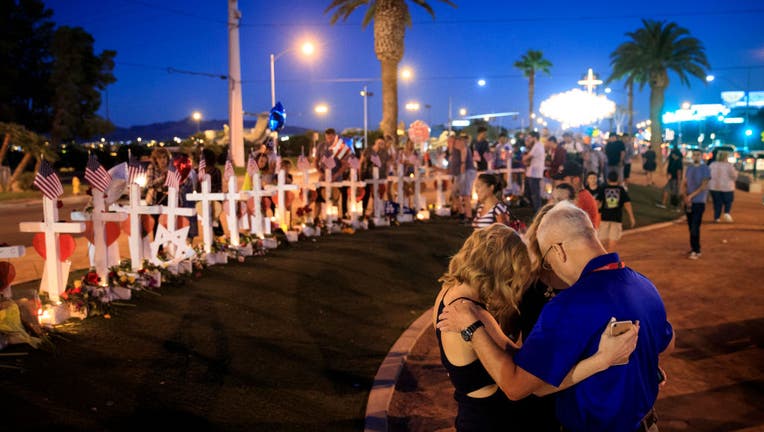 article
LAS VEGAS (AP) - Fifty-eight towering, candlelike beams will cast a blanket of warm light on visitors in the design concept chosen Wednesday at an emotional meeting of a committee tasked with creating a permanent memorial at the site of the deadliest mass shooting in modern U.S. history.
The number 58 represents the toll of people who were killed in the Las Vegas Strip massacre in October 2017, when a gunman opened fire from a high-rise suite at the Mandalay Bay hotel, targeting people at a country music festival below. Two people who initially survived died in subsequent years from causes that were attributed to the gunshot wounds they suffered.
The announcement marks a major step forward for the 1 October Memorial Committee, which began the planning process more than three years ago. The panel is expected to submit a full recommendation including an alternate design to the Clark County Commission in September.
"I will not lie that this has been a simple process, because it hasn't," committee member Mynda Smith said through tears. "But at the end of the day, I know this will become something of beauty and healing and love."
Smith's sister, Neysa Tonks, a 46-year-old mother of three from Las Vegas, was killed in the shooting.
Another committee member, Karessa Royce, was among the more than 850 others who were injured in the attack. A junior at the University of Nevada, Las Vegas, at the time of the shooting, she said her work on the committee helped guide her through the aftermath.
"When I woke up in the hospital in 2017 the day after the shooting, I never could've imagined the journey we'd be on together," Royce said, her voice cracking as she clutched a tissue in her hand.
"This was a job that was far bigger than those of us sitting up here," she said.
The memorial design is the work of local firm JCJ Architecture, chosen from five proposals unveiled last month at an exhibit in downtown Las Vegas.
It envisions a park in the shape of an infinity symbol on the northeast corner of the concert venue where the festival was held, and 22,000 lights for the number of concertgoers that night. A looping path will take visitors through a garden area, past a 58-foot (18-meter) glass tower and to a "remembrance ring" with the 58 candles. Each beam will display the name and a photo of a victim.
The alternate design features 15 large horse statues representing the home states and countries of the victims, as well as two smaller horses in honor of the dozens of children whose parents were killed.
The permanent memorial will be separate from a community healing garden that was built downtown in the days after the shooting by more than 1,000 volunteers.