Beat the heat: Climatologist maps out the ultimate 70-degree road trip across America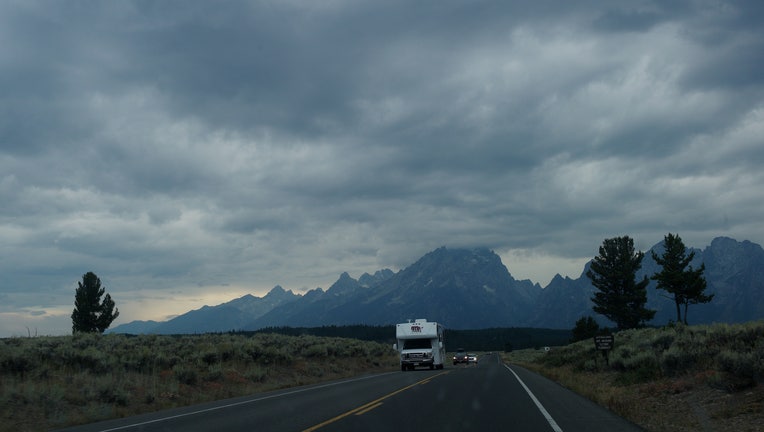 article
If you're planning a great American road trip but want to leave your coats at home, a climatologist in Alaska has mapped a year-long excursion where temperatures almost always average 70 degrees.  
Brian Brettschneider first made the 70-degree road trip map in 2015 using daily high and low temperature data to trace the year-long route.
"It really took off," Brettschneider told FOX TV Stations.
According to his blog, the first map was made using data from 1981-2010 climate norms. Brettschneider had been meaning to do an updated map ever since newer climate data was released in 2021, he said.
"It has resonated with people in a way I never imagined," he said.
READ MORE: Travel to the top 10 bluest waters in the US to relax and unwind
The updated map has multiple options for travelers, including a 13,909-mile route that takes you through parts of Canada and Alaska.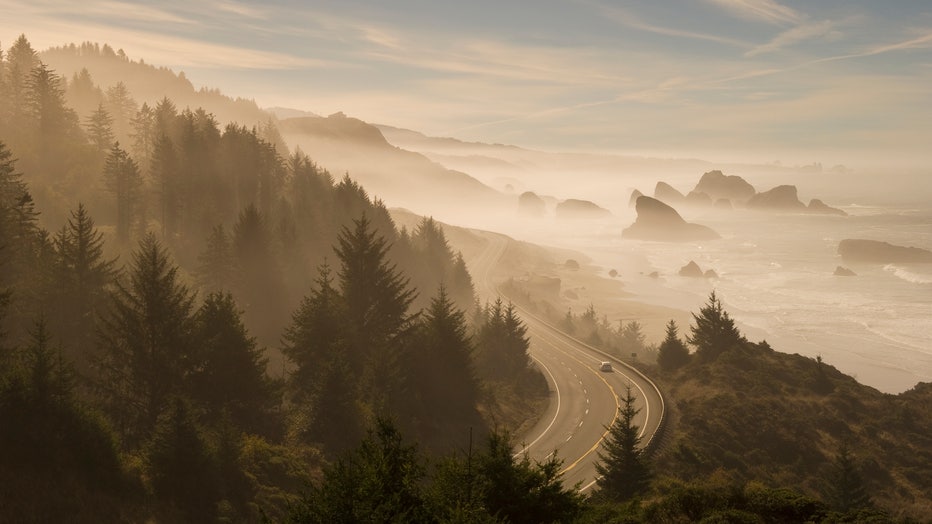 Beach, sea stacks and Highway 101 on a foggy morning; Cape Sebastian State Scenic Corridor, southern Oregon coast. (Photo by: Greg Vaughn /VW PICS/Universal Images Group via Getty Images)
Route 1, the "Coastal Route," starts in Tampa, Florida, in January, then follows the eastern seaboard up to Buffalo, New York, before going through Cleveland, Detroit, Michigan's Upper Peninsula, and Montana in early June.
READ MORE: 3 in 5 Americans say inflation is affecting their summer travel plans, survey shows
You'll spend July mostly in western Montana, Idaho and Seattle before veering south to drive the entire West Coast. The 7,468-mile trip ends in December in San Diego.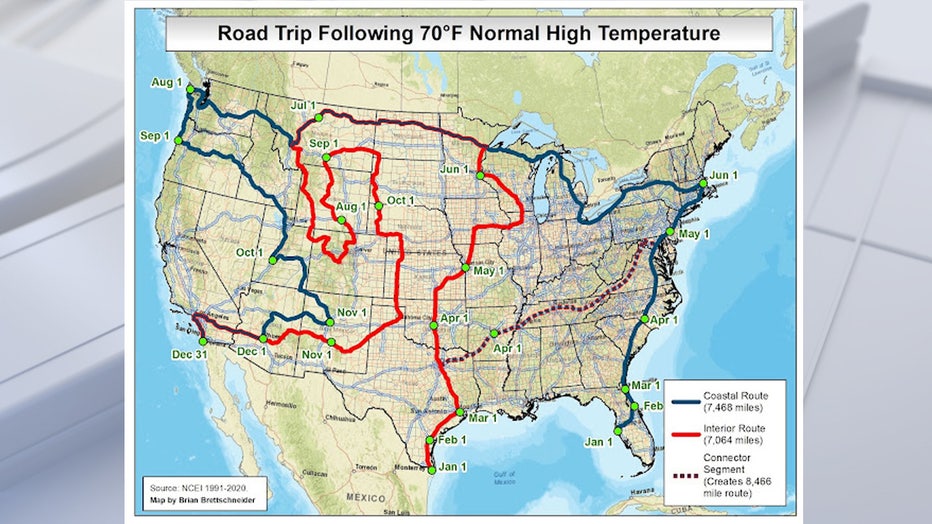 70-degree road trip map (Credit: Brian Brettschneider)
Route 2, the "Interior Route," starts in January in Brownsville, Texas, then goes up through Dallas, Oklahoma City, Missouri, Iowa and Minneapolis. From there, you'll pass through Duluth, Minnesota to get through central Montana in early June, then meander down through western Montana, parts of Colorado and back into Wyoming.
The route puts you in the southwestern corner of North Dakota in September before turning toward Nebraska, the Texas panhandle and the Southwest. This 7,064-mile route also ends in San Diego in December.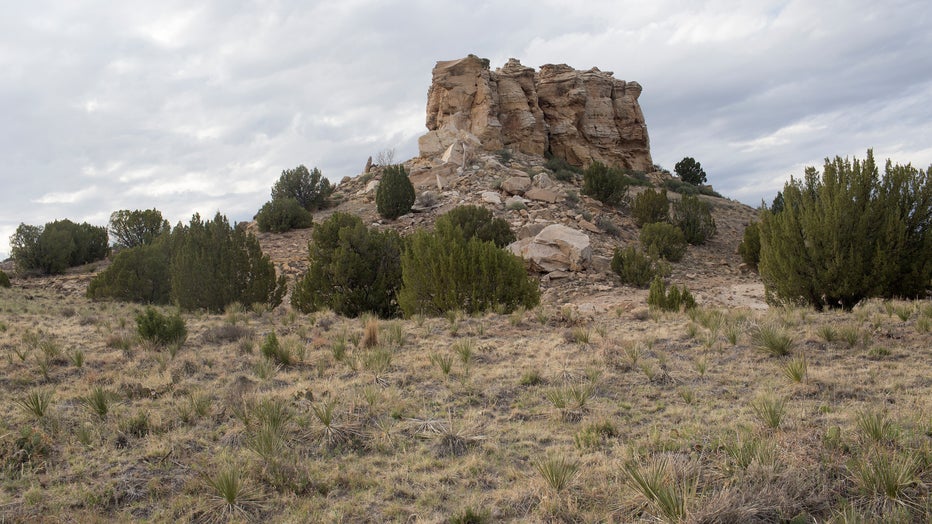 Landscapes of the isolated cattle ranch land where the mountains of the west meet the grasslands of the plains, May 9, 2021 in Black Mesa, Oklahoma. (Photo by Andrew Lichtenstein/Corbis via Getty Images)
If you can't choose between Route 1 and Route 2, Brettschneider also shared an 8,466-mile combined route option that starts in Brownsville, takes you up through the central U.S., then back down the West Coast to end in San Diego.
And if you're feeling extra adventurous, Brettschneider created a 13,909-mile route that adds Canadian provinces and Alaska to the trip.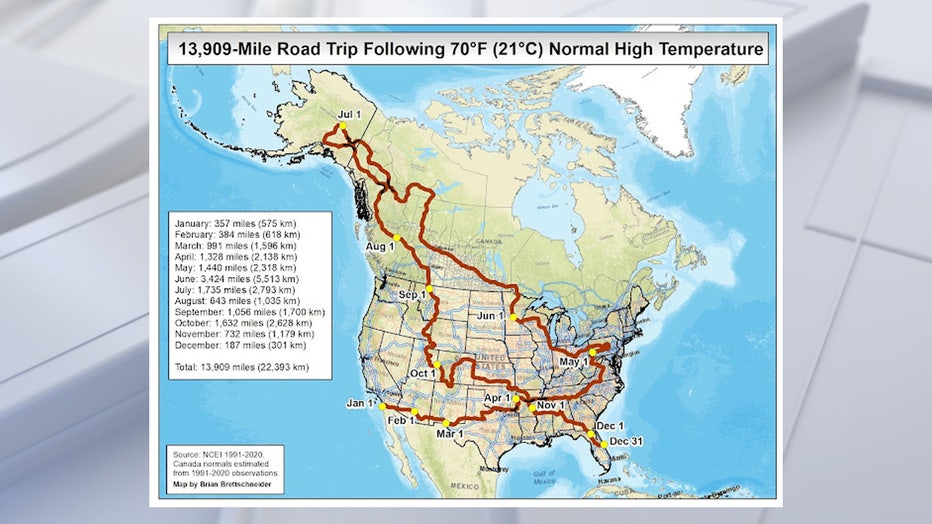 The 70-degree road trip with Canada and Alaska added on (Credit: Brian Brettschneider)
Even if a 365-day road trip isn't in your future, the blog is helpful in identifying times and places to travel for ideal temperatures.
"I have not done any of the route myself, but many, many people have expressed interest in doing all or part of it in retirement," Brettschneider said. 
Summer 2023 travel outlook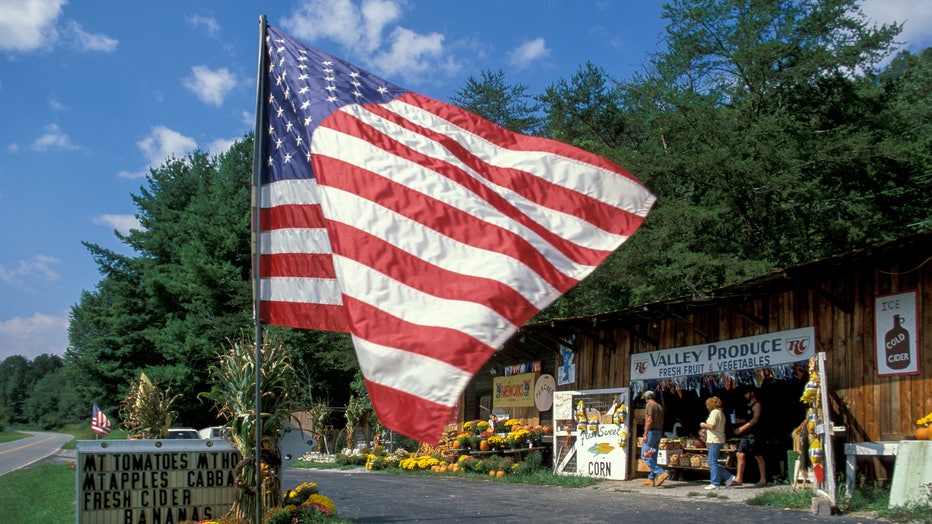 Roadside produce stand in North Carolina (Photo by: Dukas/Universal Images Group via Getty Images)
If you're planning to hit the road this summer, expect gas, lodging and other expenses to remain high.
Overall trip prices remained 15% higher in January 2023 compared with January 2020, before travel plummeted because of the pandemic.
READ MORE: Big crowds expected for the summer travel season -- and expensive prices, too
It looks like prices could remain high through the summer, though they're unlikely to hit the enormous year-over-year gains seen last year.
"We're not seeing nearly the pricing increases we saw last year," says Jamie Lane, vice president of research at AirDNA, a vacation rental data platform. Demand for Airbnb and Vrbo rentals remains high, he says, but increased supply has tempered price growth. "Average daily rates are up 4% year over year for the summer."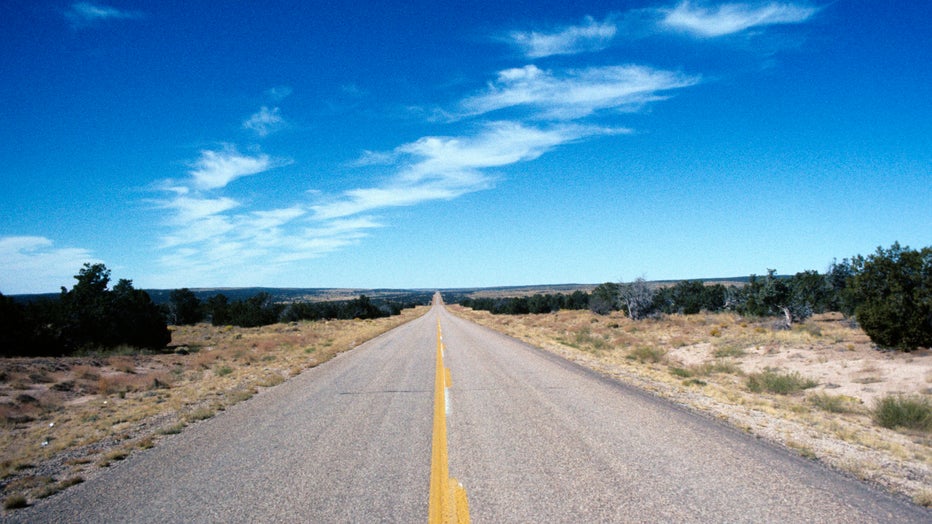 The open road, New Mexico (Photo by H. Armstrong Roberts/ClassicStock/Getty Images)
Car rental prices have also abated from their absurd heights but are still 43% higher than pre-pandemic levels, according to the latest U.S. Bureau of Labor Statistics data. And food away from home (i.e., restaurant meals) has seen some of the steadiest inflation, now costing 23% more than before the pandemic.
READ MORE: Most affordable beach towns of 2023 revealed — and some are not where you'd think
"What we've seen consistently is that people are booking a lot more last minute," says Hayley Berg, lead economist at Hopper, a travel booking platform. "For domestic airfare, that's three to four weeks in advance, where it would have been closer to six to eight weeks in advance before the pandemic."
These short booking windows mean we won't know how high demand for summer travel gets until summer arrives. It could also mean that prices on transportation and lodging will rise more than usual in the final weeks before departure. Avoiding this last-minute crunch could be the budget-savvy way to plan this year.
The Associated Press contributed to this report.