'I fell into my chair': Iowa couple wins $2M Powerball prize after losing home in tornado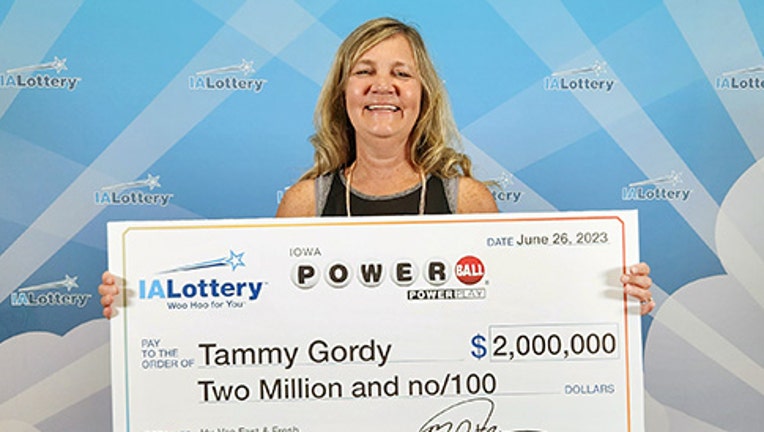 article
CLIVE, Iowa - An Iowa woman recently became a millionaire and plans to use the money to finish building a home she and her husband once lost by a tornado. 
Tammy Gordy, 56, recenlty won a $2 million Powerball prize. 
Tammy, who works as a dietary aide at a local hospital, said she and her husband, Steve, were living in Agency when the Wapello County community was hit by a tornado in April 2001. 
RELATED: Celebrate 4th of July with these food freebies and deals
Their home was completely destroyed, and rebuilding it was put off for several years. 
Tammy said she realized she won through the state lottery's mobile app Sunday when she checked on a lottery ticket she had in her purse. Her ticket matched the first five numbers but didn't match the Powerball number to initially win a $1 million prize. However, she added the Power Play to her option which multiplied her winnings from matching the first five numbers.  
"I fell into my chair," she said in a news release. "I couldn't see! There were all those zeroes! I was like, 'Maybe I need my glasses.' So yeah, we screamed."
Steve didn't know what to think of his wife's reaction.
RELATED: Americans say they will need $1.27 million to retire comfortably, study finds
"She jumped up and was saying … well, not English, but other words I couldn't understand," he said. "And then I looked over and there were a lot of zeroes. Then we didn't know what it was until we got our senses back."
Tammy also called her boss to ask for time off from work. 
"I called my boss and told him that I needed to take Monday and Tuesday off because I won $2 million on the Powerball," she said. "And so he says, 'Well, congratulations, if you're not April Foolin' me!'"
As for their home, the couple would like to add a few upgrades with their earnings. 
"We were in the process of building a home and it kind of got put on hold for a few years, so now this is going to speed it up," Tammy added. "And it's going to go into better details! I'm talking a walk-in closet and a Jacuzzi tub! That's what I'm talking about!"
"We've never been material people, I can say that," she continued. "Family was more important to us. So, it's going to be that way. We're just going to be able to do more things."
This story was reported from Los Angeles.