It's official: World enters El Niño climate pattern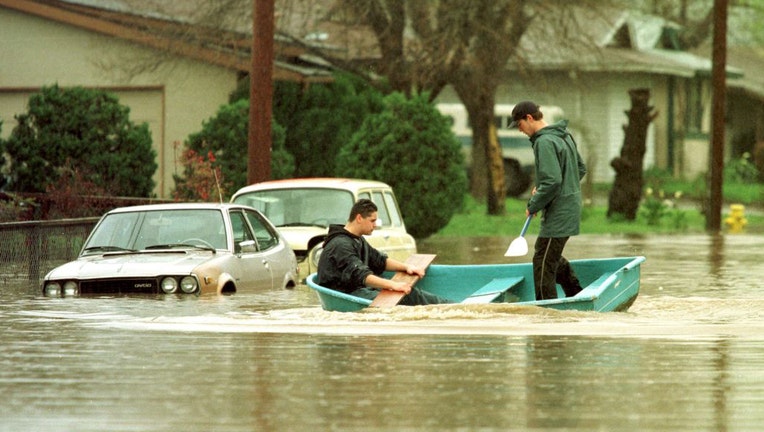 article
Sea surface temperature anomalies in critical parts of the Pacific Ocean have warmed enough for NOAA to declare an El Niño event to be underway.
An El Niño is one of three possible phases of the El Niño-Southern Oscillation (ENSO) and forms when sea surface temperature anomalies reach 0.5 °C or warmer than normal values. NOAA says their latest measurements recorded the anomaly at 0.8 °C above average. 
It is the first time the world has plunged into El Niño territory since 2019, and if past events are a telltale sign of what the future has in store, the global climate pattern will significantly impact the weather.
Some experts have dubbed El Niño to be the world's ultimate "master weather-maker" as its influences impact everything from animal migrations to the amount of billion-dollar disasters reported around the globe.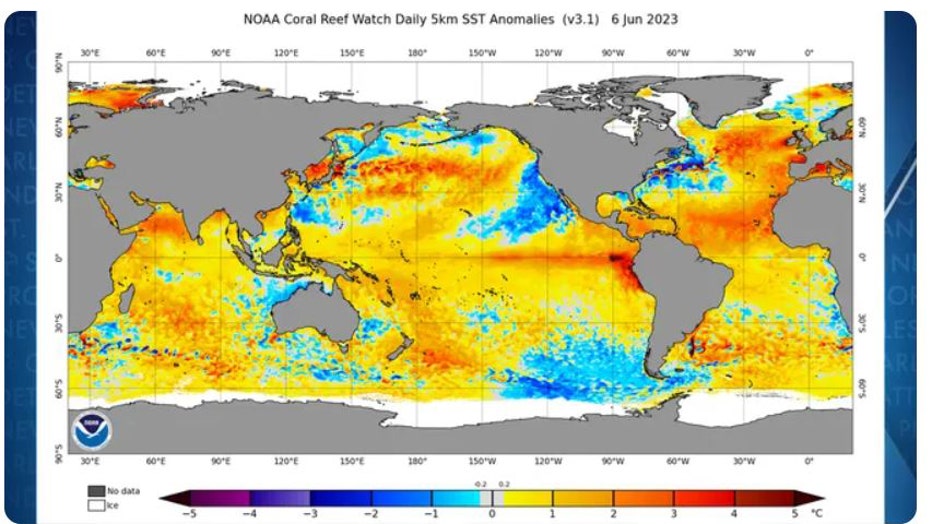 Sea-surface temperature anomaly map from June 6, 2023. (NOAA)
Hurricane forecasters at Colorado State University and NOAA have already taken the expected event into account for their annual Atlantic basin tropical season outlook.
Usually, during an El Niño, the Pacific is home to increased activity while the Atlantic basin sees amplified wind shear and cooler water temperatures, which are counterproductive for hurricane formation.
Due to the potential for hostile atmospheric conditions, the CSU and NOAA forecast teams are calling for near-average tropical activity in the Atlantic, Caribbean Sea and Gulf of Mexico.
"While we anticipate a robust El Niño for the peak of the Atlantic hurricane season, the tropical and subtropical Atlantic have continued to anomalously warm to near-record levels," Dr. Phil Klotzbach, lead author of the forecast, said during the June 1 release.
HERE'S WHAT AN EL NINO CLIMATE PATTERN IS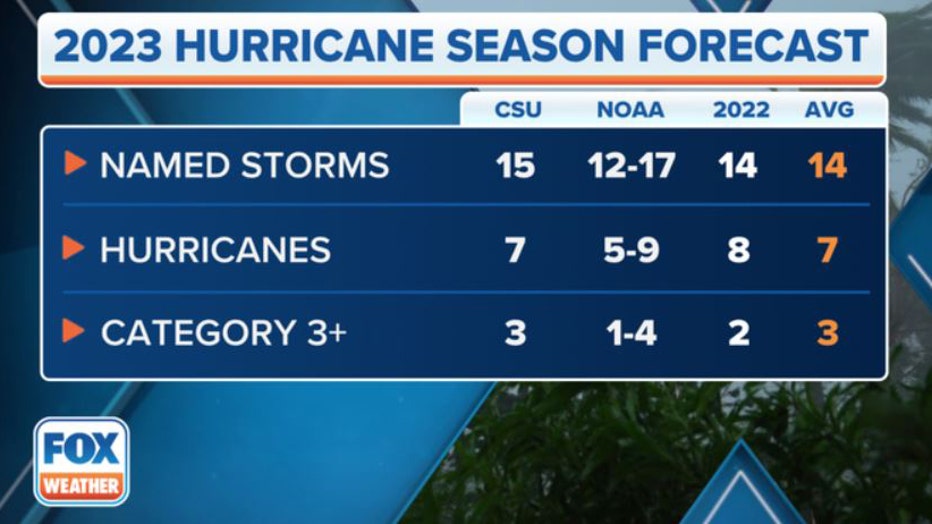 The Colorado State University Atlantic hurricane season outlook released June 1 calls for 15 named storms, seven hurricanes and three major hurricanes (Category 3 or stronger). (FOX Weather)
How long will this El Niño last?
Reliable model guidance shows the El Niño lasting through the remainder of 2023 and into 2024.
According to NOAA, an El Niño event typically lasts 9–12 months, while La Niñas can endure for years.
If the current El Niño follows precedent, this year's summer, hurricane season, winter and the spring 2024 severe weather season will all be impacted by the climate pattern's sphere of influence.
The duration of the event could depend on its severity, and some computer models make the 2023-24 El Niño a super event.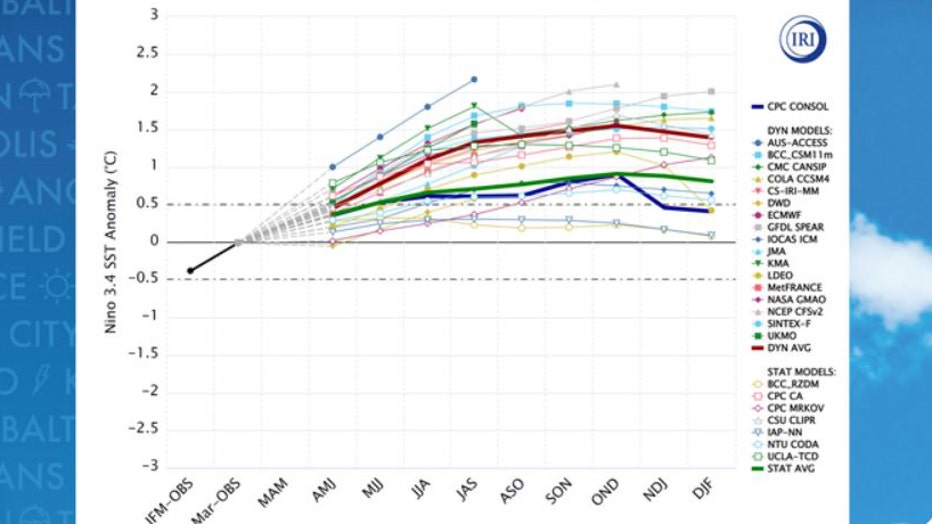 Computer forecast model predictions for the strength of the El Nino event. (FOX Weather)
A super El Niño is declared when water temperatures in the central and eastern Pacific Ocean reach at least 2 °C or warmer.
According to historical data, the last super El Niño occurred in 2015-16. The climate pattern was blamed for triggering record-breaking tropical cyclone seasons in the Pacific, an increased spread of disease outbreaks and Earth's warmest year.
"During El Niño, unusually warm sea surface temperatures in the central/eastern tropical Pacific lead to increased evaporation and cooling of the ocean. At the same time, the increased cloudiness blocks more sunlight from entering the ocean. When water vapor condenses and forms clouds, heat is released into the atmosphere," NOAA climate experts wrote in a 2022 ENSO blog.
WHAT ARE EL NINO AND LA NINA CLIMATE PATTERNS?
Historical El Niño & La Niña Events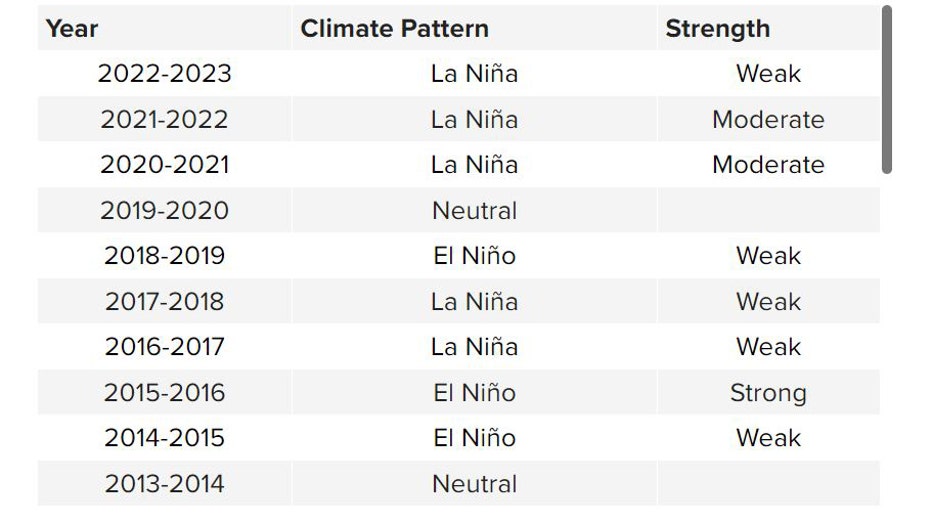 Previous El Niño impacts on the US
The last El Niño event to impact the country was during 2018-19, and it helped produce over a year of warm temperatures and plentiful precipitation over the country.
The event was considered weak, with water temperatures in critical parts of the Pacific only reaching between .5-1 °C above normal.
During the El Niño-impacted years, climatologists noted departures of overnight temperatures were greater compared to afternoon temperature anomalies.
Warm overnight lows prevent people and buildings from recovering from the daytime heat, leading to more extensive and dangerous heat waves.
Tropical cyclone experts believe the climate pattern did not play a significant role in overall activity during the 2018 or 2019 hurricane seasons; in fact, both years recorded above-average activity and produced storms such as Florence, Michael and Dorian.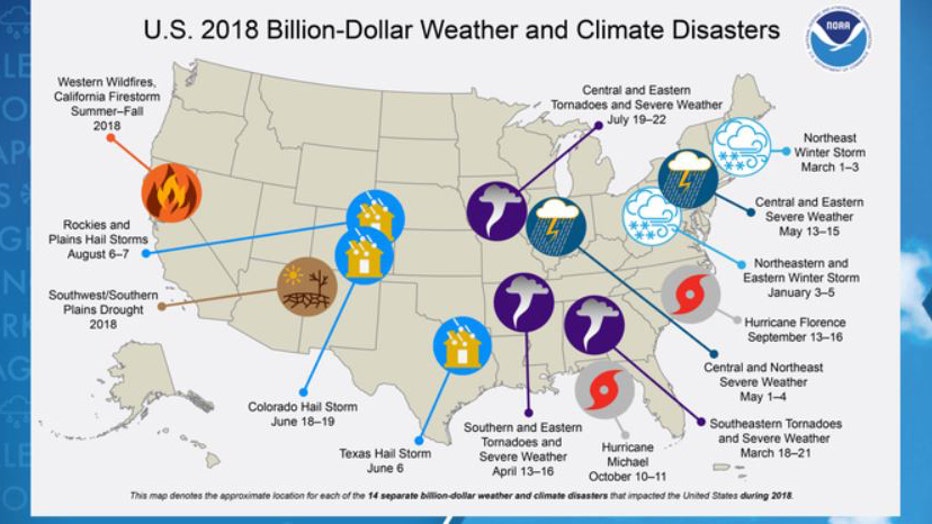 2018 billion dollar disasters 
The U.S. was impacted by 14 billion-dollar disasters in 2018 and 2019. These events ranged from severe weather outbreaks to tropical cyclones, flooding, wildfires and even winter storms.
Impacts on the country vary depending on the scope of the El Niño event. A stronger, more robust El Niño results in more profound effects around the globe versus a weaker event.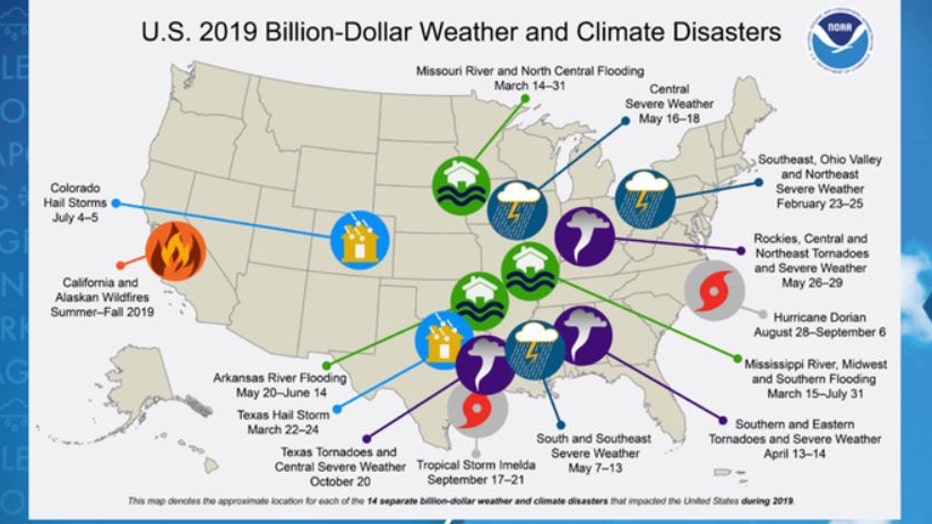 2019 billion dollar disasters
Due to the several competing forces, forecasts say anticipating exact impacts during El Niño can be challenging, and outlooks more than a few months ahead of time can be prone to errors.