Typhoon Mawar continues to intensify as it barrels towards US territory of Guam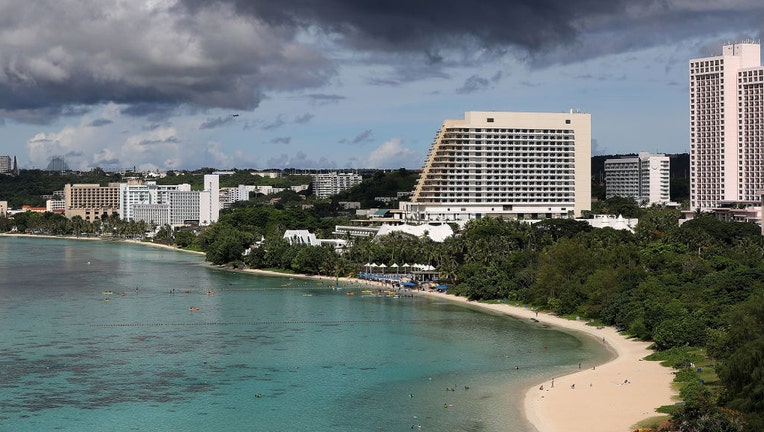 article
Preparations are being made across the U.S. island territory of Guam in the Western Pacific Ocean as powerful Typhoon Mawar continues to intensify as it barrels towards the region.
Typhoon Warnings are in effect for Guam and Rota, and forecasters say damaging winds of 39 mph are expected Tuesday evening, with typhoon-force winds of 74 mph or higher expected by Wednesday morning.
5 DIFFERENT NAMES FOR HURRICANES AROUND THE WORLD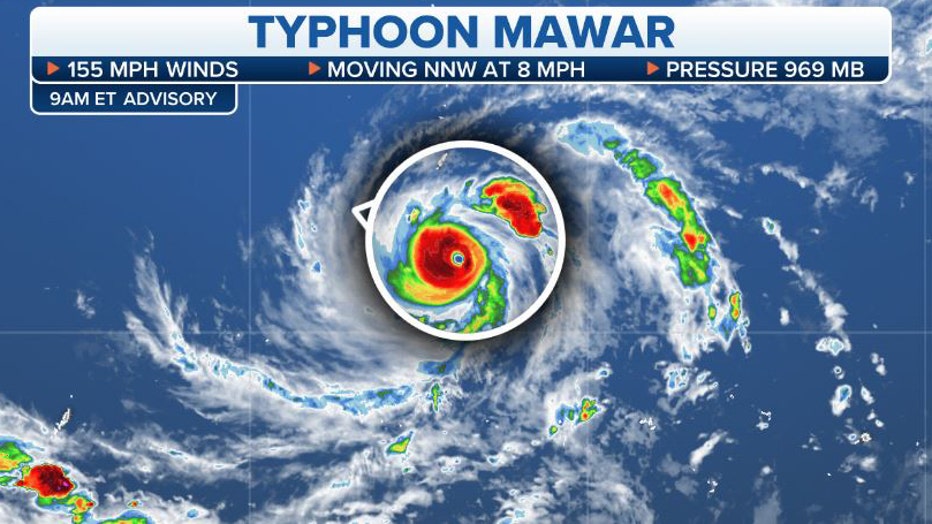 The current statistics for Typhoon Mawar as it intensifies and moves closer to Guam. (FOX Weather)
As of 3 p.m. Monday Coordinated Universal Time (UTC), Typhoon Mawar had sustained winds of 105 mph and was spinning off to the north-northwest at 6 mph.
The National Weather Service in Guam said a sharp westward bend in the track is expected to occur as it nears Guam and Rota, and it's expected to strengthen.
"When this westward bend occurs will really determine which islands receive the brunt of the impacts from Mawar," the NWS said in its forecast.
HOW ARE HURRICANES RATED? THE SAFFIR-SIMPSON HURRICANE WIND SCALE EXPLAINED
The NWS said there is still some uncertainty with the overall track of Typhoon Mawar as the storm approaches the Mariana Islands.
"It is vital that you do not focus on the exact forecast track," the NWS said. "The aforementioned westward bend will be crucial to determining the overall impacts for all the Marianas Islands."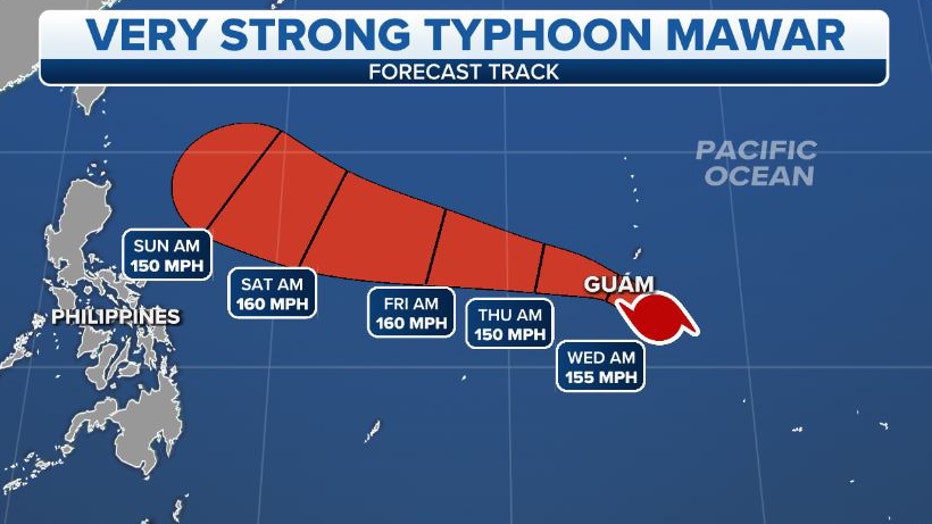 The forecast track for Typhoon Mawar as it intensifies and approaches Guam. (FOX Weather)
The NWS said an earlier bend would bring the most significant impacts to Guam, while a delayed bend would bring the possibility of typhoon-force winds reaching Saipan and Tinian. However, the NWS said it believes the most likely scenario is for Typhoon Mawar to pass near or over Guam.
A Typhoon Watch and Tropical Storm Warning are in effect for Saipan and Tinian, and Flood Watches have been issued for Guam, Rota, Tinian and Saipan.
HERE ARE THE BUZZWORDS YOU'LL BE HEARING DURING HURRICANE SEASON
U.S. Coast Guard preparing for Typhoon Mawar's arrival
The U.S. Coast Guard said its forces, along with federal, territorial and port partners, have been continuing to prepare for Typhoon Mawar, which is expected to arrive on Tuesday.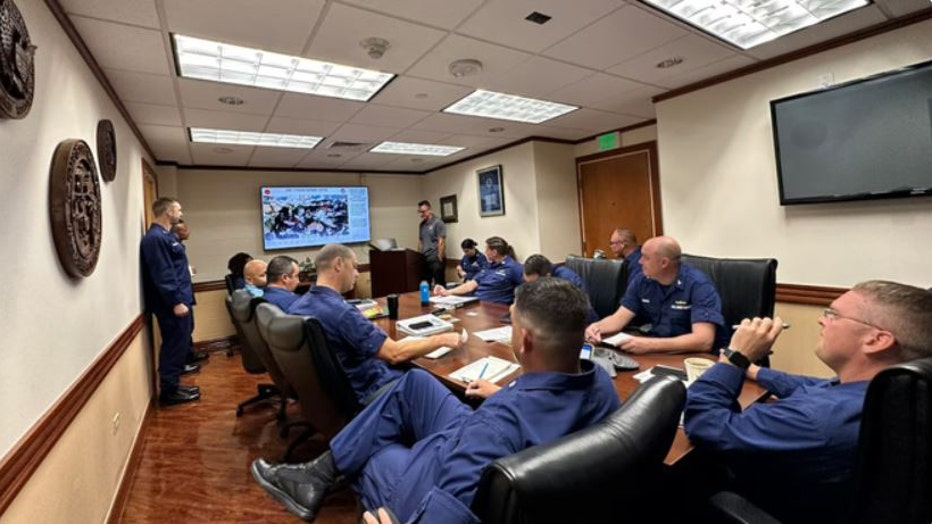 U.S. Coast Guard Forces Micronesia Sector Guam crews hold a weather brief on May 22, 2023, before Typhoon Mawar's arrival. (U.S. Coast Guard/Chief Warrant Officer Sara Muir)
The USCGC Myrtle Hazard and USCGC Oliver Henry crews have been safely taken out to sea, and away from the typhoon, while a third cutter crew on the USCGC Frederick Hatch remains on their regular patrol away from the affected area, the Coast Guard said.
In addition, the U.S. Coast Guard Station Apra Harbor's boats have been hauled out of the water, trailered or secured with heavy weather tie-downs. Crews have also fastened all buoys in the buoy yard to concrete sinkers.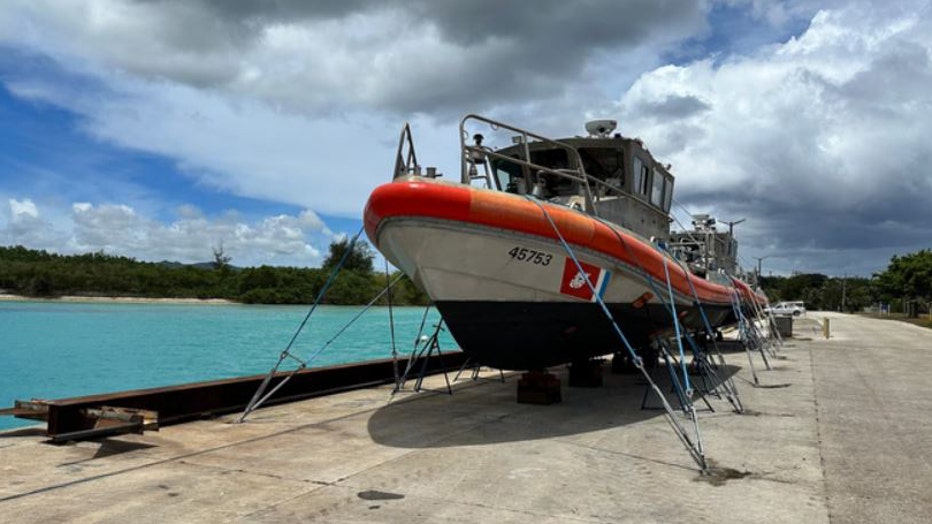 U.S. Coast Guard Station Apra Harbor 45-foot Response Boat Mediums are hauled out and attached to heavy weather tie-downs on May 21, 2023. (U.S. Coast Guard/Chief Warrant Officer Sara Muir)
"All ports are ready; commercial traffic departed, and teams prepared container yards for high winds," the U.S. Coast Guard said in a news release. "Crews are staffing all necessary watch sections and are actively working with on-island partners to be ready to conduct post-storm assessments."
Get the latest updates on this story at FOXWeather.com.