Tropical Storm Warnings expanded across New England as Hurricane Lee makes final approach
A Tropical Storm Warning has been issued for a large part of New England as ther region braces Hurricane Lee's expected impacts ranging from damaging winds to heavy rain, power outages and flooding starting as early as Friday evening. 
Various other tropical storm-related advisories have been issued for the New England and Canadian coastline, stretching from Massachusetts to Nova Scotia.
Boston could see sustained tropical-storm-force-winds by Friday evening through the first part of the weekend, and concerns are growing that with leaves still on trees the expected wind and possible heavy rain could snap branches and limbs and pull down power lines, leaving thousands of people in the dark.
With about a day left before the effects of Hurricane Lee began to slam the region, residents from New England to Canada are rushing to complete preparations.
HURRICANE LEE LIVE TRACKER: SATELLITES, PROJECTED PATH, SPAGHETTI COMPUTER MODELS, CONE OF CONCERN AND MORE
Maine Gov. Janet Mills and the Maine Emergency Management Agency were urging residents to prepare for impact.
"We are tracking the path of the storm and coordinating with federal and local partners to prepare for its arrival," Mills said in a statement. "We urge Maine people to exercise caution and to take common-sense steps to ensure they have all they need to stay safe as the storm draws closer moving into the weekend."
The NHC says Lee will continue to weaken as it heads into a more volatile environment including wind shear, drier air and cooler waters. However, Lee's massive size and expected increase in forward speed suggest the weakening process may be slow, and the storm will continue to grow in size as it continues to spin to the north.
The hurricane is expected to become extratropical – meaning the storm would no longer need to draw its power from warm waters. So for the millions of people living along the coast of New England from Connecticut to Maine, the potential impacts could be more like a nor'easter during winter rather than a land-falling hurricane.
For coastal areas from Massachusetts to Maine, there is an increased risk of experiencing tropical-storm-force winds of 39 mph or greater. Large waves as high as 10-20 feet will be crashing against the shoreline and will bring the risk of beach erosion and coastal flooding.
Where is Hurricane Lee?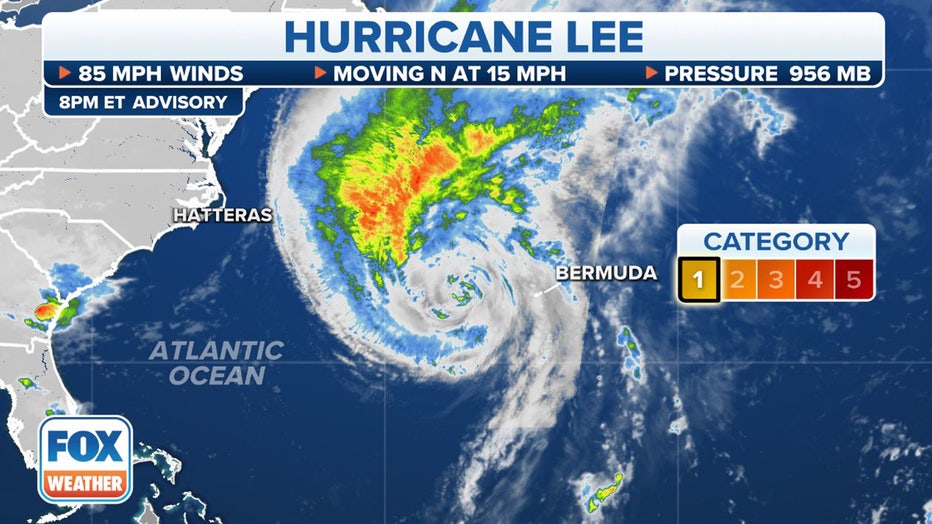 Tracking Hurricane Lee. (FOX Weather)
As of the latest NHC advisory, Hurricane Lee is located about 200 miles west-southwest of Bermuda and about 600 miles south of Nantucket, Massachusetts. Hurricane Lee is moving to the north at 14 mph with maximum sustained winds of 85 mph, making it a Category 1 hurricane on the Saffir-Simpson Hurricane Wind Scale.
Due to its proximity to Bermuda, a Tropical Storm Warning is in effect for the island and tropical storm conditions are being seen across the British island territory.
The NHC says Hurricane Lee is continuing to weaken but will remain a "large and dangerous hurricane" as it continues to spin off to the north.
What is the forecast track for Hurricane Lee?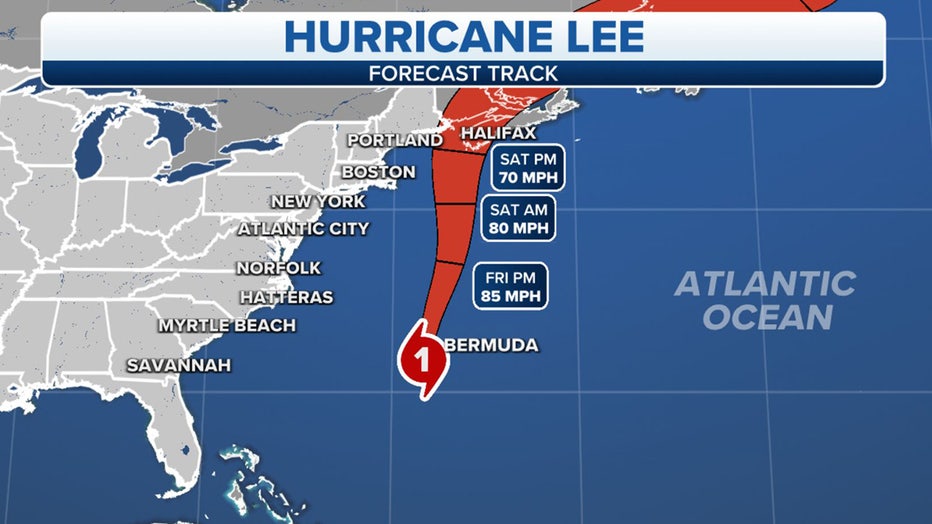 Tracking Hurricane Lee. (FOX Weather)
Based on the hurricane's heading, Bermuda is expected to be spared from the worst of the Category 1 hurricane as the center passes west of the island.
After a close brush with Bermuda, the cyclone is expected to approach the coast of New England and Atlantic Canada by Friday and Saturday and will move across Atlantic Canada Saturday night and Sunday.
What watches or warnings are in effect due to Hurricane Lee in the U.S.?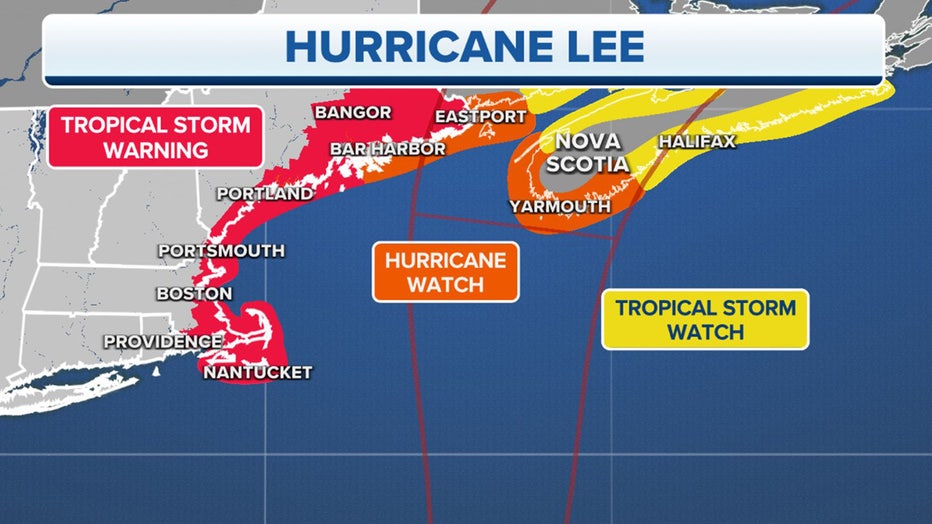 Watches and Warnings. (FOX Weather)
Tropical Storm and Hurricane Watches and Warnings have been issued for millions of people from New England to Canada.
A Tropical Storm Warning is in effect for every coastal city from Westport, Massachusetts through the U.S.-Canada border. In addition, a Hurricane Watch is in effect for Downeast Maine.
Both a Hurricane and a Tropical Storm Watch are in effect for large portions of Nova Scotia and New Brunswick.
A Tropical Storm Warning is issued when tropical-storm-force winds (sustained winds of 39 to 73 mph) are expected within the storm warning area within 36 hours. These winds could be accompanied by a storm surge, coastal flooding and/or river flooding.
A Tropical Storm Watch is issued when tropical-storm-force winds are possible within the storm watch area, generally within 48 hours.
A Hurricane Watch is issued when hurricane-force-winds (sustained winds of 74 mph or greater) are possible within the watch area, generally within 48 hours.
What will Lee's impact be in New England?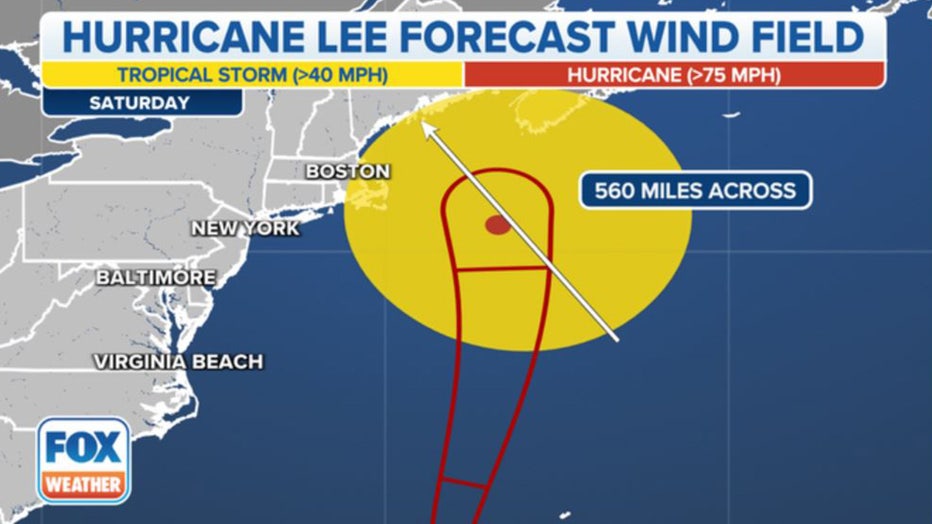 A map showing the potential wind field from Hurricane Lee as it approaches New England. (FOX Weather)
Hurricane Lee is expected to bring strong, possibly damaging wind gusts to the coastal regions of New England along with massive surf and heavy rain. 
Lee will begin to pick up forward speed after it makes its turn to the north, and as it does so, the storm's wind field is expected to grow in size.
The FOX Forecast Center expects Lee's wind field to extend about 560 miles across, which would make impacts far-reaching in New England.
HURRICANE LEE TIMELINE TRACKER: WHEN AND WHERE TO EXPECT IMPACTS IN NEW ENGLAND, MAINE
The potential wind gusts from Hurricane Lee on Saturday, Sept. 16, 2023. 
Winds will also be whipping across coastal areas of New England up to Canada as Hurricane Lee approaches and then passes by the region.
With Hurricane Lee's massive size, strong winds could be far-reaching, putting millions at risk of power outages because of falling trees and branches onto power lines.
Winds could be whipping to between 30 and 40 mph from the Boston Area to Worcester and in northeastern Connecticut.
On the South Shore of Massachusetts, winds will be a bit stronger and could reach to between 40 and 50 mph on Saturday morning.
Strong wind gusts are also expected across Cape Cod from Barnstable to Provincetown.
And in Maine, winds could gust to between 50 and 60 mph along the coast, including Rockland.
"This is not a 'pack up your stuff and get out' (storm)," Merwin said "This is a hunker down, get ready to lose power. We're going to have really nasty conditions on Saturday, and then we'll wake up on Sunday and it will be a new day."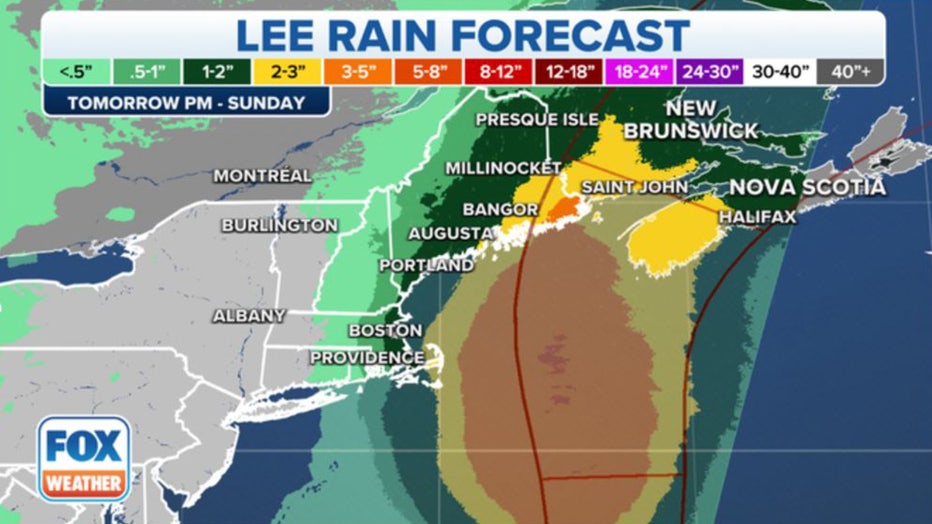 A map showing the forecast rain totals from Hurricane Lee. (FOX Weather)
Most of the heavy rain is expected to fall over Atlantic Canada, but depending on Hurricane Lee's track a few inches of rain could fall in New England.
Coastal regions from Massachusetts to Maine will see the highest rain totals, with Massachusetts, New Hampshire and most of Maine seeing about 1-2 inches, with higher amounts along coastal areas of eastern Massachusetts, including Cape Cod. Downeast Maine could also see more, with forecast totals between 2-5 inches.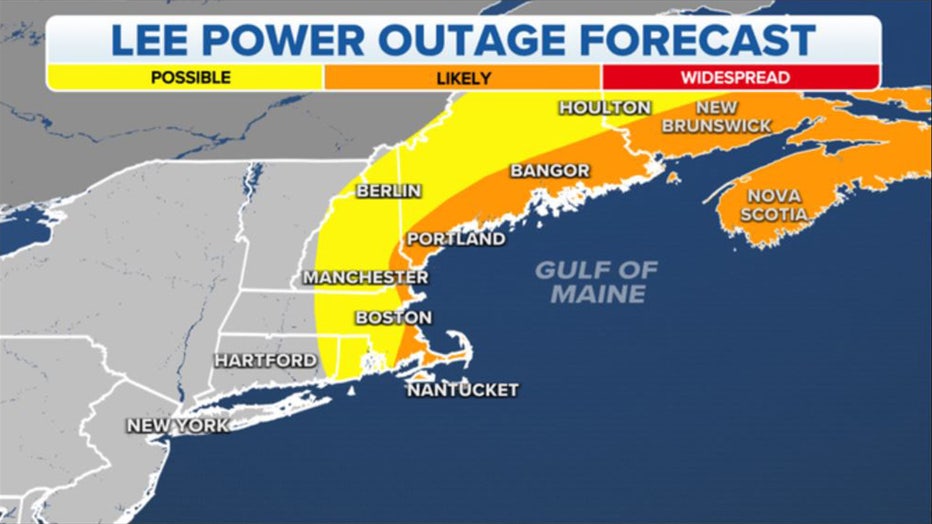 A map showing the potential power outages from Hurricane Lee.  (FOX Weather)
People living in New England still have a day to prepare for any potential impacts and power outages Lee will have on the region before the weather starts to deteriorate on Friday.
"We can still see a 24-hour stretch where you might be without power which means everything in your fridge will go bad," Merwin said. "Your food can't last 24 hours without power to your fridge. So, maybe buy a couple of things at the store over the next couple of days that you can eat and not have to worry about having it refrigerated."