This weekend's college football on FOX: No. 22 Colorado hosts rival Nebraska in quadruple header
After pulling a stunning upset over TCU last week, No. 22 Colorado (1-0) takes on an old rival when the Buffaloes host Nebraska (0-1) in their first home game of the season.
Colorado's huge win over the Horned Frogs led them to be ranked this week in college football's top 25 teams in the nation.
Fans will get their football fix on FOX with four games on the slate for Saturday.
The action begins at 10 a.m. ET on FOX with Big Noon Kickoff followed by Colorado vs. Nebraska at noon ET, Iowa at Iowa State at 3:30 p.m. ET, No. 13 Oregon vs. Texas Tech at 7 p.m. ET, and in the nightcap at 10:30 p.m. ET, Stanford visits No. 6 USC.
No. 22 Colorado vs. Nebraska
This matchup features two schools with a once-heated rivalry and two coaches who are each trying to turn around once-storied programs. Deion Sanders started on the right note when the Buffaloes began his coaching debut at Colorado with a 45-42 win at nationally ranked TCU.
Nebraska coach Matt Rhule didn't begin on the same sort of note in falling on the road to Minnesota 13-10 to begin his time in Lincoln.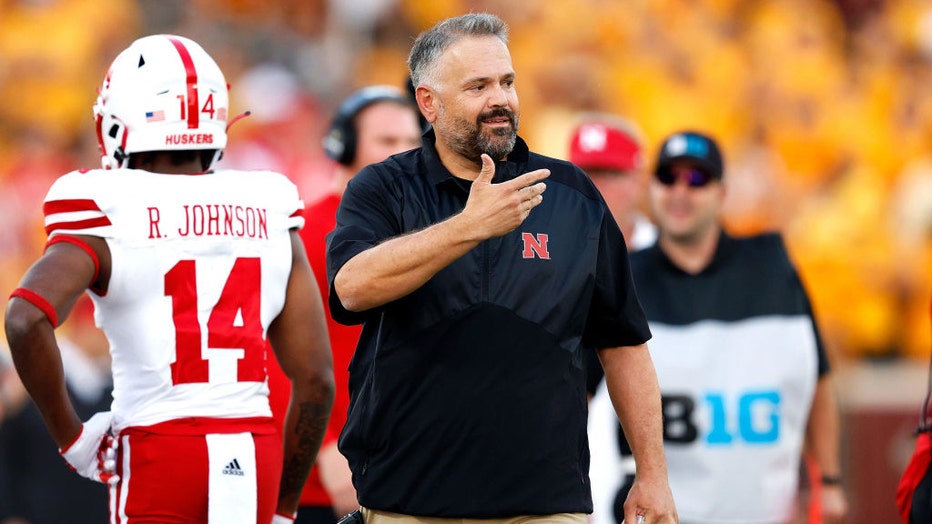 Head coach Matt Rhule of the Nebraska Cornhuskers reacts to a play on the field in the first half against the Minnesota Golden Gophers at Huntington Bank Stadium on August 31, 2023 in Minneapolis, Minnesota. The Golden Gophers defeated the Cornhusker
The Buffaloes have a trio of players coming off big games against TCU in quarterback Shedeur Sanders, cornerback/receiver Travis Hunter, and running back Dylan Edwards. They all picked up Pac-12 awards this week for their performances against TCU.
The last two games between Colorado and Nebraska were decided by a total of eight points, including a 34-31 overtime win by the Buffaloes in 2019. ... The Cornhuskers are looking for their 50th win over Colorado. ... The Huskers have dropped their last four non-conference road games, the Associated Press reported.
The Cornhuskers lead the all-time series 49-20-2, including 23-11-2 in Boulder. But the Buffaloes have won two in a row and have a chance at their first three-game winning streak in the rivalry since the 1950s.
Iowa vs. Iowa State
This year's game for the CyHawk Trophy on Saturday between Iowa (1-0) and Iowa State (1-0) will be a bit different and not just because former President Donald Trump is expected to attend. The AP reports both programs are the subject of an investigation into illegal sports wagering that resulted in criminal charges and suspensions involving athletes.
Iowa State quarterback Hunter Dekkers is among three athletes from his school and two from Iowa who have pleaded guilty to underage gambling.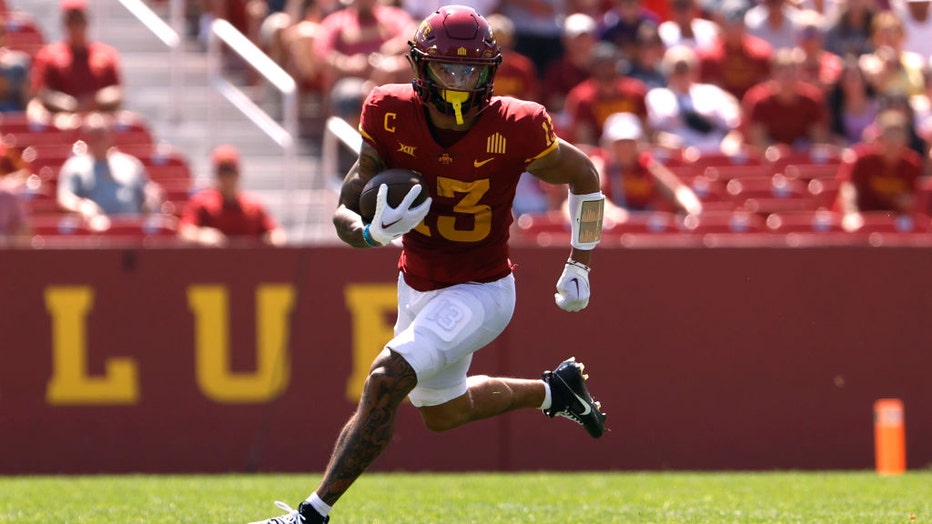 Wide receiver Jaylin Noel #13 of the Iowa State Cyclones rushes for yards in the first half of play at Jack Trice Stadium on September 2, 2023 in Ames, Iowa. The Iowa State Cyclones won 30-9 over the Northern Iowa Panthers. (Photo by David K Purdy/Ge
The five were among more than a dozen athletes from the two schools who faced criminal charges in connection to a state investigation into illegal sports wagering. All originally were charged with tampering with records, an aggravated misdemeanor punishable by up to two years in prison, according to the Associated Press. 
Iowa is missing at least one projected starter, who was suspended but not charged. Other football players are suspended as the two schools head into their 70th overall meeting in a series that began in 1894.
Iowa defensive tackle Noah Shannon was not charged but was suspended for the season by the NCAA for his involvement in wagering. The Hawkeyes have not named the other suspended players.
Players involved were accused of disguising their identities on mobile sports betting apps because they are NCAA athletes and under the legal betting age of 21 at the time the accounts were set up, according to the Associated Press. 
No. 13 Oregon vs. Texas Tech
Texas Tech's Tyler Shough will be the fifth Red Raiders QB since 1980 to start three consecutive openers, as he leads the team against No. 13 Oregon (1-0) in the home opener.
Oregon's Bo Nix is the more celebrated of the two under center. The Auburn transfer is entering his third season with the Ducks after three in Alabama.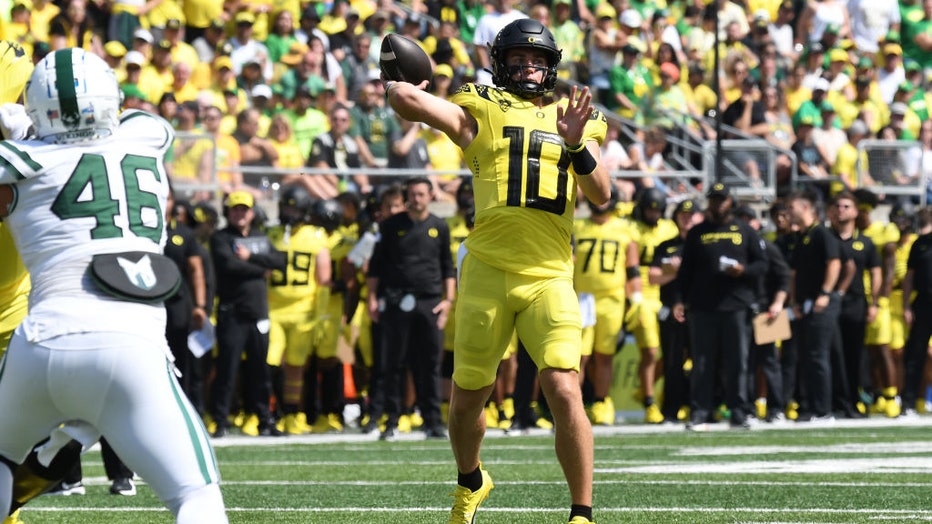 Oregon Ducks quarterback Bo Nix (10) passes the ball during a college football game between the Oregon Ducks and Portland State Vikings on September 2, 2023, at Autzen Stadium in Eugene, Oregon. (Photo by Brian Murphy/Icon Sportswire via Getty Images
Nix, also 23 but five months younger than Shough, is coming off a 23-of-27 showing for 287 yards and three touchdowns in an 81-7 victory over Portland State. It was the most points for an FBS school since Texas Tech lost at TCU 82-27 in 2014.
Oregon won both games in a home-and-home series in 1991-92 in the only other meetings. The schools are scheduled to complete the same double in Eugene next year, when Oregon makes its move from the Pac-12 to the Big Ten, the AP reported. 
Texas Tech (0-1) is facing a stiff challenge to extend a school-record streak of 23 consecutive victories in home openers. Coming off a loss that ended their 34-game winning streak against nonconference opponents outside the so-called Power Five, the Red Raiders are trying to avoid a 0-2 start. It would be their first since 1990.
Stanford vs. No. 6 USC
No. 6 USC (2-0) and Stanford (1-0) meet to kick off conference play in the final season of the Pac-12 before departing for other leagues. The Cardinal started the Troy Taylor era with a comfortable 37-24 win at Hawaii, looking at ease running a more modern spread offense. The Trojans dominated Nevada 66-14 in their last trial run before reaching the heart of their schedule, the AP reported.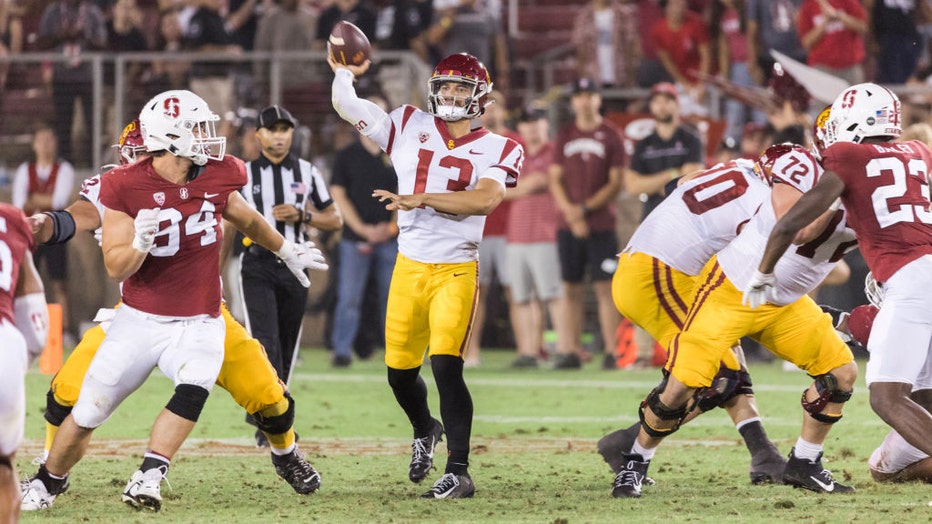 FILE-Quarterback Caleb Williams #13 of the USC Trojans throws a pass during a Pac-12 college football game against the Stanford Cardinal played on September 10, 2022 at Stanford Stadium in Palo Alto, California. (Photo by David Madison/Getty Images)
All eyes will be on USC's Caleb Williams, last year's Heisman Trophy winner.  One player tasked with containing Williams is Stanford linebacker David Bailey, who finished with six tackles, four tackles for loss and three sacks against Hawaii. 
Stanford QB Ashton Daniels made his first career start against Hawaii, throwing for 248 yards and two touchdowns. Williams made his first road start for the Trojans at the Cardinal last year, going 20-of-27 passing for 341 yards and four touchdowns. 
USC leads the series between the two schools at 64-34-3.
The Associated Press contributed to this report.  This story was reported from Washington, D.C.