Lionel Messi picks Miami as he joins Major League Soccer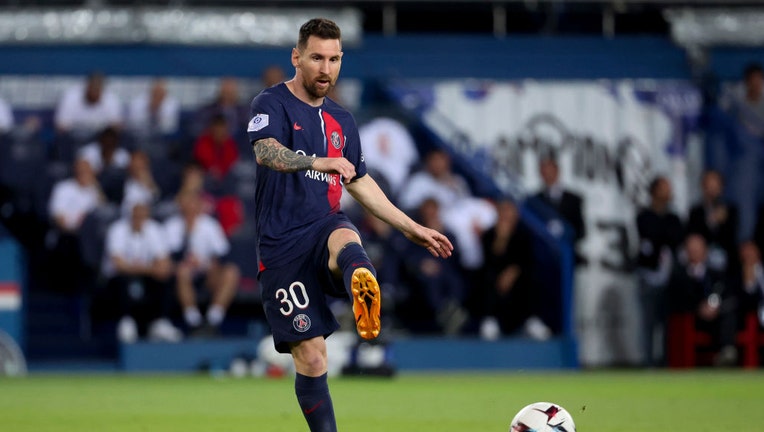 article
MIAMI (AP) - Lionel Messi has pulled off his latest stunning feat: He is headed to Major League Soccer, and joining Inter Miami.
After months — years, even — of speculation, Messi finally revealed his decision to join a Miami franchise that has been led by another global soccer icon, David Beckham, since its inception but has yet to make any real splashes on the field.
That likely will soon change. One of Inter Miami's owners, Jorge Mas, tweeted out a photo of a darkly silhouetted Messi jersey shortly before the Argentinian great revealed his decision in interviews with Spanish news outlets Mundo Deportivo and Sport.
It was widely believed that Messi eventually would choose to play for Al-Hilal in Saudi Arabia, following longtime rival Cristiano Ronaldo to a nation where some clubs now are funded by the state's sovereign wealth fund. Going back to Barcelona, a storied franchise where he spent most of his career, was another possibility.
RELATED: Connecticut's transgender athlete policy faces legal battle from female competitors
But in the end, he made the call that surprised many. Messi is joining MLS. He said in the interviews Wednesday that some final details still need to be worked out, but that he has made the call to "continue my path" in Miami.
"After winning the World Cup and not being able to return to Barcelona, it was my turn to go to the league of the United States to live football in another way," Messi said.
He didn't take the money. He didn't choose the memories. He picked Miami instead. Messi's next matches are likely to be exhibitions with Argentina against Australia on June 15 at Beijing and at Indonesia in Jakarta four days later — and then his Inter Miami debut figures to be sometime in July.
The seven-time Ballon d'Or winner — the trophy given annually to the best player in the world — makes his move after two years with Paris Saint-Germain. At 35, Messi has nothing left to prove in the game and filled the only significant unchecked box on his resume back in December by leading Argentina to the World Cup title.
Messi has more than 800 goals in his career for club and country, making him one of the greatest scorers in the sport's history. In more than 17 years of representing Argentina on the international stage, he has scored 102 goals against 38 different national team opponents — 16 of those goals coming on U.S. soil. He scored twice in last year's World Cup final against France, a match that officially ended 3-3 with Argentina prevailing in penalty kicks.
RELATED: PGA Tour to merge with Saudis, ending LIV litigation
He has been to the absolute mountaintop of the game.
And now he comes to MLS, and a team that is struggling — last place in the Eastern Conference, just a few days removed from the firing of coach Phil Neville (who was hand-picked by Beckham two years ago).
Messi's decision to play in the U.S. might be the biggest boost ever for American soccer on the pro stage. Some of the game's biggest names — Pele, Thierry Henry, Beckham himself — have come to the U.S. toward the end of their careers, but landing a player still no worse than near the pinnacle of his game and just a few months removed from hoisting a World Cup is simply huge.
It took months of negotiations with MLS, the Inter Miami ownership, Adidas and even Apple getting involved in a creative pitch to bring Messi to Miami's pitch. Apple — which is a broadcast partner of MLS — announced Tuesday that it will show a still-untitled four-part documentary series "featuring exclusive behind-the-scenes access to global superstar Lionel Messi. ... In his own words, Messi tells the definitive story of his incredible career with the Argentina national football team, providing an intimate and unprecedented look at his quest for a legacy-defining World Cup victory."
RELATED: Jim Hines, Olympic 100-meter champion who became NFL receiver, dies at 76
And now, his story will have a Miami chapter.
Inter Miami needed six years from inception to playing its first match, and its first four seasons have been less than stellar.
Messi is joining a team that sits last in the Eastern Conference and just fired its coach. It has made the playoffs in two of its first three seasons but has yet to finish a season with a winning record or even a positive goal differential.
Still, there have been hints for months that Miami remained very much in the Messi sweepstakes. Messi met with Inter Miami co-owner Beckham this spring, and that was shared publicly almost to ensure that everyone knew the sides were still talking. Messi and his family also own several pieces of luxury real estate in South Florida, and — almost as if to suggest something big was coming — the MLS club told fans the only way they could get tickets for the second half of this season was to purchase a season-ticket package.
He's an enormous draw everywhere on the globe, including Miami. Two days after Argentina won the World Cup, Miami Heat guard Kyle Lowry sat on his team's bench for a game unable to play because of injury. He wore a Messi jersey that night.
Inter Miami still plays home matches in a temporary home in Fort Lauderdale, about 45 minutes north of the site in Miami where the team wants to build a permanent complex.
RELATED: Kyrie Irving reached out to LeBron James to see if Lakers star would leave LA, report says
And even in an area where the population has a serious Latin flavor, and where more people might actually call the sport futbol than soccer, Inter Miami has struggled to generate the same attention as do the area's primary pro teams — basketball's Heat, baseball's Miami Marlins, football's Miami Dolphins and hockey's Florida Panthers.
Messi could change that in an instant. In a flash, he becomes the biggest name in MLS and makes everything Miami does newsworthy.
His decision ends what has been a wild saga. Barcelona made Messi a superstar, but the financial issues that forced the team to letting him go two years ago still remain an issue.
"I heard that they'd have to sell players or lower players' salaries and the truth is, I didn't want to go through that," Messi said Wednesday.
There are no financial issues with Saudi Arabia, and speculation that he would end up there intensified when Messi made an unauthorized trip to the kingdom. PSG suspended him and some fans turned on him, serenading him with jeers toward the end of his season with the French club.
Everyone knew he wouldn't be back with PSG. Few likely thought he was heading to Miami. But here he is, a move to Miami by a superstar that might even be more shocking than LeBron James arriving to join the Heat 13 years ago.
AP Soccer Writer Ronald Blum contributed to this report.