Novak Djokovic clinches 24th Grand Slam title with US Open victory over Daniil Medvedev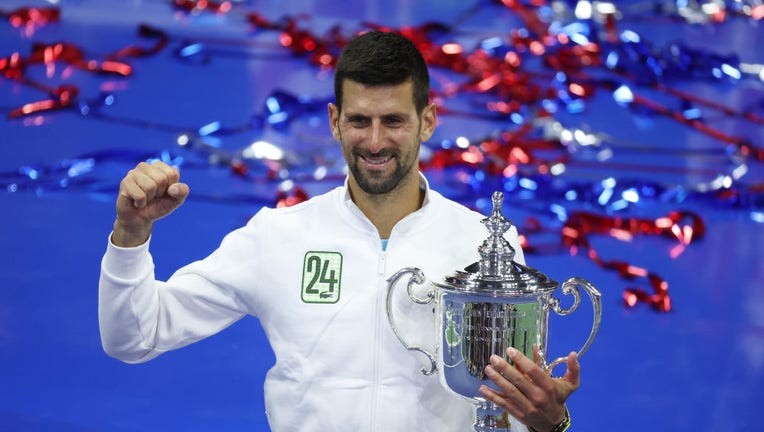 article
NEW YORK (AP) - Novak Djokovic emerged from an exhilarating and exhausting U.S. Open final with a 24th Grand Slam title on Sunday night, using every ounce of his energy and some serve-and-volley guile to get past Daniil Medvedev 6-3, 7-6 (5), 6-3 in a match that was more closely contested than the straight-set score indicated.
Djokovic, a 36-year-old from Serbia, moved one major singles title in front of Serena Williams to become the first player to win 24 in the Open era, which began in 1968. Margaret Court also collected a total of 24, but 13 of those came before professionals were admitted to the Slam events.
There were moments, particularly in the 1-hour, 44-minute second set that was as much about tenacity as talent, when Djokovic appeared to be faltering. After some of the most grueling points — and there were many — he would lean over with hands on knees or use his racket for support or pause to stretch his legs.
RELATED: US Open 2023: Coco Gauff, 19, wins her first Grand Slam title
This triumph against Medvedev, the opponent who beat him in the 2021 final at Flushing Meadows to stop a bid for the first men's calendar-year Grand Slam in more than a half-century, made Djokovic the oldest male champion at the U.S. Open in the Open era.
"First of all, Novak, I want to ask: What are you still doing here?" Medvedev joked during the trophy presentation.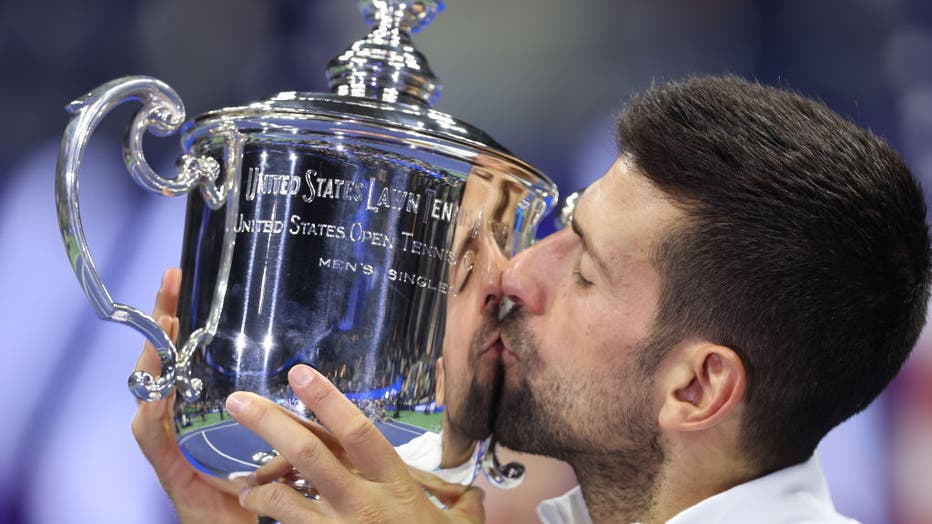 NEW YORK, NEW YORK - SEPTEMBER 10: Novak Djokovic of Serbia celebrates after defeating Daniil Medvedev of Russia during their Men's Singles Final match on Day Fourteen of the 2023 US Open at the USTA Billie Jean King National Tennis Center on Septemb
Djokovic's fourth championship in New York, where he was unable to compete a year ago because he isn't vaccinated against COVID-19, goes alongside his 10 trophies from the Australian Open, seven from Wimbledon and three from the French Open, extending his lead on the men's Slam list. Rafael Nadal, who has been sidelined since January with a hip problem that required surgery, is next with 22; Roger Federer, who announced his retirement a year ago, finished with 20.
When it was over, Medvedev tapped Djokovic on the chest as they chatted at the net. Djokovic flung his racket away, put his arms up and then knelt on the court, with his head bowed. And then the celebration was on. First he found his daughter for a hug. His son and wife came next, along with his team.
Soon, Djokovic was donning a shirt with "24" and "Mamba Forever" written on it as a tribute to the late NBA star Kobe Bryant, who wore that jersey number. And on top of that went a white jacket with the same significant number stamped on the chest.
As good as ever, Djokovic went 27-1 in the sport's most prestigious events this season: The lone blemish was a loss to Carlos Alcaraz in the final at Wimbledon in July. Djokovic will rise to No. 1 in the rankings on Monday, overtaking Alcaraz, who was the defending champion at Flushing Meadows but was eliminated by No. 3 Medvedev.
At the start Sunday, with the Arthur Ashe Stadium retractable roof shut because of rain in the forecast, Djokovic was comfortable as can be. No sign of the occasion weighing on him, no trace of the tension he acknowledged briefly arose late in his semifinal against unseeded American Ben Shelton.
His exemplary movement good as ever, every stroke just so, Djokovic came out as his best self. He grabbed 12 of the first 16 points - three via aces perfectly placed, and with pace, and four via exchanges that lasted 10 strokes or more - along the way to leads of 3-0 and 4-1.
Medvedev, in contrast, seemed tight, jittery, the looping swings of his white racket breaking down repeatedly, whether on a trio of double-faults in the opening set or during the lengthier points, other than on one 37-shot back-and-forth that ended when Djokovic blinked, stumbling as he flubbed a backhand.
Beyond that, though, Djokovic was as reliable as a metronome, anticipating nearly everything headed his way and scurrying this way and that to retrieve and respond, as is his wont.