NASCAR pit reporter's insight ahead of FOX Bet Super 6 Contest at Talladega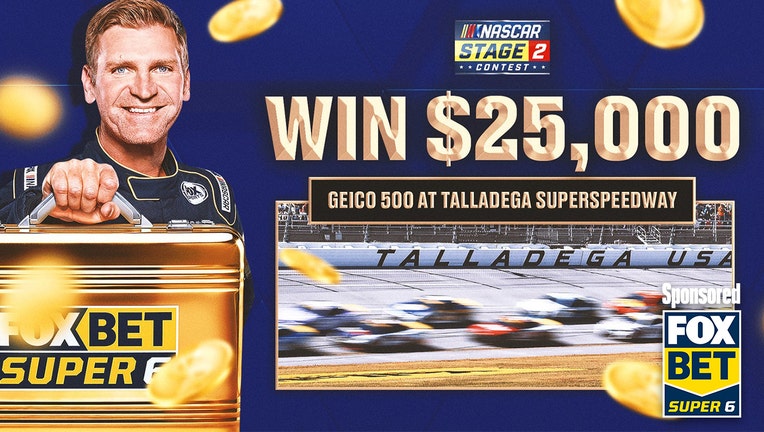 article
It's race weekend at Talladega on FOX, so you already know what that means. No, that doesn't mean there's going to be a surprise Ricky Bobby appearance — that we know of. But it means there will be intense competition as NASCAR's most talented drivers crowd the field for one of the season's biggest events. 
And forget Talladega Nights because this race gets underway at 3 p.m. ET Sunday on FOX and the FOX Sports App. So there will be a new winner in Alabama before the sun sets over the crimson sky. FOX Sports NASCAR broadcaster and pit reporter Josh Sims chatted with us about Talladega ahead of the festivities. 
"The most interesting thing fans need to watch for is which drivers leave others out to dry the final couple laps of the race," Josh pointed out. "A lot of team work obviously goes out the window down the stretch when it's every man for himself. But seeing which guys actually end up playing a big part in pushing other drivers toward a win. That's fascinating to watch."
While we're on the subject of fascinating, watching Josh ascend the ranks of NASCAR's broadcast elite has been marvelous to witness.
Sims is the very first African-American to cover pit road for a NASCAR national series television broadcast. A charismatic, consummate professional, the NASCAR RACE HUB co-host landed at FOX Sports after anchoring and reporting for the company's local affiliate in Charlotte, N.C.
"I never set out to be the first; I just wanted to be the best," the veteran on-air personality admitted. "But I do understand the significance of my platform. There are a lot of people who look like me who want to do what I do. And when they see me covering NASCAR at this level, it signals to them that they can, too."
Josh revealed that one of the most intriguing parts of his job as a NASCAR reporter is his access to the drivers.
"I covered NFL, for example, and that's a sport where you're dying to get the star quarterback for a one-on-one for your show. If you're lucky, you'll get one of those a season.
"But in NASCAR, let's take the most popular driver right now. And that's Chase Elliott. I could probably get time with him before every race. The access we have is second to none."
Speaking of access, even if you're not at Talladega this weekend, you still have access to $25,000 if you play the FOX Bet Super 6 NASCAR Stage 2 Contest.
FOX Bet Super 6 is a free-to-play contest where you can pick six different outcomes in the NASCAR Stage 2 Contest featuring the GEICO 500 at Talladega Superspeedway to win Clint Bowyer's $25,000. Just download the FOX Bet Super 6 app on your phone or mobile device, make your picks and submit your selections before the race gets underway this Sunday.
Playing FOX Bet Super 6 is always free, easy and it's fun. And we want you to know that people really do win!
Before you buckle up to make your picks for this weekend's NASCAR race on FOX, check out Josh Sims' expert insight for how he expects the race will play out at Talladega Superspeedway.
Josh Sims shares his picks
Which of these drivers will have the best finish at the end of the race?
Denny Hamlin, Joey Logano, Austin Dillon, Martin Truex Jr., Kyle Larson, Kevin Harvick
"You know, that's a tough one. You just named a bunch of drivers who are good and who are good on superspeedways. But I'm gonna go with Joey Logano because when it comes to superspeedways, Penske is always good and Logano is always really good.
"I know they've been up and down a little, but in superspeedway racing, Joey Logano and Team Penske are usually one of the teams to beat."
Prediction: Joey Logano
Which manufacturer — Chevrolet or Ford — will have the most cars on the lead lap at the end of Stage 2 and how many will they have?
1-3, 4-5, 6, 7, 8, 9, 10, 11, 12, 13+
"I'm gonna go with Chevy. I'm banking on the Chevy cars to grab the lead here."
Prediction: Chevrolet, 8
Which of these drivers — Christopher Bell or Austin Cindric — will have the fastest lap by the end of Stage 2 and how many yellow laps will there be?
0-9, 10-11, 12-13, 14-15, 16-17, 18-19, 20-21, 22-23, 24-25, 26+
"Chris Bell will have the fastest lap. He's been fast all season long. And at basically every single track, he's shown that he can perform. That's why I'm going with C. Bell."
Prediction: Christopher Bell, 0-9
Which team — Joe Gibbs Racing or Hendrick Motorsports — will have the most laps led by the end of Stage 2 and how many laps will they lead?
1-13, 14-20, 21-26, 27-33, 34-40, 41-47, 48-54, 55-61, 62-66, 67+
"Let's go with Hendrick."
Prediction: Hendrick Motorsports, 67+
Which driver — Kyle Larson or William Byron — will have the better finish at the end of Stage 2 and by how many positions?
1, 2, 3, 4, 5, 6, 7, 8-10, 11-14, 15+
"This is tough, too. I'm going to go with Larson because he's on a heater right now. But they'll both be up there."
Prediction: Kyle Larson, 3
Which driver — Kyle Busch or Ross Chastain — will have the better finish at the end of the race and by how many positions?
1, 2, 3, 4, 5, 6, 7, 8-10, 11-14, 15+
"I'm gonna go with Chastain. He won here last year, so I think he'll be really good again this year."

Prediction: Ross Chastain, 6
Final thoughts… and how to play
In addition to chatting with us about his career and giving his expert picks for the Stage 2 Contest, Josh also revealed his bold prediction for the NASCAR season.
"Aric Almirola will win in 2023. I know he's in a tough spot right now having not won yet. But I think his career is winding down, and because of that, he's really desperate to get a win. 
"Before all is said and done, he'll be in Victory Lane this year."
Will this be the weekend that you win? The jackpot could be yours, but you have to play to win.
Download the FOX Bet Super 6 app and submit your selections for the NASCAR Stage 2 Contest now. Then be sure to share your picks with us by tagging @FOXSuper6 and @EricaReneeD and using the #EricaSuper6 hashtag across all social media platforms.
Pedal to the metal, folks. Good luck!
Download the FOX Bet Super 6 app for your chance to win thousands of dollars on the biggest sporting events each and every week! Just make your picks and you could win the grand prize. Download and play today!
No purchase necessary. Open to legal residents of the US, excluding WA. 18 and older. See terms and conditions at foxsuper6.com. Sponsored by TSG Interactive US Services Limited.