Kentucky Derby: Forte is 3-1 favorite at Churchill Downs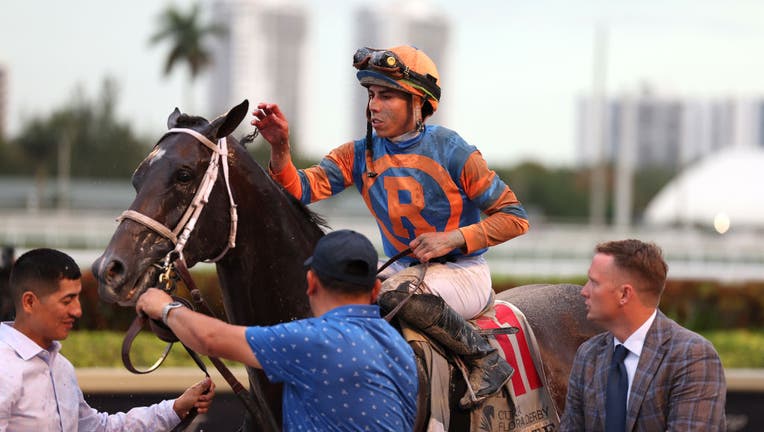 article
LOUISVILLE, Ky. (AP) - Todd Pletcher-trained colt Forte and Brad Cox's filly Wet Paint are the morning line favorites respectively for the 149th Kentucky Derby and Kentucky Oaks at Churchill Downs.
Forte, the 2-year-old champion whose 190 points led the Derby qualifying trail, drew the No. 15 post at 3-1 odds on Monday for the $3 million premier race for 3-year-olds. He brings in a five-race winning streak and has won six of seven starts including last month's Florida Derby won by a length over Mage, who will start from the No. 8 post at 15-1 odds.
Stablemate Tapit Trice is the 5-1 second choice after drawing the No. 5 post on Monday, with Cox's Angel of Empire (154 points) the 8-1 third choice after drawing the No. 14 post.
RELATED: Teen killed after eye gets impaled during PE class in 'tragic accident'
Wet Paint will lead Friday's $1.25 million Oaks from the No. 7 post at 5-2 odds. One of three fillies trained by Louisville-born Cox among 14 entrants for the 1 1/8th mile race, she has won all three starts this year and enters with consecutive Grade 3 stakes wins in the Fantasy and Honeybee respectively at Oaklawn Park.
Stablemate Botanical is the 4-1 second choice from the No. 6 post with trainer Norm Casse's Southlawn the 8-1 third choice from the No. 4 post.
Any suspense over where Forte would start the 1 1/4-mile race was gone quickly when the son of Violence and Queen Caroline by Blame was called out with the first pill drawn. That also relieved Pletcher, a Hall of Famer, of stress after Mo Donegal and Known Agenda started the last two Derbys from the rail. They finished fifth and ninth respectively.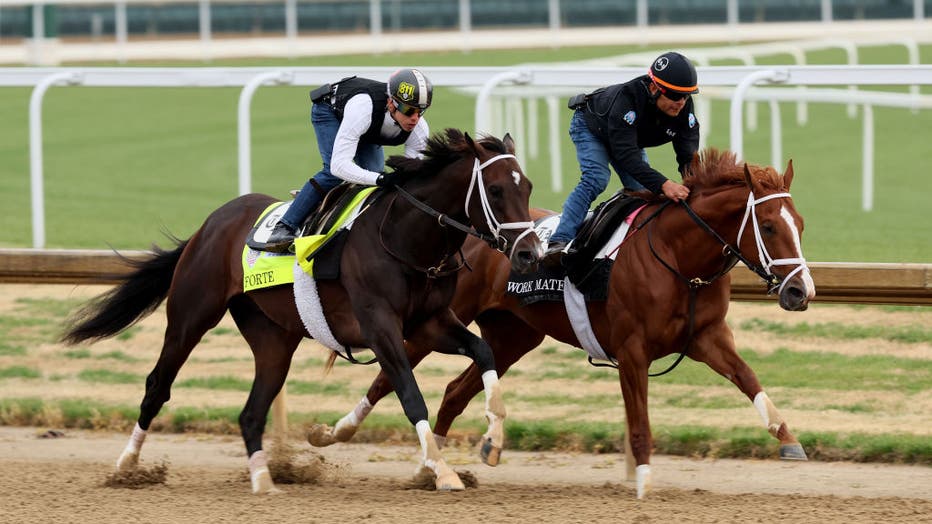 Forte with jockey Irad Ortiz Jr. aboard runs on the track during the morning training for the Kentucky Derby at Churchill Downs on April 29, 2023 in Louisville, Kentucky. (Photo by Andy Lyons/Getty Images)
The two-time Derby winner had no complaints either with draws for Tapit Trice and Kingsbarns, a 12-1 choice from the No. 6 post. Both are 3-0 as 3-year-olds and coming off wins in the Blue Grass (Keeneland) and Louisiana Derby respectively.
"I do think it's different with the one (post) with the new starting gate," Pletcher said. "But still, I felt like it cost us a position or two last year and the year before. So, just happy to get out of there and pretty pleased with all three post positions."
Meanwhile, Cox hopes strength in numbers earns his first outright Derby victory just over 15 months since Mandaloun was elevated to the 2021 win following Medina Spirit's failed postrace drug test.
RELATED: Curry scores playoff career-high 50 as Warriors down Kings
Angel of Empire certainly has the credentials after his 4¼-length victory in the Grade 1 Arkansas Derby. He has two wins and a second as a 3-year-old and a solid post just two spots right of stablemate Jace's Road (50-1). Those posts might offset Cox's dread after Hit Show (30-1) and Verifying (15-1) drew the Nos. 1 and 2 posts, forcing both to avoid getting bunched against the rail out of the gate.
"Angel of Empire, I think it's a good draw," Cox said. "(Jockey) Flavien (Prat) will be able to break running and get a good spot mid-pack. That's what I'm envisioning. Jace's Road will probably be more forwardly placed as opposed to Angel of Empire. Hopefully he can get himself up into the mix."
Wet Paint and Botanical have decent spots in the Oaks, offering Cox two good chances to win that race for the third time in six years.
Post time for the Derby is 6:57 p.m. ET on Saturday. The Oaks goes off Friday at 5:51 p.m. ET.
The Kentucky Derby field from the rail out with odds: Hit Show (30-1); Verifying (15-1); Two Phil's (12-1); Confidence Game (20-1); Tapit Trice (5-1); Kingsbarns (12-1); Reincarnate (50-1); Mage (15-1); Skinner (20-1); Practical Move (10-1); Disarm (30-1); Jace's Road (50-1); Sun Thunder (50-1); Angel of Empire (8-1); Forte (3-1); Raise Cain (50-1); Derma Sotogake (10-1); Rocket Can (30-1); Lord Miles (30-1); Continuar (50-1). Also eligible: Cyclone Mischief (30-1); Mandarin Hero (20-1); King Russell (50-1).