Explainer: What happened to Buffalo Bills safety Damar Hamlin?
Buffalo Bills safety Damar Hamlin suffered a cardiac arrest after making a tackle during Monday night's game, causing the NFL to suspend a pivotal game against the Cincinnati Bengals that quickly lost significance in the aftermath of a scary scene that unfolded in front of a national television audience.
"Damar Hamlin suffered a cardiac arrest following a hit in our game versus the Bengals. His heartbeat was restored on the field and he was transferred to the UC Medical Center for further testing and treatment," the Bills said in a statement released early Tuesday. "He is currently sedated and listed in critical condition."
The 24-year-old Hamlin was administered CPR on the field. Teammates surrounded Hamlin, shielding him from public view. Many were weeping and praying while Hamlin was treated on the field by team and independent medical personnel and local paramedics. He was taken by ambulance to University of Cincinnati Medical Center. Teammate Stefon Diggs later went to visit Hamlin at the hospital while fans of both teams gathered outside, holding lit candles and praying.
RELATED: Bills-Bengals game suspended after Hamlin suffered cardiac arrest won't resume this week, NFL says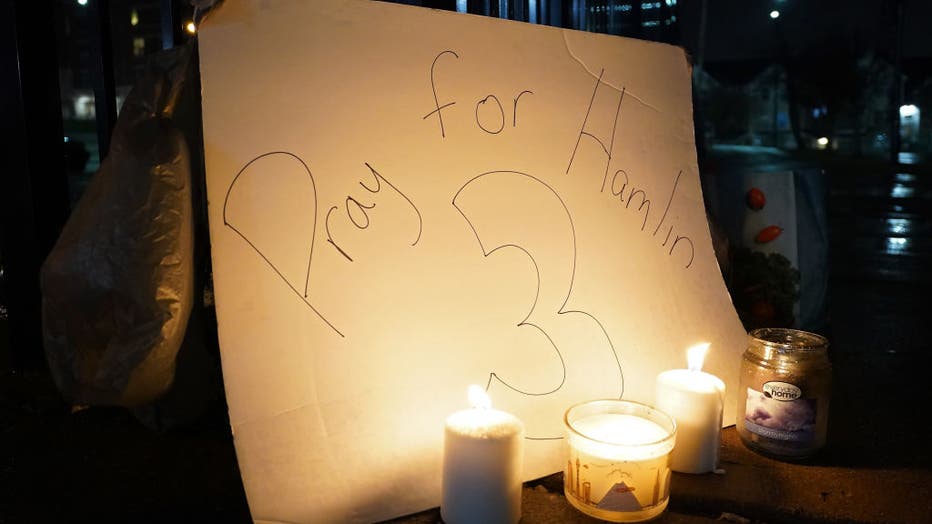 A vigil is displayed at the University of Cincinnati Medical Center for football player Damar Hamlin of the Buffalo Bills after he collapsed following a tackle during the game against the Cincinnati Bengals and was transported by ambulance to the hos
What happened to Damar Hamlin?
Hamlin was hurt while tackling Bengals receiver Tee Higgins on a seemingly routine play that didn't appear unusually violent.
Higgins was running with the ball on a 13-yard pass from Joe Burrow when he led with his right shoulder, hitting Hamlin in the chest. Hamlin then wrapped his arms around Higgins' shoulders and helmet to drag him down. Hamlin quickly got to his feet, appeared to adjust his face mask with his right hand, and then fell backward about three seconds later and lay motionless.
Hamlin was down for 19 minutes while receiving medical attention. FOX19 in Cincinnati reported that Hamlin required an automated external defibrillator (AED) in addition to CPR on the field.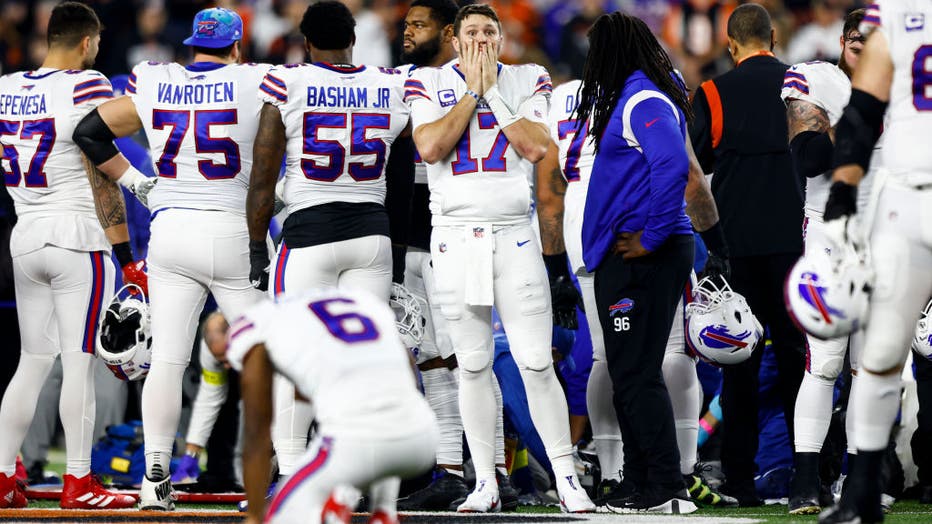 Josh Allen #17 of the Buffalo Bills reacts to an injury sustained by Damar Hamlin #3 during the first quarter of an NFL football game against the Cincinnati Bengals at Paycor Stadium on Jan. 2, 2023, in Cincinnati, Ohio. (Photo by Kevin Sabitus/Getty
What could have caused Hamlin's cardiac arrest?
Cardiac specialists say it's too soon to know what caused Hamlin's heart to stop, but a rare type of trauma called commotio cordis is among the possible culprits. Commotio cordis occurs when a severe blow to the chest causes the heartbeat to quiver, leading to sudden cardiac arrest.
The condition only happens during a rare set of circumstances: when a sharp hit lands directly over the heart "at the exact wrong location at the exact wrong timing" during the heart's rhythm cycle, said Dr. Rod Passman, director of the center for arrythmia research at Northwestern University's Feinberg School of Medicine.
Commotio cordis occurs "probably 20 times a year,'' and about 60% of those affected survive, said heart rhythm specialist Dr. Mark Link of UT Southwestern Medical Center. The main worry for survivors is brain damage from lack of oxygen when the heart stops pumping blood, Link said. Doctors can help reduce that risk with deep sedation to give the brain a rest, he said.
Dr. Aman Chugh, a University of Michigan cardiology professor, noted that hard-hitting tackles are extremely common in football and that commotio cordis is extremely rare. It could be that Hamlin had a pre-existing heart condition that caused his heart to stop, although that is speculative, Chugh said.
In general, underlying heart disease is the most common cause of sudden cardiac arrest, said Dr. Mariell Jessup, the American Heart Association's chief medical officer.
"It is not uncommon to find out that very vigorous athletes have undiagnosed cardiac conditions even if they're young players," she said.
More than 365,000 people in the U.S. have sudden cardiac arrests in non-hospital settings each year, according to the American Heart Association. Survival depends on quick CPR and shocking the heart back into a normal rhythm, as reportedly happened with Hamlin.
"The teachable moment is learn CPR,'' Jessup said.
Hamlin's medical history has not been made public.
What took so long to postpone the game?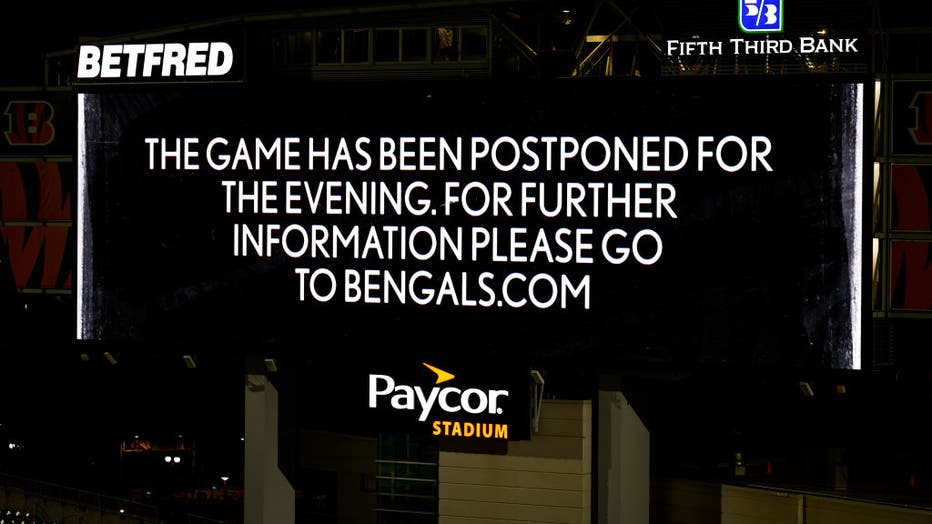 A Paycor Stadium video board reads that the game between the Buffalo Bills and the Cincinnati Bengals is suspended due to an injury sustained by Bills safety Damar Hamlin #3 during the first quarter of an NFL football game on January 2, 2023 in Cinci
It took the NFL about one hour after Hamlin collapsed to officially suspend the game because league executives were gathering information and communicating with referee Shawn Smith, coaches from both teams and the NFL Players Association.
Troy Vincent, the league's executive vice president of football operations, said that the NFL's Emergency Action Plan was activated. Vincent communicated with NFL Commissioner Roger Goodell and NFL Players Association executive director DeMaurice Smith. Dawn Aponte, the league's chief football administrative officer, was at the game and communicated with Bills coach Sean McDermott and Bengals coach Zac Taylor and the referee.
"It was fluid and things were changing by the minute," Vincent said. "It was obvious on the phone that the emotions were extremely high. It was a very volatile situation."
Vincent refuted ESPN's broadcast report that both teams were given a five-minute warmup period to resume playing.
"I'm not sure where that came from," Vincent said. "It never crossed our mind to talk about warming up to resume play. That's ridiculous. That's insensitive. That's not a place we should ever be in."
Fans look on as the ambulance leaves carrying Damar Hamlin #3 of the Buffalo Bills after he collapsed after making a tackle against the Cincinnati Bengals during the first quarter at Paycor Stadium on Jan. 2, 2023, in Cincinnati, Ohio. (Photo by Dylan Buell/Getty Images)
Who is Damar Hamlin?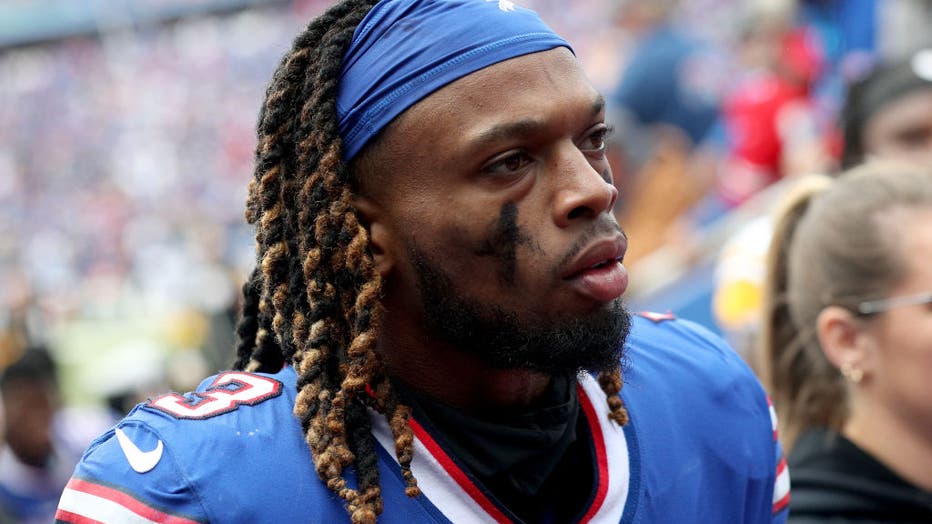 Damar Hamlin #3 of the Buffalo Bills walks to the tunnel during halftime against the Pittsburgh Steelers at Highmark Stadium on October 09, 2022 in Orchard Park, New York. (Photo by Bryan Bennett/Getty Images)
Hamlin spent five years of college at Pittsburgh — his hometown — and appeared in 48 games for the Panthers over that span. He was a second-team All-ACC performer as a senior, was voted a team captain and was picked to play in the Senior Bowl.
Drafted in the sixth round by the Bills in 2021, Hamlin played in 14 games as a rookie and then became a starter this season after Micah Hyde was injured.
In 2020, Hamlin began organizing an annual Christmas toy drive in his hometown of McKees Rocks, Pa. By early Tuesday, a community toy drive organized by Hamlin had surged to more than $3.1 million in donations. His stated goal was $2,500.
Bills offensive lineman Rodger Saffold, in a post on Twitter, described Hamlin as a "kind, caring, extremely hard worker." Saffold wrote that Hamlin is "loyal, honest and can always put a smile on your face. He is more than an athlete, he is a son and brother."
What's next for the NFL?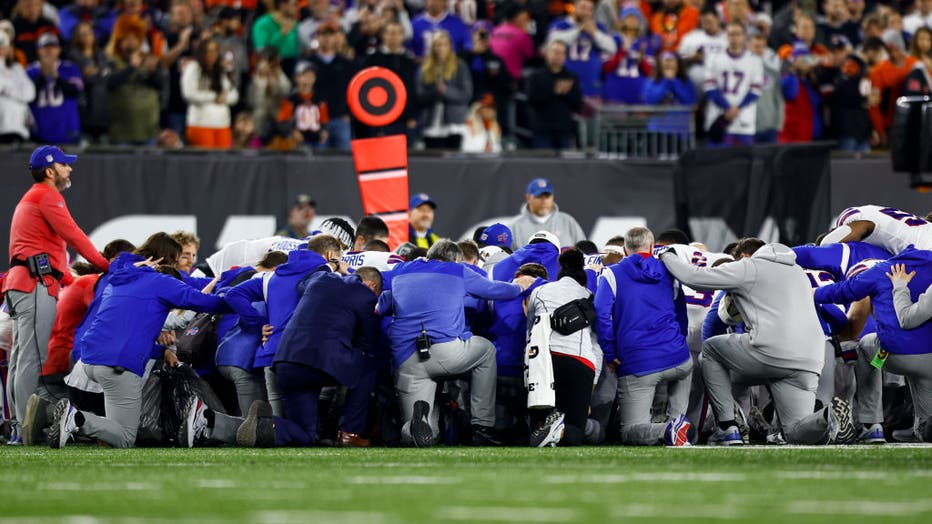 Buffalo Bills players and staff kneel together in solidarity after Damar Hamlin #3 sustained an injury during the first quarter of an NFL football game against the Cincinnati Bengals at Paycor Stadium on Jan. 2, 2023, in Cincinnati, Ohio. (Photo by K
The Bills-Bengals game was postponed indefinitely, and the NFL announced Tuesday that it will not be resumed this week despite major playoff implications.
Both teams are battling for the AFC's No. 1 seed. The Bills (12-3) entered the game in the top spot while the Bengals (11-4) had a chance to clinch the AFC North with a victory and also were in the mix for the No. 1 seed along with Kansas City (13-3).
The Bengals led 7-3 in the first quarter when the game was stopped. The NFL has made no decision regarding a possible resumption at a later date.
The NFL is entering the final week of the regular season, and the playoffs are scheduled to begin Jan. 14.