Brotherly Love? Eagles' Jason Kelce to battle brother Travis in epic Super Bowl showdown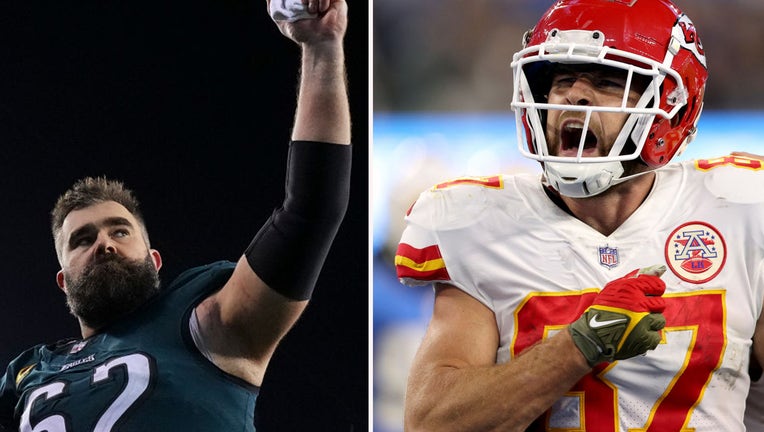 article
PHILADELPHIA - It's already the biggest game in football, but this year the Super Bowl has even higher stakes for one family - the Kelce's!
For the first time in Super Bowl history, a pair of siblings will face off against each other. Travis helped the Chiefs return to their third championship game in four seasons on Sunday night when they beat the Bengals for the AFC title, while Jason has the Eagles back for the second time in six years after their NFC title win over the 49ers.
"It's going to be an amazing feeling playing against him," added Travis, whose team has gotten the better of big brother's Eagles the last three matchups. "I respect everyone over there in the Eagles organization. You won't see me talk too much trash because of how much I love my brother. But it's going to be an emotional game, for sure."
They won't literally come face-to-face, since they both play on the offensive line. However, a brother rivalry has already started to flourish.
"Officially done being a Chiefs fan this season," Jason Kelce tweeted after his brother's team beat the Bengals Sunday night.
RELATED COVERAGE: Hurts, Mahomes to be first Black quarterbacks to face off in historic Super Bowl matchup
Jason and Travis also both already have a Super Bowl ring, so a win this year could mean bragging rights for quite some time! The Eagles beat the Patriots in 2018 in Minneapolis, and the Chiefs rallied to beat the 49ers in Miami two years later.
The Kecle brothers have come a long way from their solidly middle-class upbringing in Cleveland Heights, Ohio. Jason blazed the trail as the star offensive lineman who earned a scholarship to Cincinnati, and Travis soon followed suit. Both caught the eyes of NFL scout during their college careers, and of one coach in particular: Andy Reid.
It was Big Red who, while coaching the Eagles, used a sixth-round pick on Jason during the 2011 draft. And two years later, after Reid had gotten a fresh start in Kansas City, the Chiefs used a third-rounder to bring Travis into the fold.
"Big brother probably protected Travis from doing some crazy things. He probably talked him from dropping off a ladder into raked-up leaves once or twice," Reid said Monday. "Listen, they're both at heart very competitive and compassionate, is the biggest thing. They care and they care about people and they care about they're game."
Jason has been to six Pro Bowls and was just voted an All-Pro for the fifth time, and he's emerged as one of the best offensive linemen in Eagles history. Travis has been to eight Pro Bowls, just made a fourth All-Pro team and is second in NFL history to Jerry Rice in playoff catches, yards and touchdowns.
Football's not the only thing they're good at, either.
The brothers have new a podcast called "New Heights with Jason & Travis Kelce," which takes listeners on a riotous, real-time ride through the NFL season. The weekly shows are recorded on Tuesdays and last between 60 and 90 minutes, the two NFL stars playing off each other as if they were hanging out in mom's basement.
Special guests have included Eagles quarterback Jalen Hurts and Chiefs counterpart Patrick Mahomes.
"I have invested time in both of those two," Reid added, "so I feel like a part of the family."
And let's not forget about the brother's mom Donna, who has a difficult choice to make - which son will she choose to support? She already chose Philadelphia when it came to the Championship title games!
"Cool scenario to be in, you know?" Travis Kelce said. "My mom can't lose."
Or maybe can't win. No doubt she'll pull out that now-familiar custom jersey with Travis' front stitched to Jason's back.
The Associated Press contributed to this story.