Belmont Stakes on FOX: Network readies to cover Triple Crown event for 1st time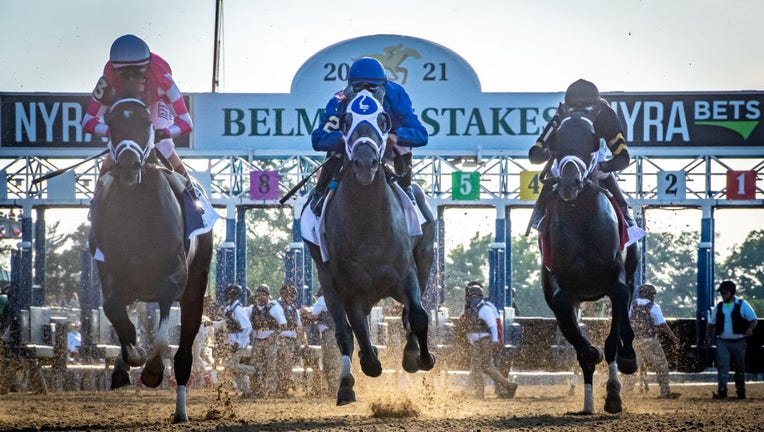 article
Even though Saturday's Belmont Stakes marks the first time Fox Sports has carried one of horse racing's Triple Crown events, the network has a history of covering the sport.
Fox has carried the New York Racing Association's summer meet from Saratoga Race Course since 2016 on FS1 and FS2. The relationship expanded to daily racing from Belmont and Saratoga in 2021 followed by an eight-year agreement starting this year to do the Belmont Stakes.
"It helps immensely," Fox producer Pete Macheska said about the longstanding relationship with NYRA. "They've been great operating with us and helping us in our first year doing this race."
Fox took over the Belmont from NBC, which had carried all three Triple Crown races since 2011. NBC still does the Kentucky Derby and Preakness.
NYRA has gone its own way from time to time in finding a television home for the Belmont Stakes. Even though the Kentucky Derby and Preakness went from CBS to ABC in the mid-1970s, the Belmont Stakes remained on CBS through 1985. ABC carried the entire Triple Crown from 1986-2000 before NBC took it over in 2001. After five years on NBC, the Belmont Stakes moved to ABC from 2006-10.
RELATED: A history of the Belmont Stakes, the oldest of the Triple Crown horse races
Fox will go with a two-network approach for Saturday's 155th running of the Belmont Stakes. Fox will have nearly 3 1/2 hours of coverage beginning at 4 p.m. EDT, featuring Curt Menefee, trainer Tom Amoss and Hall of Fame jockey Mike Smith.
Smith won the Belmont three times, including aboard Justify when he captured the Triple Crown in 2018.
Chris Fallica, a mainstay for many years on ESPN's "College Gameday," makes his Fox Sports debut by sharing handicapping tips alongside Charissa Thompson.
Horse racing fans who normally tune in to NYRA races on FS1 will be able to get the coverage they are accustomed to at the same place. "America's Day at The Belmont" will be geared more toward experienced handicappers and will be helmed by Laffit Pincay, Greg Wolf and Andy Serling. It also will feature Jonathon Kinchen, Gary Stevens, Acacia Clement, Michelle Yu, Richard Migliore, Paul Lo Duca and Maggie Wolfendale, who are stalwarts during the Saratoga meet. The FS1 coverage begins at 11 a.m. EDT.
Fox's biggest addition to its coverage, though, is Hall of Fame track announcer Tom Durkin, who was the longtime voice of the Triple Crown and NYRA tracks until his retirement in 2014. Durkin will call four races on Fox, including the Belmont Stakes, which has a 7:05 p.m. EDT post time.
"Getting him was a big thing," Macheska said. "Now, you know, Tom hasn't done it for a while. He's been practicing. It's not that easy to just pick it up after you haven't done it for several years. I think he'll be very excited about it and we're thrilled to have him."
Fox's Tom Rinaldi will also be a part of the coverage, with features on the 50th anniversary of Secretariat winning the Triple Crown and an interview with trainer Bob Baffert.
Even though the Triple Crown isn't on the line this year, Fox still intends to make the most of the day.
"It's still a prestigious race and a test of champions (at 1 1/2 miles). It's still a big betting event in New York, and we would like to bring that across," Macheska said.