Anthony Hudson quits as US men's soccer interim coach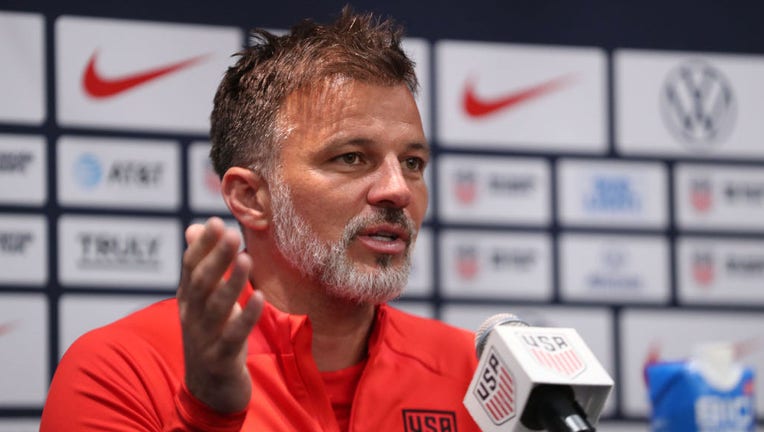 article
Anthony Hudson quit as interim head coach of the U.S. men's soccer team on Tuesday, just two weeks before he was to lead the Americans in the CONCACAF Nations League semifinals.
He was replaced by B.J. Callaghan, another holdover from former coach Gregg Berhalter's staff.
Hudson's departure was announced just six days after the U.S. Soccer Federation said he was remaining as coach of the Americans through the CONCACAF Gold Cup this summer. The USSF said Hudson was taking a job with a club but did not identify the team or the role.
The USSF said the decision to elevate Callaghan, a 41-year-old from Ventnor, New Jersey, was made by Matt Crocker, who is leaving relegated Southampton to become USSF sporting director on Aug. 2. Crocker is leading the search for a permanent coach to guide the team through the 2026 World Cup, which the Americans will co-host.
Neither Callaghan nor Crocker was made available to media by the USSF to discuss the change.
RELATED: Major League Soccer opens 28th season, push for 2026 World Cup begins
Hudson was appointed interim coach on Jan. 4, four days after Berhalter's contract expired. Hudson led the Americans to two wins, one loss and two draws. His five games were the fewest for a U.S. coach since John Kowalski led the team against Canada and Mexico in March 1991 between the terms of Bob Gansler and Bora Milutinovic.
Callaghan figures to have the full player pool available for the CONCACAF Nations League final four. The defending champion Americans play Mexico on June 15 and Canada or Panama three days later.
Most Europe-based players are expected to skip the CONCACAF Gold Cup, which starts June 24 and runs through July 16.
Callaghan played at Ursinus and spent six seasons at Villanova, becoming associate head coach. He worked in the youth academy of Major League Soccer's Philadelphia Union, then became an assistant coach in 2014.
He was hired by the USSF as strategy analyst and assistant coach in January 2019, a month after Berhalter became head coach. He had been an assistant to Hudson this year.