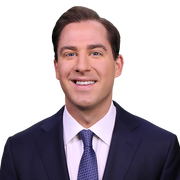 Andrew Craft
Sr. Digital Journalist
Andrew Craft is a Senior Digital Journalist at LiveNOW from FOX. From January 6th to the Ukraine war to Queen Elizabeth's death and the midterms elections, Andrew has covered it all with the LiveNOW team since joining in 2020.
FOX has been Andrew's home for eight years. After graduating from the University of Michigan, Andrew was hired as a production assistant for Fox News Channel's daytime programming, where he learned a lot about how to get stories to air—but he had always wanted to be the one telling them. 
So, Andrew chose the Fox News Multimedia Reporter program as his next step. He spent two years in Las Vegas and got his chops as a young reporter in the field, learning along the way.  Tragically, his biggest national story was the Las Vegas country music festival shooting that claimed 58 lives. Apart from the numerous entertainment stories, Andrew covered the OJ Simpson prison release, Nevada's marijuana legalization, and the 2018 primary election season. 
Just before his LiveNOW journey began, Andrew had the unique opportunity to work as a campaign embed during the political primary season in 2019. Initially, he crisscrossed the country following the many Democrats running for President, but he was later assigned to Sen. Bernie Sanders' campaign full time.  
Andrew is in his third year at LiveNOW from FOX. He is based in Phoenix.