Yellen says US can afford to support 2 wars: 'America stands behind Israel, period'
Treasury Secretary Janet Yellen said Monday the U.S. can afford to support both Ukraine and Israel in their respective war efforts without hindering the nation's economy.
Asked during an interview on Sky News whether the U.S. can afford to provide military aid to Israel and to Ukraine in its ongoing war with Russia given the current debt-to-GDP ratio of 122%, Yellen said, "I think the answer is absolutely."
She continued: "America can certainly afford to stand with Israel and to support Israel's military needs, and we also can and must support Ukraine in its struggle against Russia. The American economy is doing extremely well."
The Biden administration is pushing for Congress to take up an emergency aid package that would pair together support for Ukraine and Israel amid fading Republican support for assisting Kyiv in the war against Russia.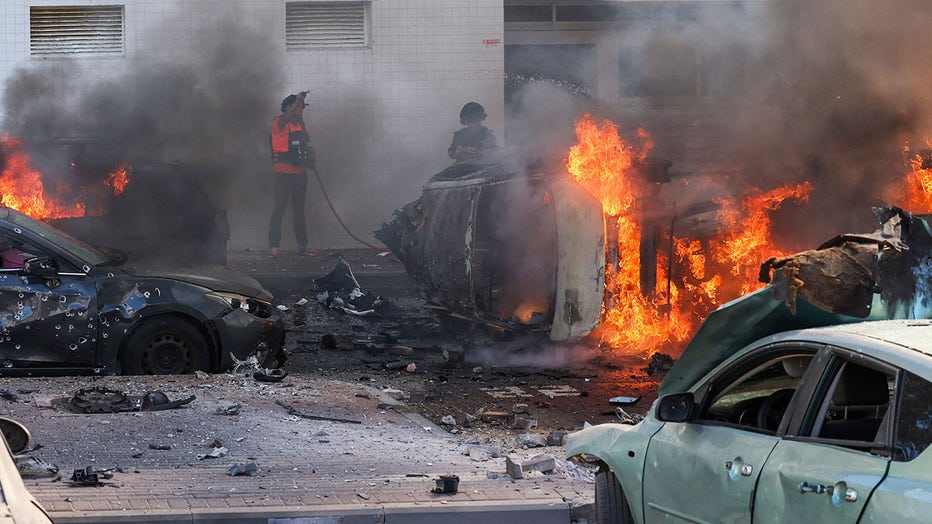 People try to extinguish fire on cars following a rocket attack from the Gaza Strip in Ashkelon, southern Israel, on October 7, 2023. (Credit: AHMAD GHARABLI/AFP via Getty Images)
White House national security adviser Jake Sullivan confirmed during an interview on CBS' "Face the Nation" that President Biden plans to speak with lawmakers about the need to approve a new weapons package for both countries.
IMF SAYS GLOBAL ECONOMY 'LIMPING ALONG' AS IT FACES NEW THREAT FROM ISRAEL-GAZA WAR
"The president has made clear that he is going to go to Congress with a package of funding for Ukraine as well as continued support for Israel," Sullivan said. He noted the cost of the aid package will be "significantly higher" than $2 billion. 
However, House Republicans are locked in a deep leadership crisis after Rep. Kevin McCarthy, R-Calif., was ousted as speaker earlier in October, leaving the chamber paralyzed. 
Without a speaker, the House is unable to pass any legislation — including a bill that would provide Israel with aid in its fight against Hamas. 
Yellen said the need to release funds for Israel and Ukraine is a "priority" and urged Republicans to elect a speaker so that lawmakers can pass legislation. 
"America stands behind Israel, period," Yellen said. "America has also made clear to Israel, we're working very closely with the Israelis, that they have a right to defend themselves. But it's important to try to spare innocent civilian lives to the maximum extent possible."
RELATED: Biden to travel to Israel amid concern that Israel-Hamas conflict could expand
More than 1,200 people — mostly civilians — were killed in Israel during the unprecedented attack by Palestinian militant group Hamas nine days ago. 
Israel responded to the deadly incursion with a relentless bombardment of the Gaza Strip as it prepares for a possible ground invasion. Palestinian authorities have said that at least 2,670 people have been killed and another 9,600 injured in Gaza due to the retaliatory attacks.