What is Juneteenth? The history of the newest federal holiday and how to celebrate
For more than one-and-a-half centuries, the Juneteenth holiday has been sacred to many Black communities.
Since it was designated a federal holiday in 2021, Juneteenth has become more universally recognized beyond Black America. Many people get the day off work or school, and there are a plethora of street festivals, fairs, concerts and other events.
People who never gave the holiday on June 19 more than a passing thought may be asking themselves, is there a "right" way to celebrate Juneteenth?
READ MORE: Juneteenth 2023: What's open and closed on Monday for the federal holiday
For beginners and those brushing up history, here's how the holiday came to be and how you can mark the occasion. 
What is Juneteenth?
Juneteenth marks the day in 1865 enslaved people in Galveston, Texas found out they had been freed.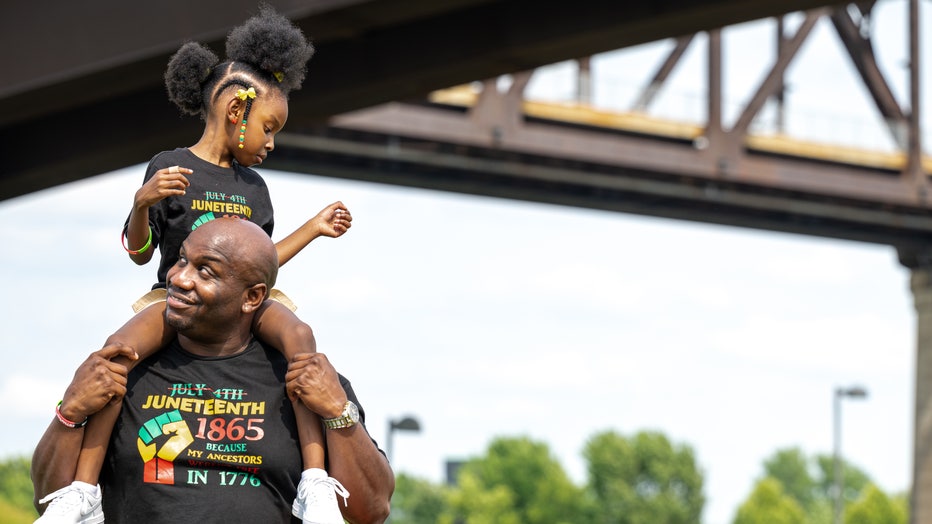 A young girl sits on a man's shoulders during the Louisville Juneteenth Festival at the Big Four Lawn on June 19, 2021 in Louisville, Kentucky. (Photo by Jon Cherry/Getty Images)
Although President Abraham Lincoln's Emancipation Proclamation freed the slaves in 1863, it could not be enforced in many places in the South until the Civil War ended in 1865. Even then, some white people who had profited from their unpaid labor were reluctant to share the news.
Laura Smalley, freed from a plantation near Bellville, Texas, remembered in a 1941 interview that the man she referred to as "old master" came home from fighting in the Civil War and didn't tell the people he enslaved what had happened.
"Old master didn't tell, you know, they was free," Smalley said. "I think now they say they worked them, six months after that. Six months. And turn them loose on the 19th of June. That's why, you know, we celebrate that day."
News that the war had ended and they were free finally reached Galveston when Union Maj. Gen. Gordon Granger and his troops arrived in the Gulf Coast city on June 19, 1865, more than two months after Confederate Gen. Robert E. Lee surrendered to Union Gen. Ulysses S. Grant in Virginia.
Granger delivered General Order No. 3, which said: "The people of Texas are informed that, in accordance with a proclamation from the Executive of the United States, all slaves are free. This involves an absolute equality of personal rights and rights of property between former masters and slaves, and the connection heretofore existing between them becomes that between employer and hired labor."
Slavery was permanently abolished six months later, when Georgia ratified the 13th Amendment. And the next year, the now-free people of Galveston started celebrating Juneteenth, an observance that has continued and spread around the world. Events include concerts, parades and readings of the Emancipation Proclamation.
What does Juneteenth mean? 
It's a blend of the words June and nineteenth. The holiday has also been called Juneteenth Independence Day, Freedom Day, second Independence Day and Emancipation Day.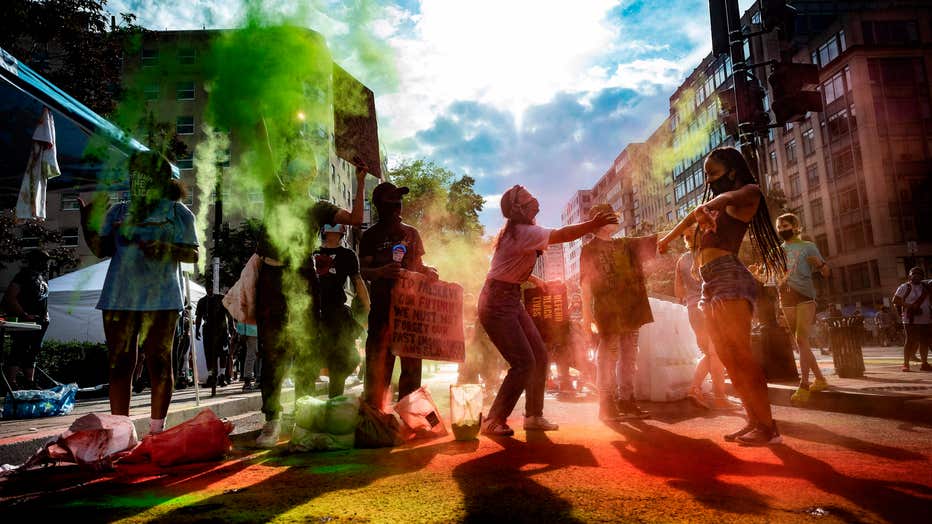 Demonstrators play in a cloud of washable color powder during a Juneteenth march and rally in Washington, DC, on June 19, 2020. (Photo by JIM WATSON/AFP via Getty Images)
It began with church picnics and speeches, and spread as Black Texans moved elsewhere.
Most U.S. states now hold celebrations honoring Juneteenth as a holiday or a day of recognition, like Flag Day. Juneteenth is a paid holiday for state employees in Texas, New York, Virginia, Washington, and now Nevada as well. Hundreds of companies give workers the day off.
Opal Lee, a former teacher and activist, is largely credited for rallying others behind a campaign to make Juneteenth a federal holiday. The 96-year-old had vivid memories of celebrating Juneteenth in East Texas as a child with music, food and games. In 2016, the "little old lady in tennis shoes" walked through her home city of Fort Worth, Texas and then in other cities before arriving in Washington, D.C. Soon, celebrities and politicians were lending their support.
Lee was one of the people standing next to Biden when he signed Juneteenth into law.
Is Juneteenth a somber occasion or a party? 
It just depends on what you want. Juneteenth festivities are rooted in cookouts and barbecues. In the beginnings of the holiday celebrated as Black Americans' true Independence Day, the outdoors allowed for large, raucous reunions among formerly enslaved family, many of whom had been separated. The gatherings were especially revolutionary because they were free of restrictive measures, known as "Black Codes," enforced in Confederate states, controlling whether liberated slaves could vote, buy property, gather for worship and other aspects of daily life.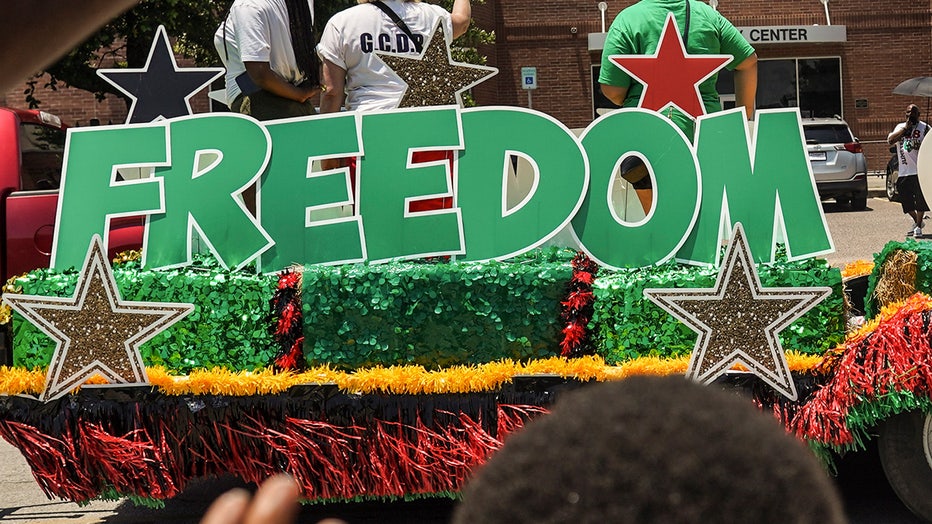 Spectators watch Juneteenth Parade commemorating the end of slavery in the United States on June 19, 2021 in Galveston, Texas.(Photo by Go Nakamura/Getty Images)
Alan Freeman, 60, grew up celebrating Juneteenth every year in Houston, 50 miles (80 kilometers) north of Galveston. A comedian who is producing Galveston's first ever Juneteenth Comedy Festival on Saturday, he has vivid memories of smoke permeating his entire neighborhood because so many people were using their barbecue pits for celebratory cookouts. You could go to anyone's house and be welcomed to join in the feast, which could include grilled chicken and beef and other regional cuisines — jerk meats, fried fish, Jamaican plantains.
"It's where I began to really see Black unity because I realized that that was the one day that African Americans considered ours," Freeman said. "The one holiday that was ours. We didn't have to share with anybody. And it was about freedom because what we understood is that we were emancipated from slavery. But, there was so many beautiful activities."
Others may choose to treat Juneteenth as a day of rest and remembrance. That can mean doing community service, attending an education panel or taking time off.
The important thing is to make people feel they have options on how to observe the occasion, said Dr. David Anderson, a Black pastor and CEO of Gracism Global, a consulting firm helping leaders navigate conversations bridging divides across race and culture.
"Just like the Martin Luther King holiday, we say it's a day of service and a lot of people will do things. There are a lot of other people who are just 'I appreciate Dr. King, I'll watch what's on the television, and I'm gonna rest,'" Anderson said. "I don't want to make people feel guilty about that. What I want to do is give everyday people a choice."
Are there special foods served on Juneteenth? 
Aside from barbecue, the color red has been a through line for Juneteenth food for generations. Red symbolizes the bloodshed and sacrifice of enslaved ancestors. A Juneteenth menu might incorporate items like barbecued ribs or other red meat, watermelon and red velvet cake. Drinks like fruit punch and red Kool-Aid may make an appearance at the table.
Does how you celebrate Juneteenth matter if you aren't Black? 
Dr. Karida Brown, a sociology professor at Emory University whose research focuses on race, said there's no reason to feel awkward about wanting to recognize Juneteenth because you have no personal ties or you're not Black. In fact, embrace it.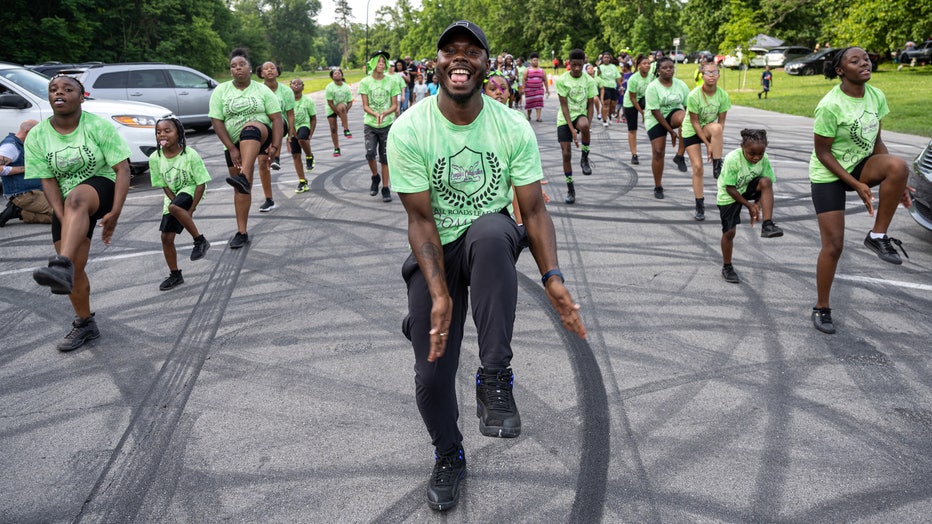 Complex Collaboration Step Team performs a dance during the Juneteenth Unity Parade at Shawnee Park on June 19, 2021 in Louisville, Kentucky. (Photo by Jon Cherry/Getty Images)
"I would reframe that and challenge my non-Black folks who want to lean into Juneteenth and celebrate," Brown said. "It absolutely is your history. It absolutely is a part of your experience. ... Isn't this all of our history? The good, the bad, the ugly, the story of emancipation and freedom for your Black brothers and sisters under the Constitution of the law."
If you want to bring some authenticity to your recognition of Juneteenth, educate yourself. Attending a street festival or patronizing a Black-owned business is a good start but it also would be good to "make your mind better," Anderson said.
"That goes longer than a celebration," Anderson said. "I think Black people need to do it too because it's new for us as well, in America. But for non-Black people, if they could read on this topic and read on Black history beyond Martin Luther King and Rosa Parks, that would show me that you're really serious about growing in this area."
If you're struggling with how to "ethically" mark the day, Brown also suggested expanding your knowledge of why the holiday matters so much. That can be through reading, attending an event or going to an African American history museum if there's one nearby.
"Have that full human experience of seeing yourself in and through the eyes of others, even if that's not your own lived experience," she said. "That is a radical human act that is awesome and should be encouraged and celebrated."
What else is Juneteenth known as? 
Over the decades, Juneteenth has also been called Freedom Day, Emancipation Day, Black Fourth of July and second Independence Day among others.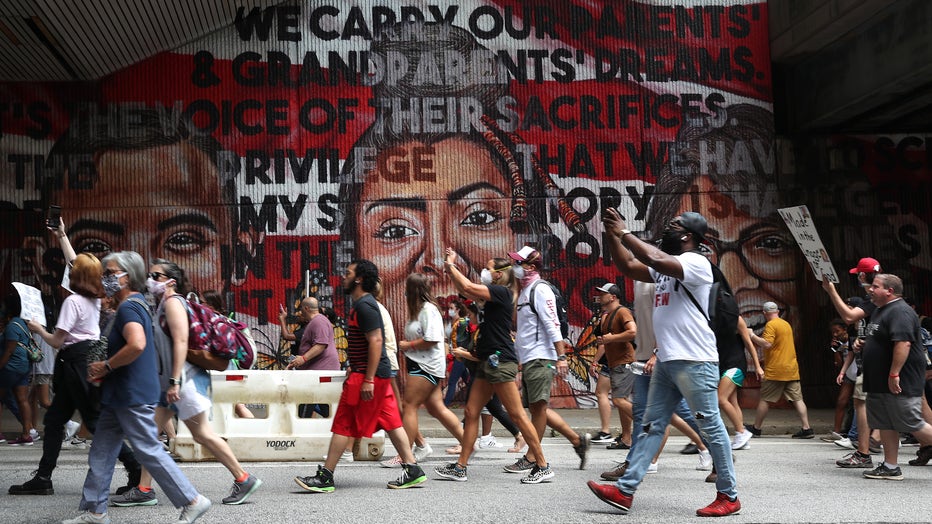 People march to the Georgia State Capitol during a Juneteenth event Organized by the One Race Movement on June 19, 2020 in Atlanta, Georgia. (Photo by Joe Raedle/Getty Images)
"Because 1776, Fourth of July, where we're celebrating freedom and liberty and all of that, that did not include my descendants," Brown said. "Black people in America were still enslaved. So that that holiday always comes with a bittersweet tinge to it."
Is there a proper Juneteenth greeting? 
It's typical to wish people a "Happy Juneteenth" or "Happy Teenth," said Freeman, the comedian.
"You know how at Christmas people will say 'Merry Christmas' to each other and not even know each other? You can get a 'Merry Christmas' from everybody. This is the same way," Freeman said.
No matter what race you are, you will "absolutely" elicit a smile if you utter either greeting, he said.
"I believe that a non-Black person who celebrates Juneteenth ... it's their one time to have a voice, to participate."