Walmart, Aldi cut cost of Thanksgiving meals for holiday season
Walmart and Aldi said they will cut prices for holiday meals again to help shoppers facing significant price pressures across the economy. 
Starting Nov. 1, both companies plan to reduce the costs for a Thanksgiving and Christmas meal in order to ease the burden of persisting inflation, which rose more than expected last month. 
This is not the first time both companies have slashed prices for holiday meals. However, Walmart — which has over 4,600 stores in the U.S. — said that it is offering two Thanksgiving meal baskets that will cost even less this year than they did last year.
INFLATION RISES MORE THAN EXPECTED IN SEPTEMBER AS HIGH PRICES PERSIST
One option will be for customers who like to cook from scratch, and the other will be for customers seeking more ready-to-bake options, according to the Arkansas-based retailer.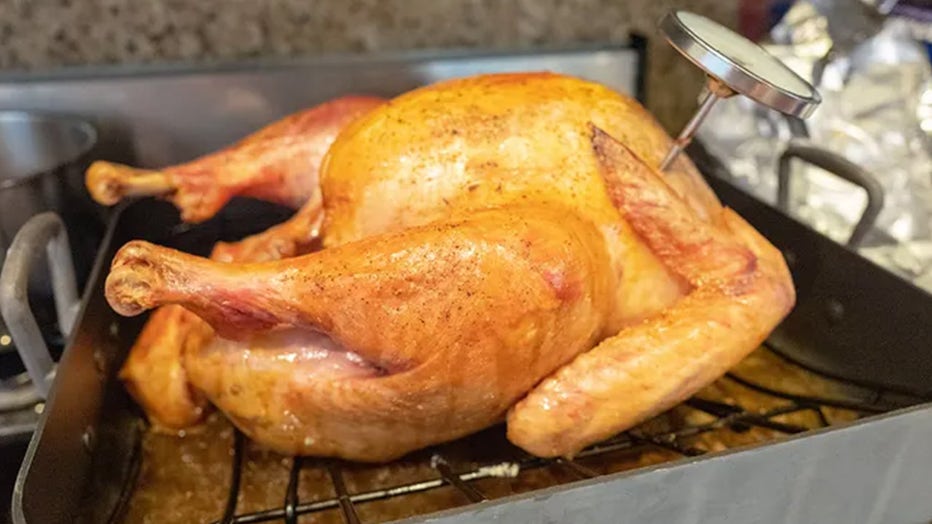 A cooked turkey in a roasting pan with a meat thermometer is seen during the preparation of a traditional American Thanksgiving holiday meal in San Ramon, California, on Nov. 23, 2019. (Credit: Smith Collection/Gado/Getty Images / Getty Images)
Walmart did not disclose how much the baskets will cost but said it would include staples such as a turkey, priced at under $1 per pound, as well as ham, stuffing and pumpkin pie. 
Walmart said its customers are able to take advantage of the lower costs through Dec. 26. 
FED SKIPS AN INTEREST RATE HIKE, BUT HIGH MORTGAGE RATES COULD BE HERE TO STAY
Similarly, Aldi — which has over 2,300 locations nationwide — plans to cut prices on over 70 "holiday classics," according to a release. The company will cut prices up to 50% off on items throughout the store including gravy, potatoes, green beans, cranberries, pumpkin pie, butter and flour. 
These price cuts will also last throughout the entire holiday season. 
"With inflation still looming, we're providing shoppers extra relief to make the holidays a time for celebration, not stress," Aldi President Dave Rinaldo said in a statement.
Earlier this month, the Labor Department reported that the consumer price index rose 0.4% in September from the previous month. Prices climbed 3.7% from the same time last year, matching the August reading and coming in slightly higher than the 3.6% projected by Refinitiv economists. 
Grocery prices jumped 0.1% month over month and are 2.4% higher than they were a year ago, according to the data. It is a far cry from the double-digit increases seen last year and earlier in 2023.
FOX Business' Megan Henney contributed to this report.