Dog food recalled after sample tests positive for salmonella
Hundreds of cases of dog food that were distributed to various U.S. retailers have been recalled because it may be contaminated with bacteria, federal health officials warned. 
Texas-based Mid America Pet Food issued a recall for one lot of its Victor Super Premium Dog Food, Hi-Pro Plus, produced at its Mount Pleasant facility, over the weekend "because it has the potential to be contaminated with salmonella," according to the company's recall notice posted by the Food and Drug Administration (FDA). 
The 644 cases of the 5-pound bags of dog food were "distributed to various distributors and retailers" in the U.S., according to the recall. However, the company didn't specify what stores or states have been impacted. 
PURINA RECALLS MORE DOG FOOD OVER POTENTIALLY ELEVATED LEVELS OF VITAMIN D
The recall was issued after a sample of the dog food tested positive for the bacteria. The test was conducted by the South Carolina Department of Agriculture, according to the recall. 
The company is now asking retailers and distributors to "immediately pull the recalled lot from their inventory and shelves" and to avoid selling or donating the recalled products, the notice continued.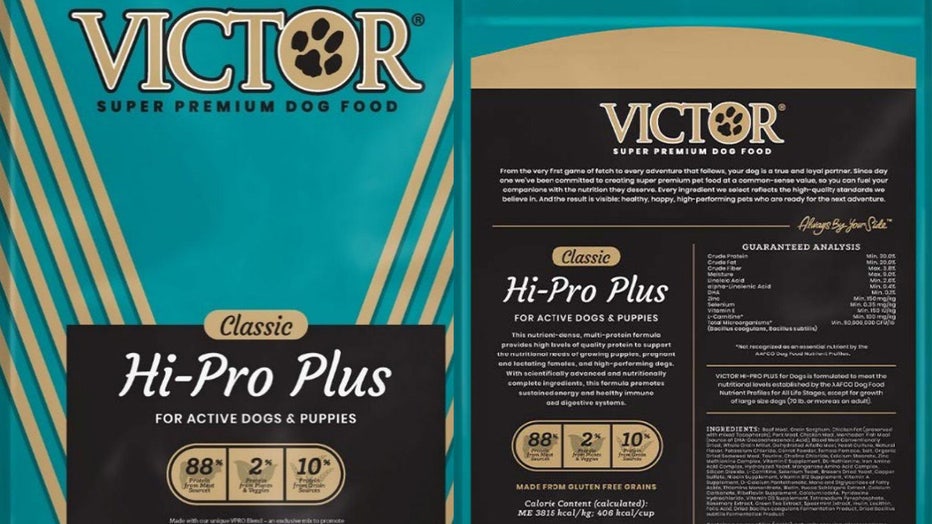 Victor Hi-Pro Plus dog food recalled (FDA)
Pets that have been infected with salmonella can become lethargic and have diarrhea, bloody diarrhea, fever and may vomit. In some cases, pets may only have decreased appetite, fever and abdominal pain. Pets who are infected can also be "carriers and infect other animals or humans," the notice warned.  
PURINA RECALLS SOME DOG FOOD DUE TO POTENTIALLY ELEVATED LEVELS OF VITAMIN D
People are at risk for infection if they handled contaminated products, "especially if they have not thoroughly washed their hands after having contact with the products or any surfaces exposed to these products," the notice said.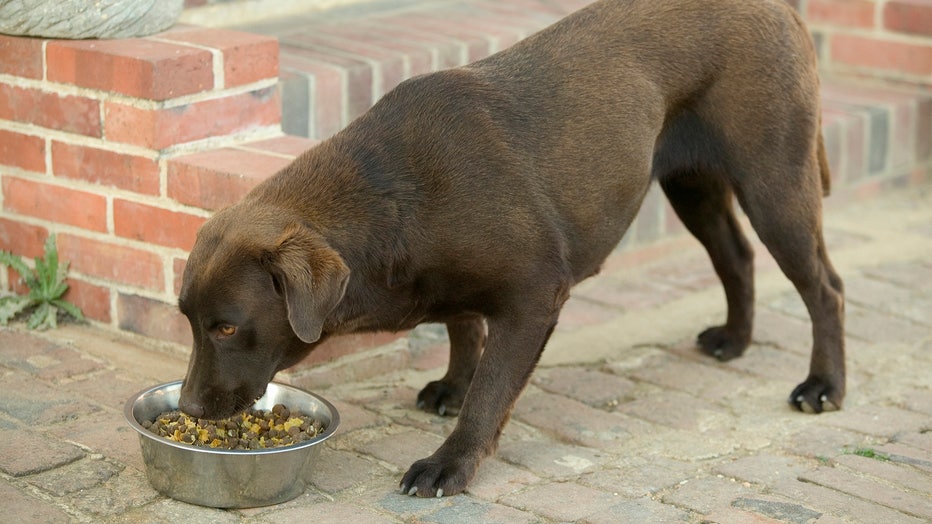 Chocolate Labrador (Photo by: Auscape/Universal Images Group via Getty Images)
People who are infected but otherwise should watch out for symptoms including nausea, vomiting, diarrhea or bloody diarrhea, abdominal cramping and fever. 
GET FOX BUSINESS ON THE GO BY CLICKING HERE
In rare cases, "salmonella can result in more serious ailments, including arterial infections, endocarditis, arthritis, muscle pain, eye irritation, and urinary tract symptoms," the notice read. If someone is exhibiting these symptoms they should contact their health care provider, according to the recall. 
To date, there haven't been any illnesses tied to the recalled products. 
The affected product can be identified by lot code 1000016385 with a "best by date" of April 4, 2024. 
LINK: Get updates and more on this story at foxbusiness.com.