These US states prefer dogs over cats: new report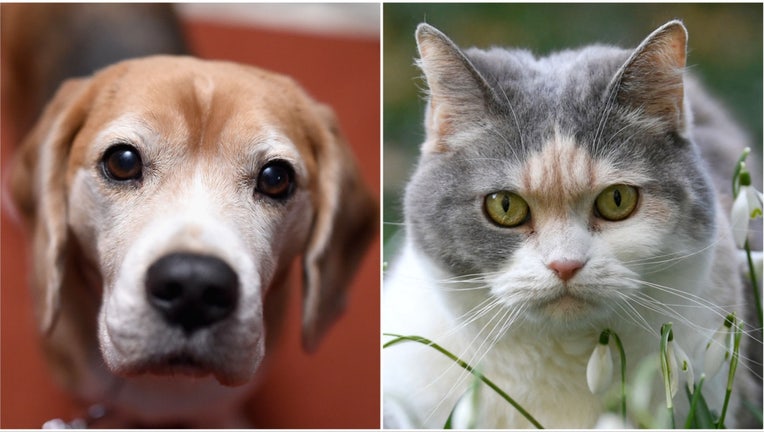 article
This May for National Pet Month, an e-commerce grocery delivery service is revealing its findings on which U.S. states are the more dog-friendly or cat-friendly.
Instacart, headquartered in California, shared its shopping data with FOX Business on Americans' pet-related buys, and where these purchases took place.
"It's a common observation that people tend to fall into one of two categories: being more of a cat person or being more of a dog person. With this in mind, it's interesting to take a closer look at the 'Cats vs. Dogs' map created for National Pet Month," Laurentia Romaniuk, Instacart's trends expert, told FOX Business.
"Unsurprisingly, dogs rank as the number one pet in the U.S., with 36 states reporting higher dog food deliveries via Instacart," she added.
Romaniuk continued, explaining how 14 states including Oregon, Washington, Minnesota and D.C., "show a preference for cats overall."
RELATED: South Carolina lottery wants your dog to appear on its holiday scratch-off tickets
Take a look at the breakdown of cat food and dog food orders on Instacart in the map below.
While Americans love their dogs and cats, other pets appear to be popular as well. Another interesting map created by Instacart officials reveals the type of animal food shoppers are buying on Instacart after dog and cat food, per 2022 Instacart shopping data.
From hay for small animals and bird food to fish food and rabbit food, see where your state stacks up in the infographic below.
As for dog and cats, Instacart unveiled charts related to the top dog treat and cat treat brands that people appear to gravitate to. The rankings were determined by evaluating the total number of items sold from a brand in 2022, according to Instacart.
Results showed familiar brands like Purina Beggin,' but Milk-Bone and Heart to Tail landed in the top two spots for dog treats.
SENIOR DOG IN CALIFORNIA ON THE VERGE OF BEING EUTHANIZED IS ADOPTED, BEATS CANCER
America's top two favorite cat treat brands were Temptations and Purina Friskies.
This month, Instacart also announced its expanded partnership with PetSmart, now including 1,500 stores across America.
THIS IS THE NO. 1 TOP-SELLING GROCERY ITEM IN THE US, ACCORDING TO INSTACART SHOPPING DATA
Through the merge, more toys, treats, food and accessories for dogs, cats, fish or birds are available to online shoppers.
Read the full blog post on Instacart.com.