Here's where drivers are stuck in traffic for a whopping 155 hours a year
Three of the five most congested cities in the world are in the U.S. — and in one of those, drivers spend an average of 155 hours a year in traffic delays.
INRIX, a traffic data and analytics company based in Washington state, published its 2022 global traffic scorecard of the 25 most congested world cities. Chicago, where traffic is up 49% over 2021 and up 7% compared to 2019, ranked just behind London as the second most congested city on the planet.
Top 25 most congested cities in the U.S.
Here are the 25 most congested U.S. cities in 2022, according to INRIX, based on how much time drivers spent in traffic delays: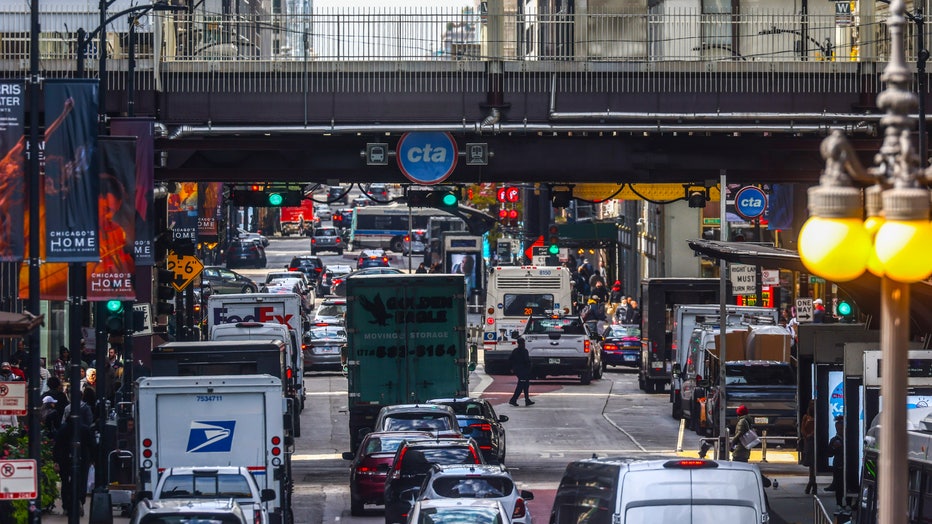 Traffic jam in downtown Chicago, Illinois, United States, on October 14, 2022. (Photo by Beata Zawrzel/NurPhoto via Getty Images)

1. Chicago: 155 hours lost
2. Boston: 134 hours lost
3. New York: 117 hours lost
4. Philadelphia: 114 hours lost
5. Miami: 105 hours lost
6. Los Angeles: 95 hours lost
7. San Francisco: 97 hours lost
8. Washington, DC: 83 hours lost
9. Houston: 74 hours lost
10. Atlanta: 74 hours lost
11. New Orleans: 77 hours lost
12. Portland, Ore.: 72 hours lost
13. Stamford, Conn: 73 hours lost
14. Dallas: 56 hours lost
15. Baltimore: 55 hours lost
16. San Diego: 54 hours lost
17. Denver: 54 hours lost
18. Austin: 53 hours lost
19. Seattle: 46 hours lost
20. Concord, Calif.: 54 hours lost
21. Providence, R.I.: 42 hours lost
22. Las Vegas: 41 hours lost
23. Nashville: 41 hours lost
24. Sacramento, Calif.: 36 hours lost
25. San Juan, Puerto Rico: 41 hours lost
Which cities saw the biggest increase in traffic?
In the top 25, some of the biggest increases in traffic delays were in Miami and Las Vegas. Miami saw an increase of 39 hours over last year, a 59% increase, while drivers in Las Vegas lost 13 more hours in 2022 than the year before, a 46% increase. Traffic in Vegas is up 155% compared to 2019.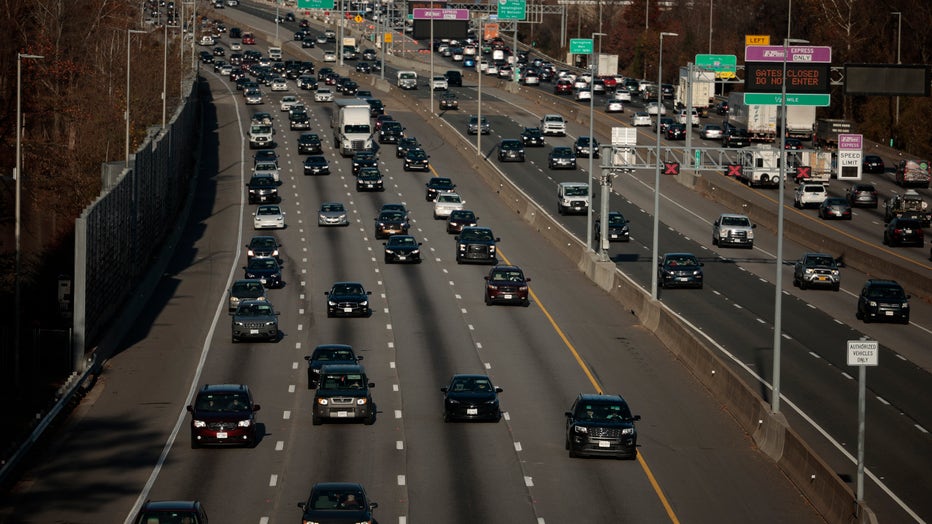 Traffic travels southbound along I-95 on November 23, 2021 in Lorton, Virginia.(Photo by Anna Moneymaker/Getty Images)
Nashville made the top 25 for the first time, up 14% since 2019. Congestion in Boston is up 72% over 2021.
The typical U.S. driver spent 51 hours of their time sitting in traffic in 2022, the report says, and $869 in lost time. That's up 15 hours over 2021. In 39% of cities, traffic delays in 2022 exceeded pre-COVID levels, though overall, traffic hasn't reached pre-pandemic volume.
According to INRIX, congestion cost the U.S. more than $81 billion in lost time and fuel expenses in 2022.
On average, the American driver paid $134 for gas than they did in 2021, but that varies greatly depending on location. In Los Angeles, for example, drivers paid $315 more for gas in 2022 than they did the year before. In New York, drivers paid an average of $213 more for gas than they did in 2021.
READ MORE: These cities have the worst Thanksgiving holiday traffic
In Los Angeles, the 2021 average price per gallon of gas was $4. That number soared to $5.49 a gallon in 2022.
Nationwide, drivers spent 4.8 billion hours in congestion, still fewer than 2019's 6 billion lost hours. The cost of traffic delays across the country increased from $53 billion in 2021 to $81 billion in 2022, a 53% jump. Despite a 17% rise in inflation, the cost of congestion in the U.S. is still down $7 billion from 2019's high of $88 billion.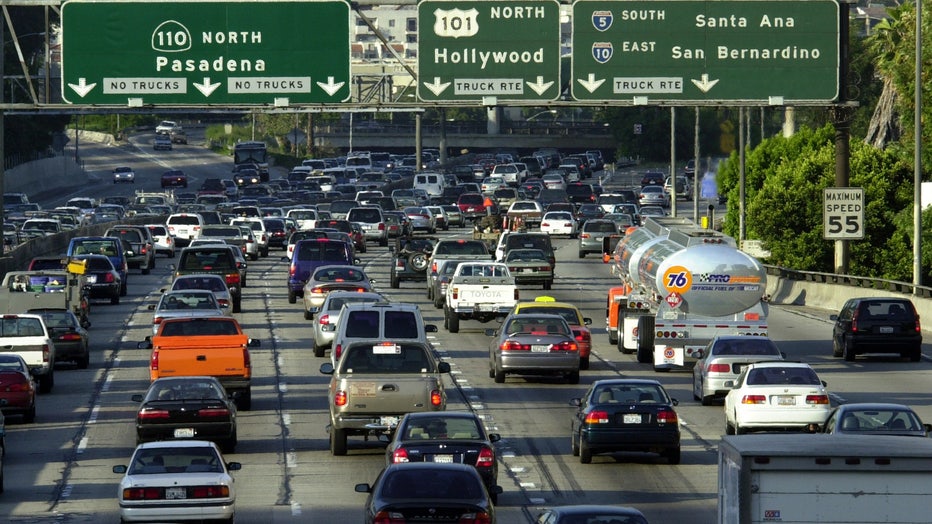 Los Angeles traffic (Photo by David McNew/Newsmakers)
Of the 295 U.S. urban areas analyzed, 179 are still below their pre-COVID volumes. Of the top 50 ranked areas, 12 have exceeded 2019 levels, "indicating it's the smaller, less-congested cities that have already 'returned to normal' in terms of traffic," researchers said.
Top 25 most congested roads in the U.S.
A 30-mile corridor in Connecticut was named the most congested corridor in 2022. INRIX says I-95 through Stamford, Connecticut, took the number 1 and number 3 spots. Drivers there lost an average of 34.5 minutes on their morning commute, and nearly 30 minutes on their return.
The second most congested highway in America is I-5 South in Los Angeles, where drivers lost an average of 31.8 minutes a day during rush hour.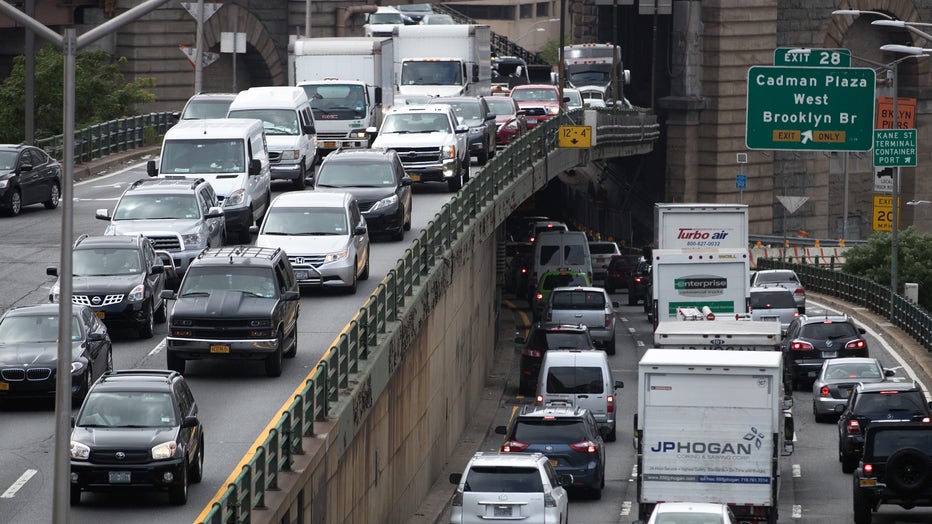 (Photo by Drew Angerer/Getty Images)
"A driver taking that route 240 workdays in 2022 would have lost 127 hours a year sitting in traffic," researchers said.
Here are the 25 worst roads for traffic delays in 2022:

1. Stamford, Conn., I-95 SB from Sherwood Island Conn. to Indian Field Road (138 hours lost)
2. Los Angeles, I-5 SB from I-10 to I-605 (127 hours lost)
3. Stamford, Conn., I-95 NB, Indian Field Road to Sherwood Island Conn. (118 hours lost)
4. Boston, I-93 SB from Exit 18/US 3 to Exit 7/MA-3 (99 hours lost)
5. New York, I-278 WB from I-485 to Tillary Street (91 hours lost)
6. Concord, Calif., CA-4 EB from Exit 12B for I-680 to Exit 15A-B for CA-242 (83 hours lost)
7. Stamford, Conn., CT-15 NB from North Street to Allen Raymond Lane (78 hours lost)
8. Stamford, Conn., Merritt Pkway SB from Wilton Road to Stanwich Road (73 hours lost)
9. Chicago, I-55 SB from I-94 to S. Central Ave. (72 hours lost)
10. Orlando, Fla., I-4 EB from Exit 72/FL-52B to Exit 60/FL-429 Toll (70 hours lost)
11. Baton Rouge, La., I-10 EB from Bayou Road to I-12 (69 hours lost)
12. New York: I-95 NB from I-678 to E. 175th Street (68 hours)
13. Dublin, Calif., I-580 EB from Grove Way to Airport Blvd. (63 hours lost)
14. Chicago, I-90/I-94 EB from I-290 to I-57 (62 hours lost)
15. Norfolk, Va., I-664 NB from I-64 Exit 264 to Exit 9/VA-164 (62 hours lost)
16. Los Angeles, CA-91 WB from I-15 Exits 96-96A to Exit 45/CA-71 (58 hours lost)
17. Tacoma, Wash., WA-167 SB from 15th St. SW to Valley Ave. East (58 hours lost)
18. New York, Harlem River Dr. NB from East 127th ST. to Trans-Manhattan Expy (58 hours lost)
19. Chicago, I-290/IL-110 EB from Exit 17/US-45 to S. Austin Blvd (57 hours lost)
20. Los Angeles, I-405 NB from Wilshire Blvd to Sepulveda Blvd. (56 hours lost)
21. Portland, Ore., I-5 NB from I-405 to Lewis and Clark Hwy (56 hours lost)
22. San Francisco, Caldecott Tunnel EB from Fish Ranch Road to Pleasant Hill Road (56 hours lost)
23. Concord, Calif., CA-24 EB from Camino Pablo to I-680 (53 hours lost)
24. Orlando, Fla., John Young Pkwy SB from Vine Street to Pleasant Hill Road (52 hours lost)
25. Los Angeles, I-605 SB from Exit 19/CA-60 to Imperial Highway (51 hours lost)
Top 10 most congested cities in the world
Here are the 10 most congested cities in the world, according to INRIX: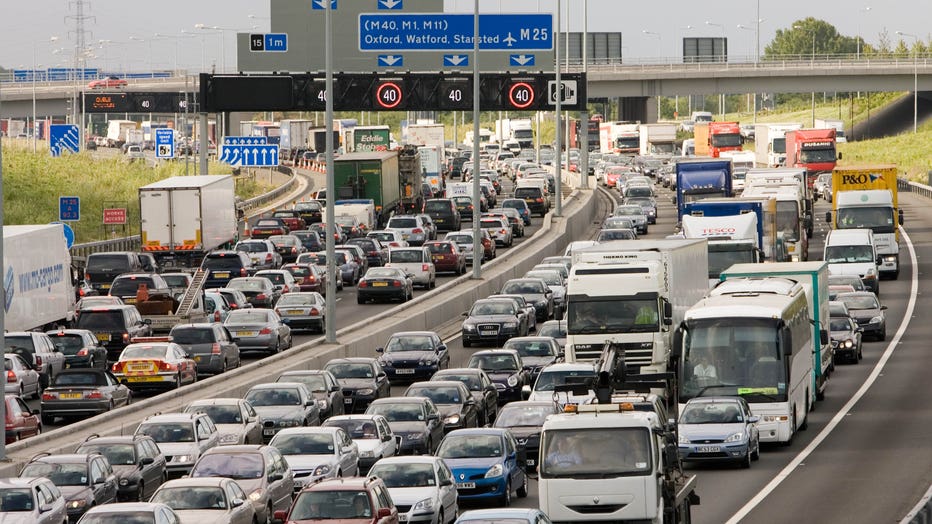 Traffic congestion at a standstill in both directions on M25 motorway, London, United Kingdom (Photo by Tim Graham/Getty Images)
1. London, England: 156 hours lost
2. Chicago: 155 hours lost
3. Paris: 138 hours lost
4. Boston: 134 hours lost
5. New York: 117 hours lost
6. Bogota, Colombia: 122 hours lost
7. Toronto, Ontario: 118 hours lost
8. Philadelphia: 114 hours lost
9. Miami: 105 hours lost
10. Palermo, Italy: 121 hours lost