UPS reaches deal with union: How it compares to other historical agreements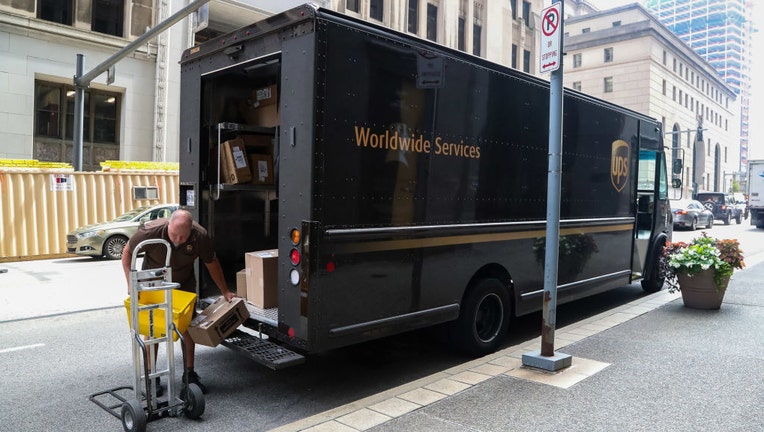 article
After a dispute over better pay and working conditions, UPS and its workers were able to settle their differences to reach a contract agreement before a potential strike. 
The Atlanta-based company said the tentative five-year agreement covers the U.S. Teamsters-represented employees in small-package roles and is subject to voting and ratification by union members.
FOX Business reported that provisions in the tentative collective bargaining agreement, which would run until 2028, include existing full- and part-time UPS Teamsters would receive a raise of $2.75 per hour in 2023, and $7.50 over the length of the contract. 
Additionally, full-time workers would see their average top rate rise to $49 per hour, which the union explains is the highest pay for U.S. delivery drivers. And the current part-timers would receive an immediate raise to at least $21 per hour, with seniority, FOX Business noted. 
RELATED: Rail workers say deal to avoid strike won't resolve quality-of-life concerns
UPS and the union struck a deal before the contract expired on July 31. 
The Teamsters called the tentative agreement "historic" and "overwhelmingly lucrative." It includes higher wages and air conditioning in delivery trucks, the Associated Press reported. 
This labor agreement involving UPS is the latest dispute between workers and employers in U.S. history that required lengthy negotiations before a resolution. 
RELATED: Delta pilots approve contract to raise pay by more than 30%
How does the UPS labor agreement compare to other union deals in history?
In December 2022, Congress passed legislation to avoid an economic disaster that would accompany a railroad strike. The five-year deals that rail workers wound up with included 24% raises and $5,000 in bonuses, according to the Associated Press. 
The railroads refused to add paid sick days to the deal at the end of three years of negotiations because they didn't want to pay much more than a special board of arbitrators appointed by President Joe Biden.
Separately, several major airlines this year experienced labor disputes before an eventual contract agreement between the company and its workers. 
In March 2023, Delta Air Lines approved a new contract that would raise their pay by more than 30% over four years and likely lead to similar agreements covering union pilots at other major U.S. airlines.
American Airlines and the Allied Pilots Association agreed to a deal on July 28, 2023 to grant pay raises to its pilots. The union said the agreement matched terms reached by pilots at Delta Air Lines and United Airlines, according to the Associated Press. 
One of the more notable labor disputes in history happened more than 100 years ago with the great anthracite coal strike of 1902 in Pennsylvania, per a Department of Labor report. 
Coal miners wanted more pay and shorter hours, while mine owners complained that profits were low. The owners refused to negotiate with the union, and coal miners reached out to President Theodore Roosevelt.
Roosevelt attempted to bring coal miners and miner owners together to discuss the matter but failed to get both sides to agree on a deal. But the 163-day strike ended after business people, including JP Morgan, got involved to help settle the dispute. 
The coal miners requested a 20% pay increase, but most received only a 10% raise. According to the Department of Labor, a group acting as a mediator between coal miners and the mine owners also gave the miners a 9-hour workday. Miners requested an 8-hour day which would have been a reduction from their original 10-hour shifts.
While these labor battles finally found a resolution, it's unclear when a deal will happen in the ongoing Hollywood strikes. 
The screenwriters have now been on strike for over 100 days. The writers have been on strike since May 2, and the actors joined them on July 14. Both unions are worried about how they will be paid at a time when fewer people are paying to go to the movies or watch cable TV in favor of streaming services.
The Associated Press and FOX Business contributed to this report. This story was reported from Washington, D.C.