UAW reaches tentative deal with Ford on new contract amid historic strike with Detroit automakers
WAYNE (FOX 2) - After 40 days of striking, a tentative agreement was reached Wednesday night between the UAW and Ford.
Ford employees on strike will be back to work soon.
"We are calling on all Ford strikers to go back to work while we vote on our tentative agreement," said UAW VP Chuck Browning. "Like everything we've done in this stand-up strike, this is a strategic move to get the best deal possible. We're going back to work at Ford to keep the pressure on Stellantis and GM. The last thing they want is for Ford to get back to full capacity while they mess around and lag behind."
The four-year deal, which still has to be approved by 57,000 union members at Ford, could bring the nearly six-week strike to an end. 
"I'm emotional but just super excited that this is over with," said Ford employee Keith Jurgelewicz. "I just can't wait to get back to work and just get on with my life man. This is my first strike but I put in a lot of time and effort with Ford, so I'm just really excited that it's going to work out for everybody – hopefully GM and Stellantis can get their deals done."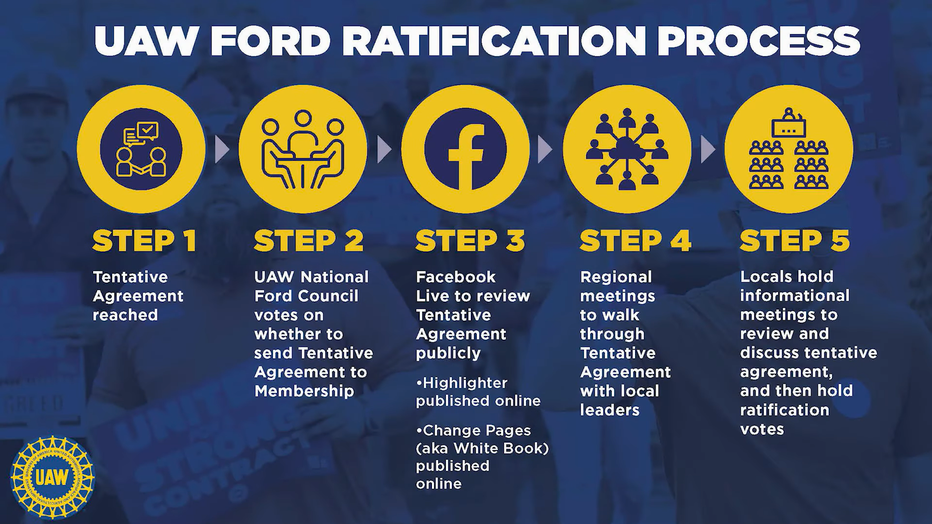 "Ford is proud to assemble the most vehicles in America and employ the most hourly autoworkers. We are focused on restarting Kentucky Truck Plant, Michigan Assembly Plant and Chicago Assembly Plant, calling 20,000 Ford employees back to work and shipping our full lineup to our customers again," said Ford CEO and President Jim Farley in a statement, confirming the deal. 
"The agreement is subject to ratification by Ford's UAW-represented employees. Consistent with the ratification process, the UAW will share details with its membership," Farley continued.
According to the UAW, the historic agreement includes:
25% wage increases.
150% raise for current Ford temporary workers.
Up to 85% immediate raise for some workers at Sterling Axle/Rawsonville.
68% increase of starting wages.
33% increase of top wages.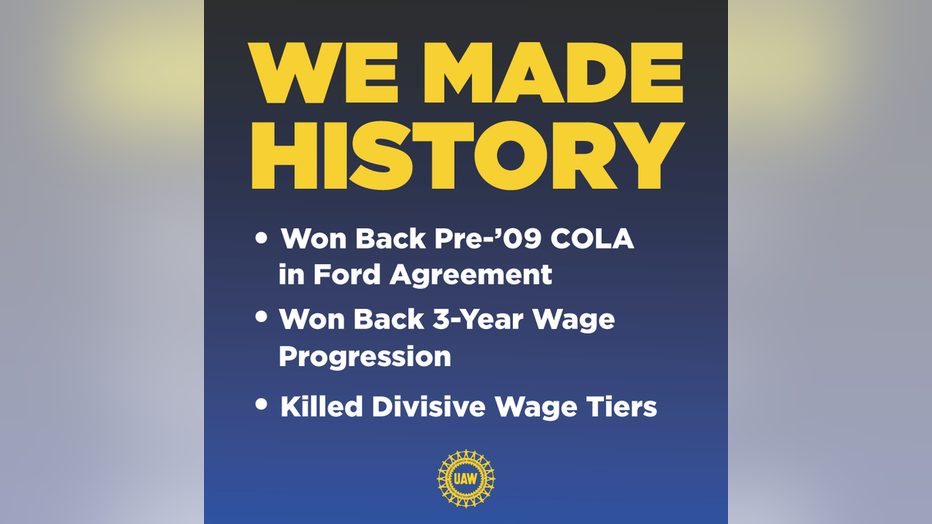 "Certainly, this tentative agreement is good news, and hopefully a positive sign for other companies," said Detroit Regional Chamber President and Chief Executive Officer, Sandy K. Baruah. "This strike has gone on for far too long, especially considering the Detroit Three have essentially agreed to the UAW demands on wages, health care, the tier structure, vacation days, retirement, cost of living adjustments, and more. The short- and long- term damage is now what the companies and communities will have to begin to address."
The White House release a statement from President Joe Biden following the agreement, applauding "the UAW and Ford for coming together after a hard fought, good faith negotiation."
"I've always believed the middle class built America and unions built the middle class," Biden said. "That is especially the case for UAW workers who built an iconic American industry."
Since workers walked off the line at assembly plants in Wayne, Michigan, Missouri, and Ohio, the strike has cost the auto industry billions. It's also rankled the Detroit Three's supply chain while creating havoc for suppliers.
While it started with only three facilities being targeted, the historic move by the union to strike Ford, General Motors, and Stellantis at the same time reached their biggest points in the past two weeks.
The UAW first hit Ford's Kentucky plant where it makes its SuperDuty F-150 truck. Then the UAW targeted Stellantis' Ram plant in Sterling Heights, followed by GM's plant in Texas where it makes SUVs. All plants are major profit centers for the automakers. 
The escalation follows weeks of other facilities seeing workers picket for a better deal. 
The contract negotiations have circled around wage increases, cost-of-living adjustments, healthcare benefits, and the ending of tiers. While not explicitly named in the UAW's demands, the premise of incoming battery plants and the electrification of each automaker's fleet has hovered over the negotiations. 
Earlier on Wednesday, a source told the Associated Press the UAW and Ford were near a deal after the union dropped its demand for better pay to a 25% increase in wages. 
"Our standup strike has delivered," UAW President Shawn Fain said. "What started at three plants at midnight on Sept. 15 has become a national movement."
Fox 2's Dave Kinchen is on the scene at Wayne, tune in at 10 p.m. for further details.
The Associated Press contributed to this report.