Tropical Depression Fifteen in Atlantic likely to become Tropical Storm Nigel soon
What used to be known as Invest 97L developed into Tropical Depression Fifteen on Friday, and it will likely become Tropical Storm Nigel soon.
The tropical disturbance has been swirling off the coast of Africa for several days. Now, it has become the latest tropical depression of the 2023 Atlantic hurricane season.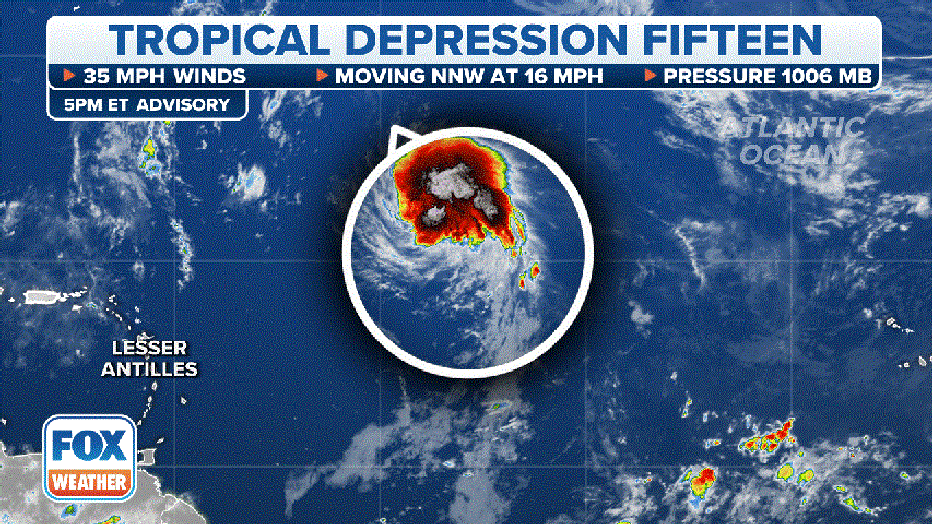 Tropical Depression Fifteen.(FOX Weather)
A tropical depression is a tropical cyclone that has maximum sustained winds of under 39 mph. Once a tropical depression forms, the National Hurricane Center gives it a number based on its order of formation in the hurricane season (Tropical Depression One, Two, Three, etc.). 
In Fifteen's case, the winds are estimated at 35 mph, and it's moving north-northwest at 16 mph.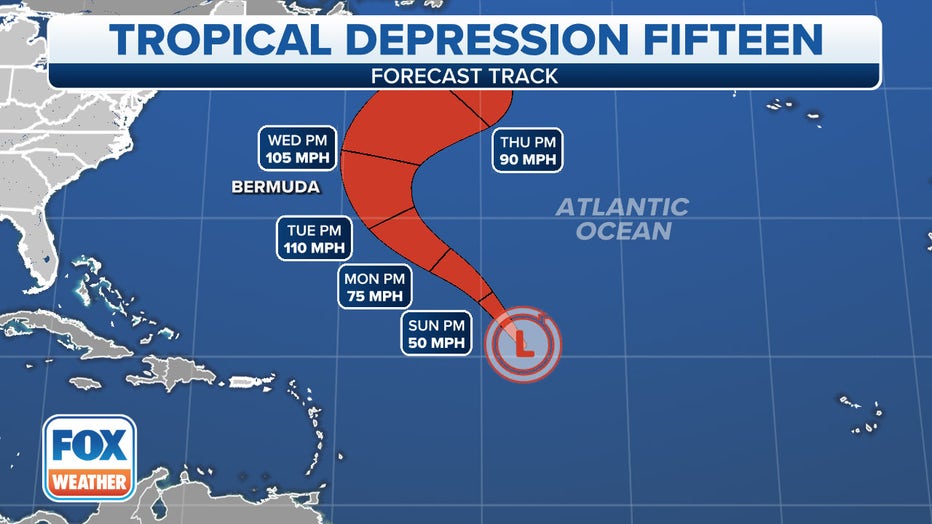 Forecast cone for Tropical Depression Fifteen.(FOX Weather)
TROPICAL DEPRESSION VS. TROPICAL STORM VS. HURRICANE: WHAT'S THE DIFFERENCE?
According to the NHC, Fifteen has a high chance of strengthening further to become Tropical Storm Nigel this weekend.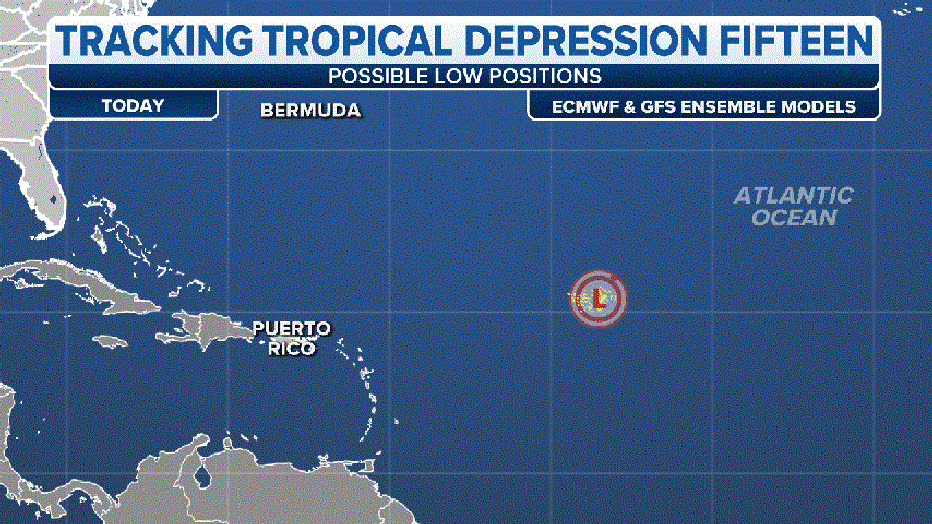 Ensemble forecast charts for TD Fifteen.(FOX Weather)
WHAT TO EXPECT IN THE TROPICS AS HURRICANE SEASON ENTERS SEPTEMBER
As for where it goes from there, FOX Weather hurricane specialist Bryan Norcross said computer forecasts show it charging into the Western Atlantic on a path somewhat similar to Hurricane Lee, although only Bermuda appears potentially threatened at this time. 
Tropical Storm Margot no threat to US
What was once Hurricane Margot weakened to a tropical storm Friday morning. The cyclone is still not expected to threaten the U.S. but could move into the Azores island chain next week.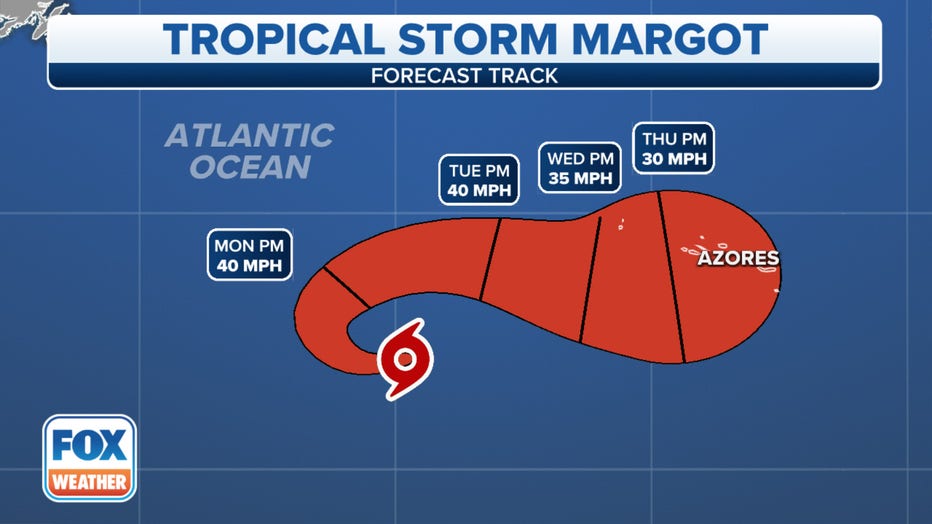 The forecast cone for Tropical Storm Margot.(FOX Weather)
Margot is about 745 miles west-southwest of the Azores and has 50 mph winds.  The storm is moving westward at about 8 mph and is expected to make a slow, clockwise loop during the next day or two, according to the NHC. 
Swells generated by Margot will continue to affect the Azores for the next several days, the NHC said. These swells are likely to cause life-threatening surf and rip current conditions.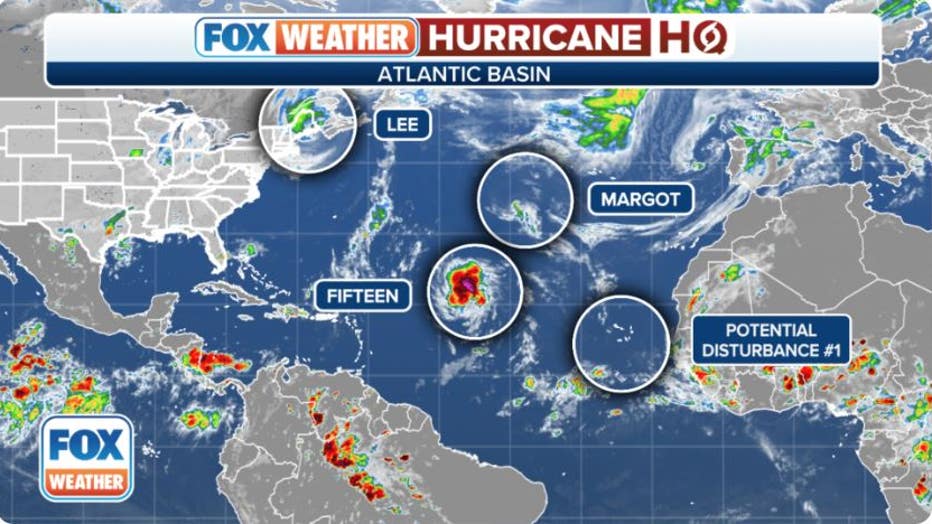 Invest 97-L strengthened into Tropical Depression Fifteen.(FOX Weather)
New tropical disturbance forms off Africa
A new tropical wave is forecast to emerge off the west coast of Africa by the middle part of next week, according to the NHC. It's still several days away from relevance, but some gradual development of this system is possible once it moves off Africa and begins its westward jaunt across the eastern tropical Atlantic. 
Right now, the NHC only gives the system a 30% of developing by the end of next week.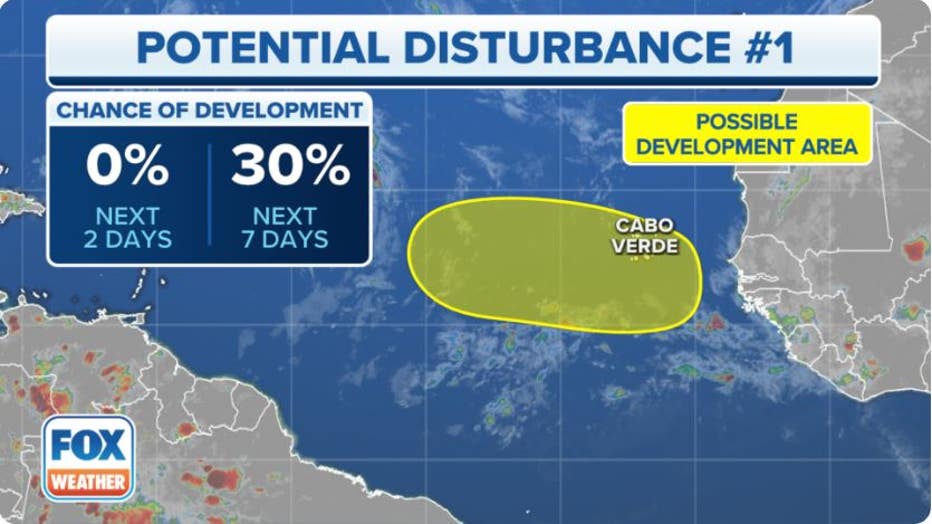 Current area to watch for Potential Tropical Disturbance No. 1.(FOX Weather)
Post-Tropical Cyclone Lee causing rough seas, rip currents
Lee made landfall in Long Island, Nova Scotia in Canada late Saturday afternoon. 
The post-tropical cyclone is currently moving north at about 16 mph with sustained winds near 70 mph, according to the latest forecast update from the NHC. A faster northeastward movement is expected during the next day or so, taking Lee across the Canadian Maritimes.
Tropical Storm Warnings remain in effect as dangerous surf and rip current conditions from Post-Tropical Cyclone Lee affect much of the East Coast, along with the Maritimes.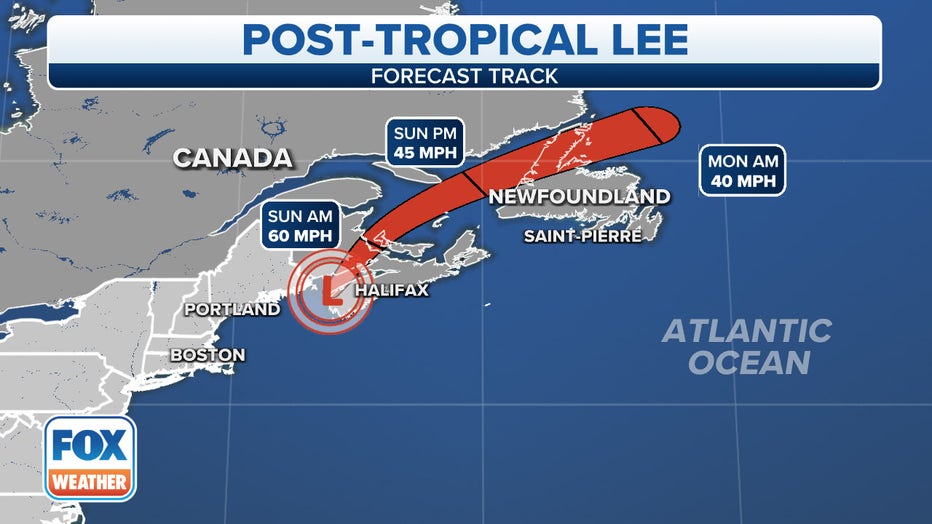 The forecast cone for Hurricane Lee.(FOX Weather)
The Atlantic just passed the statistical peak of hurricane season on Sept. 10. This is when sea surface temperatures are at their highest, and wind shear or strong, hostile winds are at their lowest. 
WHAT TO EXPECT IN SEPTEMBER DURING HURRICANE SEASON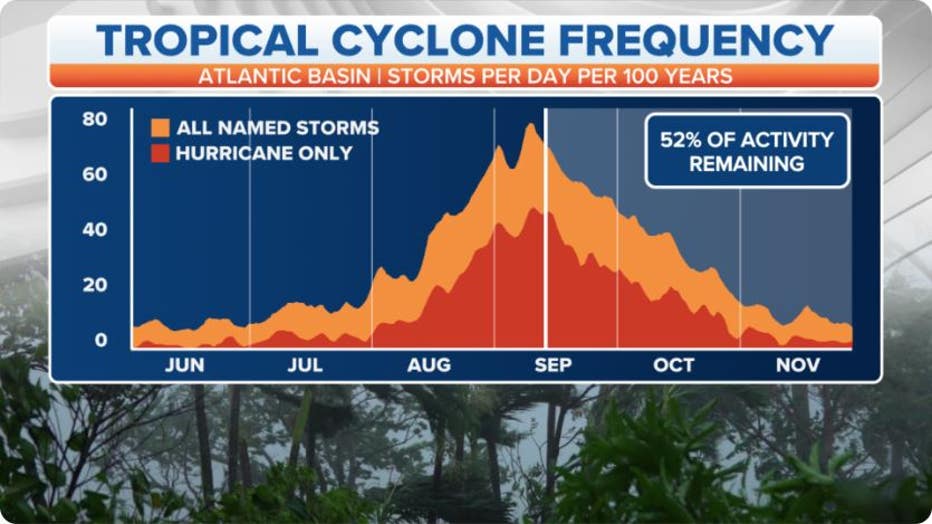 The graph shows the frequency of tropical cyclones per day over the past 100 years.(FOX Weather)