Top 10 travel destinations to honor the fallen on Memorial Day
This Memorial Day weekend, Americans can visit a number of cities across the country to honor our fallen heroes.
A study by SIXT ranked the top 10 of those travel destinations based on the number of war memorials and veteran-owned businesses in each city. Based on their findings, the top destinations were located largely in the Northeast, with a few in the Midwest and the Southeast.
Here is what they found, along with the kind of weather travelers may expect to see at those locations this weekend.
1. Richmond, VA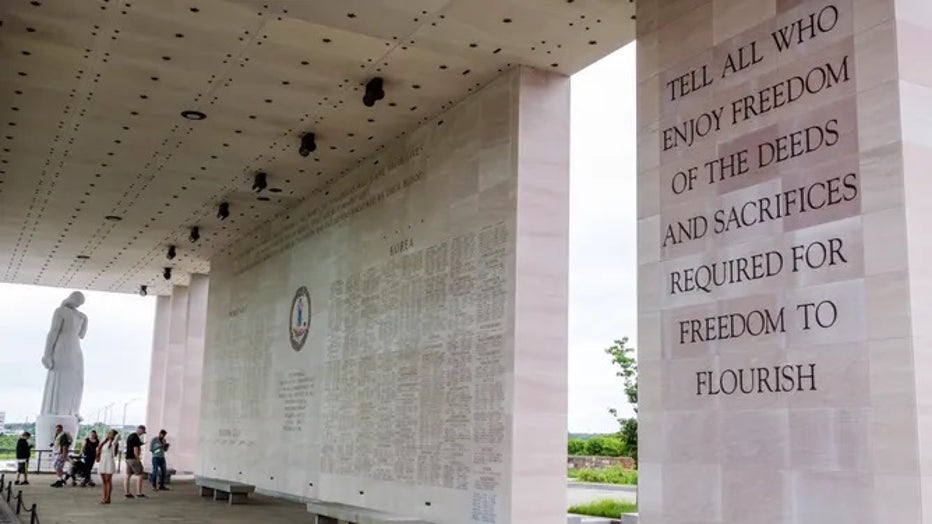 Virginia War Memorial, Shrine of Memory with patriotic quote and statue. (Jeffrey Greenberg / Universal Images Group / Getty Images)
The capital of Virginia rose to No. 1 as the city with the highest number of war memorials at 17. Some of the experiences SIXT listed were the Virginia War Memorial, Richmond Cemetery and the American Civil War Museum.  
Travelers going to Richmond this Memorial Day weekend will experience highs in the high 60s and low 70s, with a 70% chance of showers on Sunday and Monday, according to the FOX Forecast Center.
2. Washington, D.C.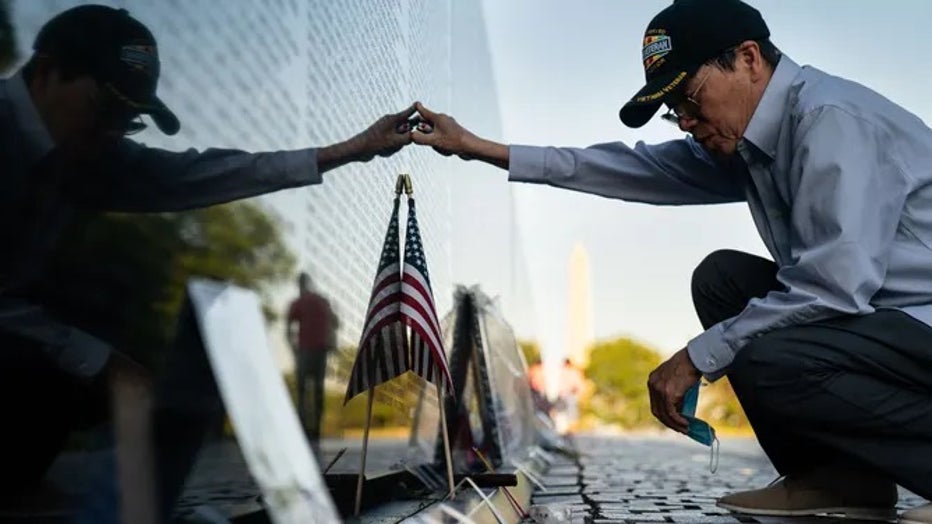 Quyen Pham, of Newport News, Va., pauses after placing a lit cigar at the base of the marble wall of the Vietnam Veterans Memorial to pay his respects on Memorial Day as the sunsets over the National Mall, on Monday, May 31, 2021. (Kent Nishimura / L
The nation's capital took second place on the list with 16 war memorials. Memorials dedicated to the heroes of World Wars I and II, the Vietnam War and other campaigns can be found throughout the city. Visitors can also take in the Memorial Day parade that runs along the National Mall and visit any of the more than 8,000 veteran-owned businesses in town.
HOW TO FLY THE AMERICAN FLAG WITH RESPECT
This weekend, visitors to Washington, D.C. can expect to see highs in the low to mid-70s with only a 25-40% chance of showers on Sunday and Monday.
3. Philadelphia, PA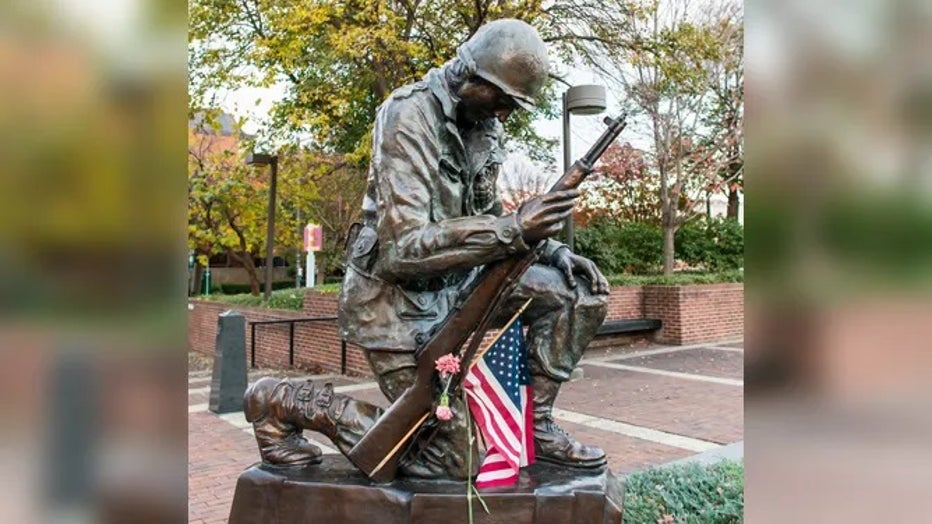 A view of The Final Farewell bronze statue at The Philadelphia Korean War Memorial at Independence National Park at Penn's Landing in Philadelphia, PA on Veterans Day, November 11, 2014. (Gilbert Carrasquillo / Getty Images)
The City of Brotherly Love is home to 12 war memorials, such as the American War Mother and Her Sons and the Korean War Memorial. As one of the former U.S. capitals, Philadelphia has a number of sights for any travelers interested in American history, along with almost 5,500 veteran-owned businesses.
The Pennsylvania city will be basking in sunshine over Memorial Day weekend with temperatures rising to the upper 70s and low 80s.
4. Newport News, VA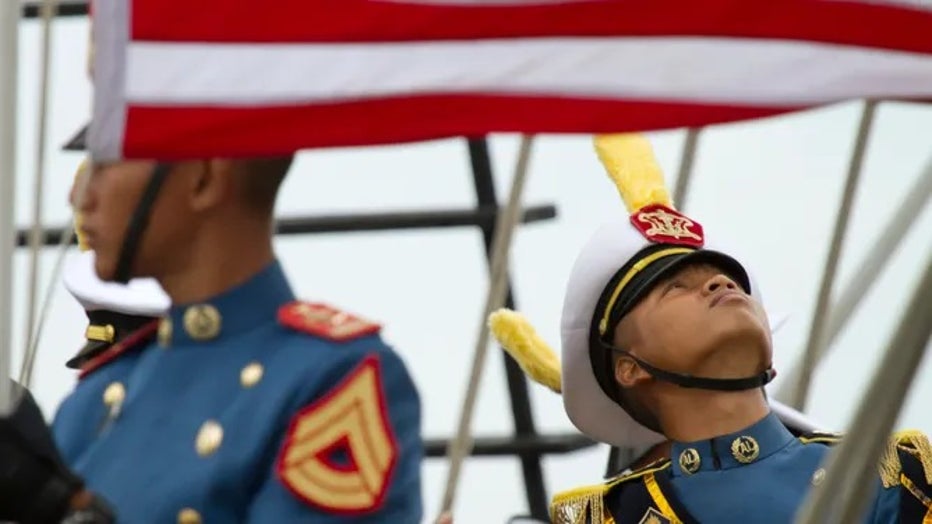 A sailor looks up as an American flag whips in the breeze. June 12, 2012. (Adrin Snider / Newport News Daily Press / MCT / Getty Images)
Back in Virginia, the coastal city of Newport News ranks fourth on SIXT's list with 12 war memorials and nearly 3,000 veteran-owned businesses. One example of a Newport News war memorial is the Victory Arch, which was built over a century ago to welcome home WWI troops.
DIVER FIND WRECKAGE OF FIRST US NAVY DESTROYER SUNK BY ENEMY FIRE DURING WORLD WAR I
The weather in Newport News over the holiday weekend may be a little wet, as the chances of rain rise to 77% on Sunday and 66% on Monday while a large area of low pressure swirls off the southeastern Atlantic coast. Temperatures will be mild, rising to the high 60s and low 70s.
5. New York City, NY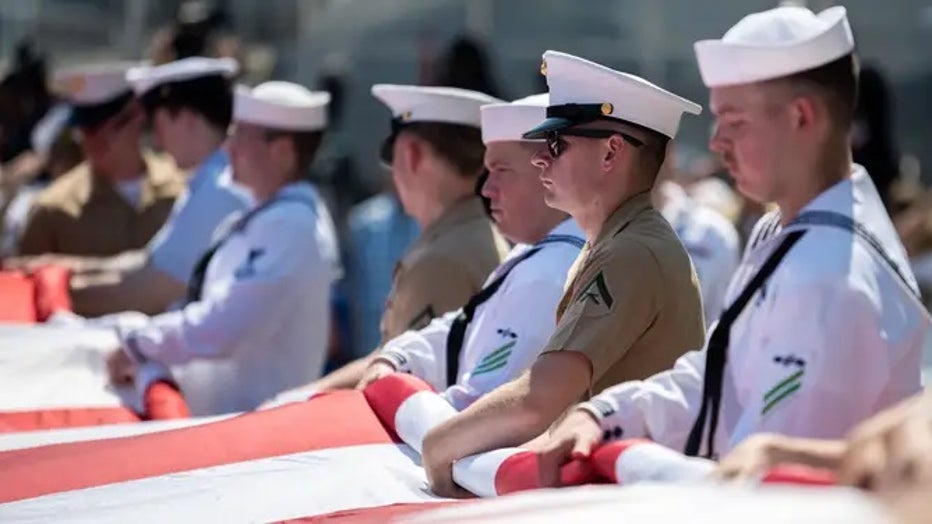 US Marines and US Navy sailors hold a large American flag as it is unfurled during the Intrepid Sea, Air & Space Museum's annual Memorial Day Commemoration Ceremony on May 30, 2022 in New York City. (Alexi Rosenfeld / Getty Images)
Coming in at No. 5 with 10 war memorials is the largest city in New York. As the first U.S. capital, New York City is home to memorials such as the Prison Ship Martyrs Monument, which represents thousands of Colonial soldiers who fell during the American Revolutionary War. The city also has nearly 16,500 veteran-owned businesses – the highest number on SIXT's top 10 list.
Much like Philadelphia, New York City will have a beautiful and sunny Memorial Day weekend. Temperatures will be in the mid-to-upper 70s.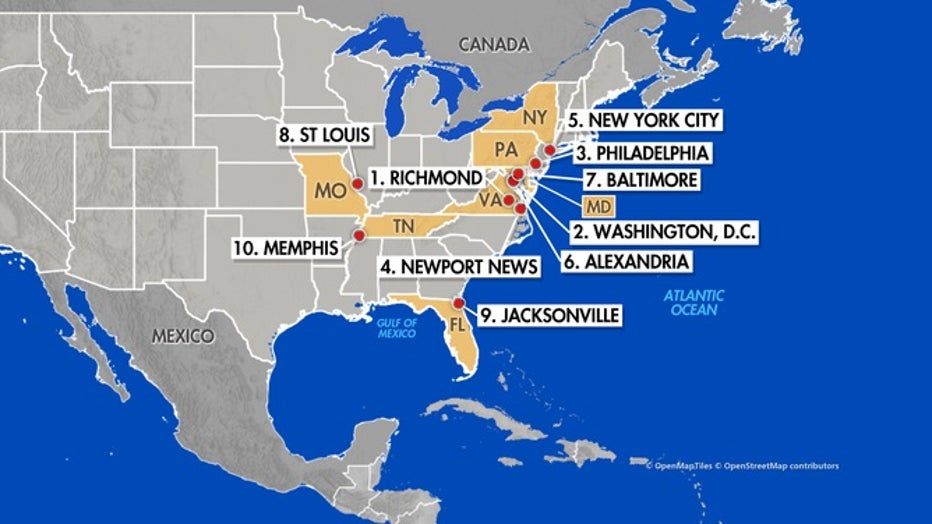 Map showing the top 10 travel destinations for Memorial Day, according to SIXT. (FOX Weather)
Rounding out the next five were Alexandria, Virginia, Baltimore, Maryland, St. Louis, Jacksonville, Florida, and Memphis, Tennessee.