Missing rappers identified: Wayne County medical examiner confirms bodies found in abandoned apartment
DETROIT (FOX 2) - The Wayne County Medical Examiner said it has confirmed the remains found in an abandoned apartment building to be those of three missing rappers last seen in Highland Park.
The examiner confirmed to FOX 2 on Friday that the remains of Armani Kelly, 28, Montoya Givens, 31, and Dante Wicker, 31, were the three men who were found dead inside of an abandoned apartment complex in Highland Park on Thursday. However, the cause of death cannot yet be determined because their bodies were "solidly frozen".
On Thursday, Michigan State Police said they found multiple victims in the basement of an apartment building at McNichols and Log Cabin in Highland Park.
According to MSP Lt. Mike Shaw, the three men were killed on the second floor of the apartment and then were dragged to the basement. 
The three rappers disappeared in late January after a schedule performance was canceled. A person of interest is being questioned, FOX 2 has learned. That person is not being identified at this time. 
But that's not the only person police have in custody in relation to their murders. Friday on FOX 2 News at 5, Jessica Dupnack learned that another person may be connected to the murders and is currently in custody in Tennessee.
No names have been released at this time.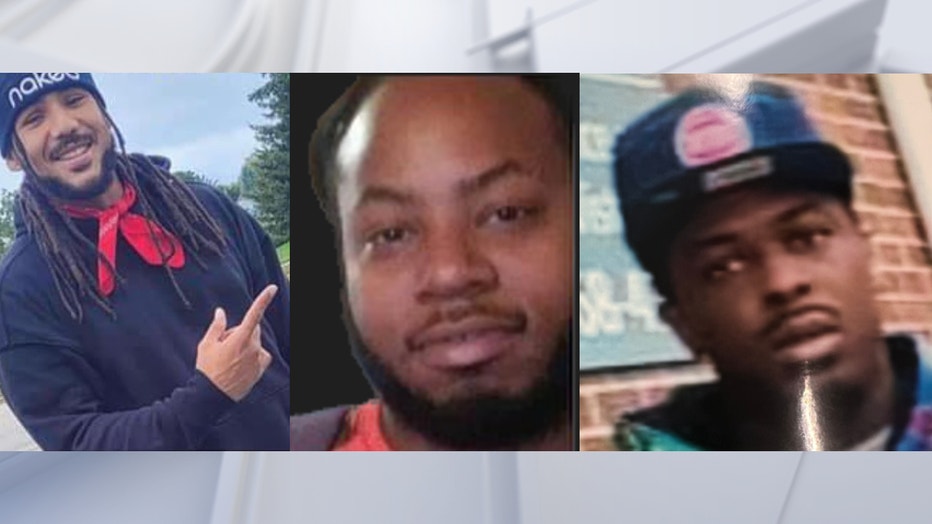 (From L to R) Armani Kelly, Dante Wicker, Montoya Givens
Detroit Police Cmdr. Michael McGinnis said on Monday that a family member of one of the three men said they believe they all made it to the club before they disappeared. Kelly is from Oscoda. Detroit police said Givens and Wicker are from Detroit and Melvindale, so those police departments are investigating along with DPD and Oscoda.
Kelly's mother reported her son missing Jan. 23. According to police, she was able to use OnStar to track his car to Warren, where it was found on Jan. 23. Four days later, family members of Givens and Wicker saw a media report about Kelly and realized all three men who knew each other were missing.
Police said it had been moved a few times before police found it.  A 15-year-old who had been driving it has been arrested by police, as the investigation continues. That teen has been charged with possession of burglary tools and concealing and receiving a stolen car. Police have not called him a person of interest in the murder.
PREVIOUS STORY: