These billionaires are worth more than the US Treasury has in cash, report says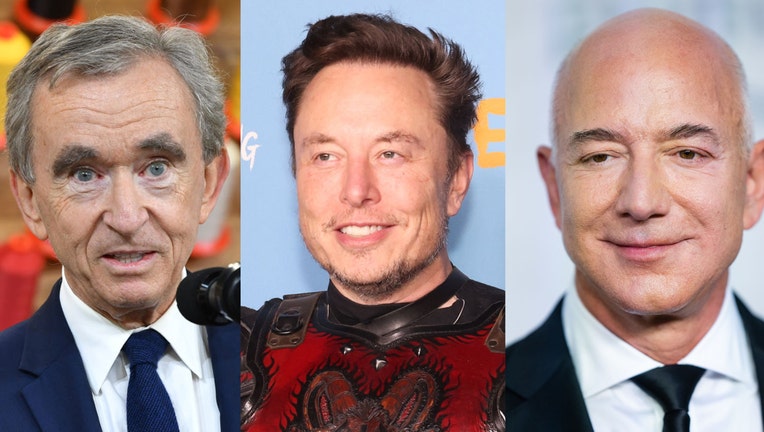 article
As U.S. lawmakers work to pass the debt ceiling and budget deal negotiated in recent weeks to lift the nation's borrowing limit and prevent a default, cash levels in the U.S. Treasury continue to drop.
Data posted on the department's website shows that its cash balance fell to $38.8 billion at the close of business on May 25, which is down from the $316 billion in operating cash that the department had at the start of the month. The U.S. Treasury maintains its cash in an account at the Federal Reserve Bank of New York.
As it stands, a number of individuals throughout the world are worth more than the U.S. cash reserves, according to the Bloomberg Billionaire Index – a daily ranking of the world's wealthiest people based on net worth. 
The New York Times noted how the outlet's founder, Michael Bloomberg, is left off the list under its editorial policy, but Forbes estimates his net worth as about $94.5 billion. 
Here are the billionaires with higher net worths than the U.S. cash reserves, according to Tuesday's ranking: 
Bernard Arnault, CEO of luxury group LVMH: $193 billion
Elon Musk, CEO of SpaceX, Tesla and Twitter: $185 billion
Jeff Bezos, founder and chief chairman of Amazon: $144 billion
Bill Gates, co-founder of Microsoft: $126 billion
Larry Ellison, co-founder and executive chairman of Oracle: $116 billion
Steve Ballmer, former CEO of Microsoft and investor: $115 billion
Larry Page, co-founder of Google: $112 billion
Warren Buffett, investor and chairman and CEO of Berkshire Hathaway: $111 billion
Sergey Brin, co-founder of Google: $107 billion
Mark Zuckerberg, co-founder of Facebook and CEO of parent company Meta: $95.5 billion
Carlos Slim, investor: $92.2 billion
Francoise Bettencourt Meyers, granddaughter of the founder of L'Oreal: $88.1 billion
Mukesh Ambani, chairman and managing director of the conglomerate Reliance Industries: $86.1 billion
Amancio Ortega, founder of Inditex fashion group: $67.8 billion
Jim Walton, heir to the Walmart fortune: $66.8 billion
Rob Walton, heir to the Walmart fortune: $65 billion
Alice Walton, heiress to the Walmart fortune: $64 billion
Gautam Adani, founder and chairman of Adani Group: $62.9 billion
Zhong Shanshan, founder and chairman of the beverage company Nongfu Spring: $61.5 billion
Jacqueline Badger Mars, heiress and co-owner of Mars, world's largest candy maker: $61.4 billion
John Mars, heir and chairman of Mars, world's largest candy maker: $61.4 billion
Julia Flesher Koch & family, heirs of the businessman David Koch: $60.7 billion
Charles Koch, chairman and CEO of conglomerate Koch Industries: $60.5 billion
Michael Dell, founder, chairman and CEO of Dell Technologies: $54.5 billion
Alain Wertheimer, co-owner and chairman of Chanel: $46.4 billion
Gerard Wertheimer, co-owner of Chanel and head of company's watch division: $46.4 billion
Giovanni Ferrero, executive chairman of confectionery company Ferrero Group, & family: $43.5 billion
Zhang Yiming, founder and chairman of technology company ByteDance, parent company of TikTok: $42.3 billion
Klaus-Michael Kuhne, honorary chairman and majority owner of Kuehne + Nagel, world's largest sea-freight forwarder: $41.6 billion
Phil Knight, co-founder of Nike, and family: $41.5 billion
Francois Pinault, founder of the luxury group Kering: $40.1 billion
RELATED: 6 tips to save $100 a week and put it toward savings
This story was reported from Cincinnati.