Tennessee teens who were in NICU at same time as infants attend prom together years later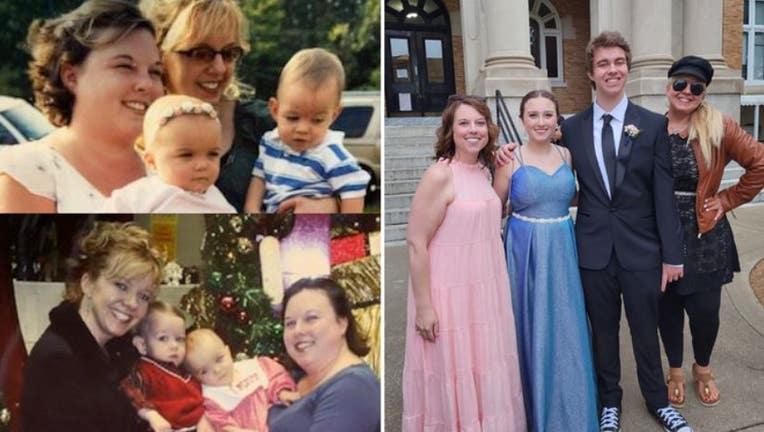 article
Two Tennessee teens — who once spent critical days together in a hospital NICU — enjoyed a fairytale ending when they attended a high school prom after staying in touch for 17 years.
"It just brings you joy," Jaime Horton, neonatal intensive care unit nurse manager at HCA Healthcare's TriStar Centennial Medical Center in Nashville, told Fox News Digital. 
"There's not always a happy ending in the NICU," Horton added. 
"These moments are why we do what we do. Our goal is to give these families that outcome. When we can succeed at that and see the babies just thriving and running around and jumping in bounce houses and going to prom together, it's why you do what you do."
Tatum Kelly, 17 of Pulaski, Tennessee, and Leighton Long, 17, of Knoxville, Tennessee, first "met" when they were in Tristar Centennial's NICU in August 2005. 
Leighton was born at 28 weeks, weighing 2 pounds, 10 ounces — Tatum was born at 24 weeks and weighed 1 pound, 7 ounces.
Horton, who has been with the hospital for 23 years, was a bedside nurse at that time and remembers caring for Tatum Kelly, she said.
"She was just a super sick little girl," Horton said. "She was really tiny for her age, a little over a pound, and her mom was still pretty sick. So I met Jeremy, Tatum's dad, and I took care of Tatum that day. I know that she kept me very busy. She was definitely one of the sicker ones."
Tatum Kelly's mother, Laura Kelly, said she had experienced complications with her pregnancy — and as a result, little Tatum was born 16 weeks early.
"Her first week of life she was on a ventilator," Kelly told Fox News Digital. "This ventilator just gives them little tiny puffs of air and so it just shakes their body. They're just constantly quivering. So imagine something so tiny you can see through their skin just shaking the whole time." 
She added, "That first week it was touch and go. With a NICU baby, it's always one step forward and two steps back. You just never know what they're going to do."
Tatum Kelly was on a ventilator for a week and then she turned a corner, her mom remembered.
Just two beds down in the NICU, Leighton Long was fighting his own battle, as was his mother, Lorrie, who also had pregnancy complications. Her baby arrived 12 weeks early.
"My husband Bryan and I had been married close to 15 years, and we had been told we could not have any children," Lorrie Long told Fox News Digital. 
"It had been a long journey. And when I found out I was expecting Leighton, you can imagine the overwhelming joy. But I was just really sick. And I was so concerned about them taking him early and that he wasn't going to make it. We'd already been through so much with trying to have a baby."
Having a child in the NICU is "a very scary time," Horton said.
"I think for a lot of us as mothers, you grow up and think about being a mom and what that's going to be like and what you're going to name your babies," she noted. 
"And you never picture this — you never picture having a baby and it being rushed away from you to another unit. And then it's hooked up to monitors and all these noises and sounds going on. It is definitely extremely traumatic for these parents that come through here." 
Long said she can remember the first time she saw her newborn baby. She was brought to tears.
"I said, 'God, he is all yours,'" Long recalled. "He grabbed my little finger. But it's just overwhelming because they're on all these tubes and all these medical devices and you don't know if they're really going to make it or not."
In their despair, Kelly and Long found each other, the women said.
"Lorrie was one of the first people I met in the NICU," said Laura Kelly. "I can't remember if we were handwashing or if it was just because they were two beds down, but we just formed that connection. We both are very spiritual. We both have a very strong faith in God and I guess God just kind of placed us together. He knew we needed each other in that moment."
Long said she believes God brought her and Kelly to one another so that they could comfort each other — especially during their day-long NICU visits over two months.
"We gave each other gifts, we prayed a lot together and, you know, we shared a lot of ups and downs together," Long said. 
"It might be a rough day one day with your baby, so you rely on each other. And she gave me so much hope because we were going through the same thing."
Horton said the open NICU concept, in which there are no individual rooms, allows for parents to bond over their shared experience.
"They get to talk to each other, and they'll share how much weight their baby's gained and really support each other through something that only someone who's been through it can understand," she explained.
After two months, Leighton was weighing in at six pounds and was strong enough to go home. But Long said leaving the hospital was bittersweet.
"We had bonded up so close during that time," Long said. "Leighton got to check out, but we had to leave Tatum and Jeremy and Laura there because Tatum still needed another week or so to get stronger."
Tatum Kelly wasn't far behind and was able to go home shortly after Leighton Long did — and the Kelly and Long families stayed in touch from then on.
"We talked on the phone," Kelly said. "We actually mailed each other letters and cards with pictures in it and updates. We met at holidays. We did our first birthday parties together. We went to Knoxville for Leighton's, and then they came here for ours."
If either family was traveling near the other's home, they made time for a visit at least once or twice a year, Kelly said.
"I think my first memories are from around the age of five of hanging out with him," Tatum Kelly said. "I remember visiting their house and they lived right next to a river or lake with ducks and we would go feed the ducks."
Leighton Long said he still has a stuffed camel he got during an outing to the Knoxville Zoo with his pal. While their mothers started the friendship, as the two children grew older, they stayed in touch on their own — even though everyone's lives had become busy and they didn't get together as often.
"When I was 12 or 13, I got a flip phone," Leighton Long said. "Compared to what we have now, it's kind of difficult to text. But she would text me. And she would be like the only person to text me when I had my flip phone."
For the past two years, Tatum Kelly has attended a conference in Knoxville, so they were reunited in person.
"We're just really good friends," Tatum Kelly said. "So I asked him to come to my prom."
And they went in style. 
Leighton Long showed up in a limo, dressed to the nines while Tatum Kelly wore a full-length blue gown with a crystal-studded belt. 
Before the dance, they were announced on the steps of the courthouse — a Pulaski tradition — and after, they went to a bowling party.
"We had a great time," Leighton Long said.
Tatum Kelly is headed to the University of Alabama in Huntsville this fall, while Leighton Long has one year of high school left. For his 18th birthday, Long is planning to go skydiving and has asked his good friend to join him. 
She agreed to be his "support system" but did not commit to jumping, she said.
Supporting each other is one thing these families said they have learned is most important in life.
"It is such a beautiful thing when in the most horrible moment of your life God brings hope through somebody else," Laura Kelly said. 
"God is very important in all of this story. Lorrie and I have been able to use this experience to reach out to other people when they've gone through hard things."
Lorrie Long said she knows her family has made friends for life.
"Laura and Jeremy and their family really were a blessing during such a hard time and it just felt like we weren't alone," Lorrie Long said. 
"We know we're not alone because we have God as our refuge and strength and a very present help in trouble. But to have a friend that's going through the same thing, who brings you so much comfort during such a difficult time" — that's what's been so special, she suggested. 
"I'm so thankful for their family and for Centennial Hospital and the nurses and doctors," Long added. 
GET UPDATES ON THIS STORY AT FOXNEWS.COM